Big Business Landmarks: The landmarks that attract the most attention in the US and worldwide
In 2022 it was reported that tourist numbers reached 917 million, with people back to traveling worldwide to see and experience famous landmarks in the flesh. 
Each capital city around the world is known for its standout landmarks that bring in significant tourist business – but just how much attention do the world's most well-known landmarks attract yearly? 
To find out, our Switch On Business experts have analyzed the search volumes and average visitor numbers of over 150 of the world's most well-known landmarks to reveal the most in demand. 
Alongside this, we also analyzed each of the most well-known landmarks in all 50 US states to reveal the most popular in the country. 
You can find the top 15 landmarks that attract the most attention both globally and in the US visualized below. 
Burj Khalifa and Taj Mahal are the landmarks attracting the most attention globally 
According to our research, the Burj Khalifa in Dubai is the landmark that attracts the most attention globally with just under 22 million Google searches and approximately 17 million visitors annually. The Burj Khalifa is around 828 meters tall, three times the height of the famous Eiffel Tower in Paris, which landed fifth place in our global index. 
In second place is the Taj Mahal in India. This Indian palace is made of ivory-white marble and is the staple landmark of its country. Worldwide, just under 22 million people search for Taj Mahal yearly, whilst the site itself receives around 7.5 million visitors annually. 
The United States has one landmark that features in the top three globally: Niagara Falls. This landmark actually sits on both the border of New York and Ontario, Canada and attracts around 13 million visitors every year. Over 1.2 million people globally also Google these famous falls every year.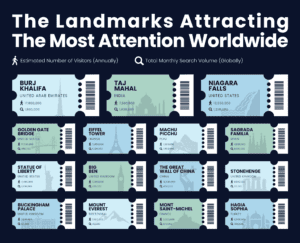 Here you can see the top 15 ranking big business landmarks worldwide:
Rank
Landmark
Country
Total yearly SV (International)
Estimated number of visitors
(annually)
1
Burj Khalifa
United Arab Emirates
21,960,000
17,000,000
2
Taj Mahal
India
21,960,000
7,500,000
3
Niagara Falls
USA
14,640,000
13,000,000
4
Golden Gate Bridge
USA
5,400,000
17,300,000
5
Eiffel Tower
France
14,640,000
5,850,000
6
Machu Picchu
Peru
18,000,000
1,500,000
7
Sagrada Familia
Spain
12,000,000
4,500,000
8
Statue of Liberty
USA
12,000,000
4,440,000
9
Big Ben
United Kingdom
9,876,000
5,900,000
10
The Great Wall of China
China
5,400,000
10,000,000
11
Stonehenge
United Kingdom
12,000,000
97,000
12
Buckingham Palace
United Kingdom
12,000,000
50,000
13
Mount Everest
Tibet/ Nepal
12,000,000
35,000
14
Mont Saint-Michel
France
8,076,000
3,000,000
15
Hagia Sophia
Turkey
4,416,000
6,500,000
Landmarks play an important part in a country's economy with tourism accounting for a lot of income, creating jobs and wealth in the area. For instance, an average ticket to the viewing platform of the Burj Khalifa is $37, and it has been reported that ticket revenue stands at around $621 million per year. 
As for Niagara Falls and other such landmarks that do not necessarily have a cost to view, these landmarks bring millions of tourists to the area each year generating income for local hotels, restaurants and shops. 
Walt Disney World, Florida, tops the list of US landmarks that attract the most attention
Walt Disney World in Florida tops the list of US landmarks attracting the most attention in our study. The theme park sees approximately 58 million visitors annually, and garners just under 5 million Google searches every year too. 
Mall of America in Minnesota ranks second. This mammoth mall is said to have 'revolutionized the shopping experience' when it opened in 1992. The mall receives around 40 million visitors per year and over 6.8 million Google searches (the second-highest search volume of any US landmark behind the Grand Canyon). 
In third place is the Grand Canyon in Arizona with an estimated 6 million visitors per year and over 589, 400 searches per month (totaling over 7 million per year).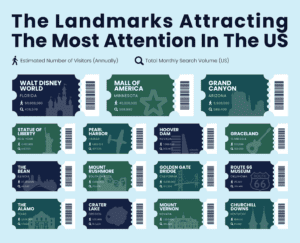 Here you can see the top 15 ranking big business landmarks in the US: 
Rank
Landmarks
State
Total yearly SV (US)
Estimated number of visitors
(annually)
1
Walt Disney World
Florida
4,878,840
58,000,000
2
Mall of America
Minnesota
6,827,760
40,000,000
3
Grand Canyon
Arizona
7,072,800
5,900,000
4
Statue of Liberty
New York
5,286,000
4,440,000
5
Pearl Harbor
Hawaii
4,894,800
1,800,000
6
Hoover Dam
Nevada
3,712,800
7,000,000
7
Graceland
Tennessee
3,842,400
500,000
8
The Bean
Illinois
487,680
25,000,000
9
Mount Rushmore
South Dakota
3,022,440
2,000,000
10
Golden Gate Bridge
California
1,995,000
10,000,000
11
Route 66
Oklahoma (*Museum based here)
2,440,920
25,000
12
The Alamo
Texas
2,041,440
2,500,000
13
Crater Lake
Oregon
1,886,760
500,000
14
Mount Vernon
Virginia
1,761,600
1,000,000
15
Churchill Downs
Kentucky
1,337,760
150,000
With a ticket to Walt Disney World averaging around $75, the estimated yearly revenue for this US landmark will be in the multi-millions – around $4,350,000,000 if each ticket sold was at $75 (a reduced rate is usually offered for children). Not only does the park benefit sales but also the surrounding areas, with many staying in hotels outside the park and eating at restaurants. 
If you are thinking about setting up a business of your own and you live close to any well-known landmarks, think about how this can benefit you and your business as this may be something you can tap into for your customers. You can find more tips and advice on how to set up your own business in the US at https://switchonbusiness.com/ 
Methodology and Sources
For this campaign, we want to uncover which key landmarks across the US and the world attract the most attention from visitors, and therefore contribute to their economies.
To find out the landmarks that attract the most attention, we took the top 25 landmarks per state by Google search volume. Once we added the total visitor numbers annually both the visitor numbers and SV were scored out of 10 to give us our ranking.
For the US index, total SV is based on US search volume. For the global index, the SV is for worldwide search volume. 
US Index limitations:
In the case of 'Route 66' the route 66 museum numbers were used as an estimate as official number of those who had driven route 66 were unavailable. 
French Quarter in Lousiana discluded from top 25 due to lack of visitation numbers for this area being available. 
For Dodge City, 'dodge city days' celebration was taken for number of visitors annually as this is a festival/attraction people attend in Dodge City.
For Old Faithful, annual visitor numbers to yellowstone national park were taken. 
Global Index limitations:
RelIgious and memorial sites such as Mecca (Saudi Arabia) and Auschwitz (Poland) have been removed in respect. 
Little Mermaid, Denmark removed from rankings due to lack of available data.