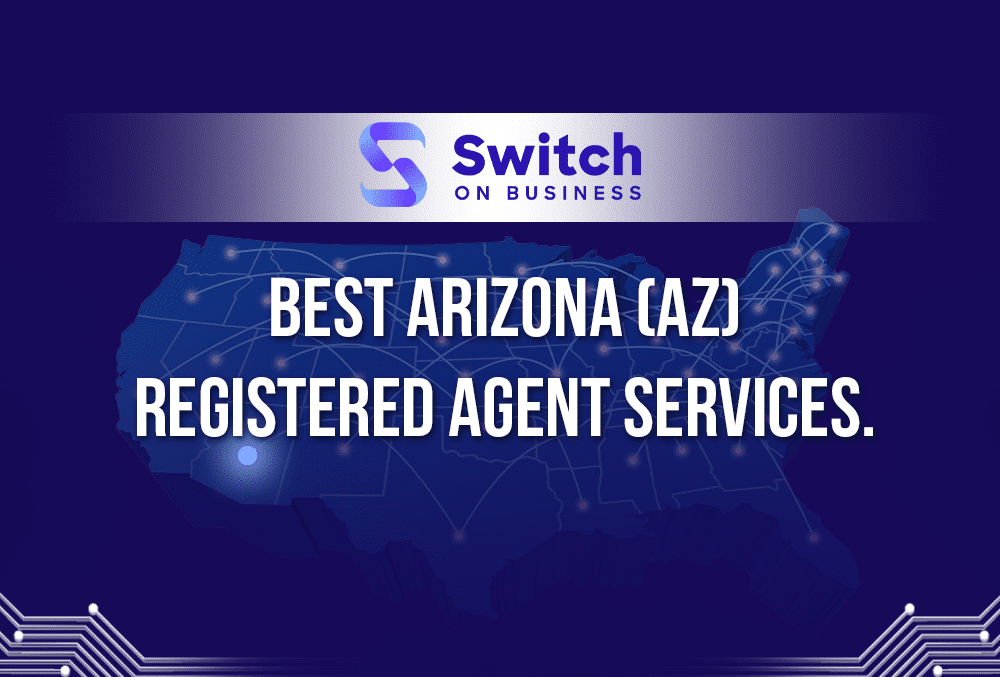 If you're looking for the best Arizona registered agent services, you've come to the right place.
We've compiled a list of our top 11 registered agent service recommendations available in the state of Arizona, with diverse options that cater to every business' budget, preference, and need. We'll first explain what a registered agent is and whether Arizona requires entrepreneurs to hire one, then give you individual reviews of our recommendations, and end by going over the cost of hiring a registered agent service in Arizona. In addition, we include an FAQ section at the end of our article.
If you just want to get to the gist of it and you're interested in what the best of the best have to offer, check out our summary table below.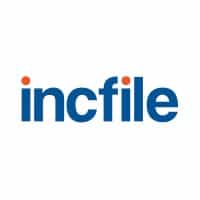 Free For The First Year
$119 / Annually After That
Never Any Hidden Fees or Contracts
Loved by 800,000+ Entrepreneurs
Available in All 50 States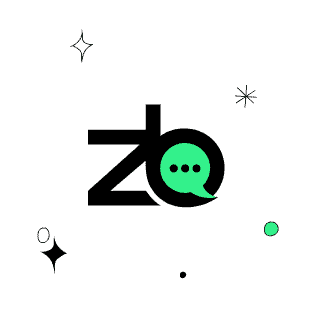 Rated 4.6 out of 5 On Trustpilot
$199 / Year
Only Takes 5 to 10 Minutes To Set-up
100% Accuracy Guarantee
Expert Customer Support

Free First Year If You Use Their $39 formation package
$125 Per Year After
Available in all 50 states
Free mail forwarding
Locally-Scanned Documents
With that said, let's see what a registered agent service actually is.
What Is a Registered Agent Service?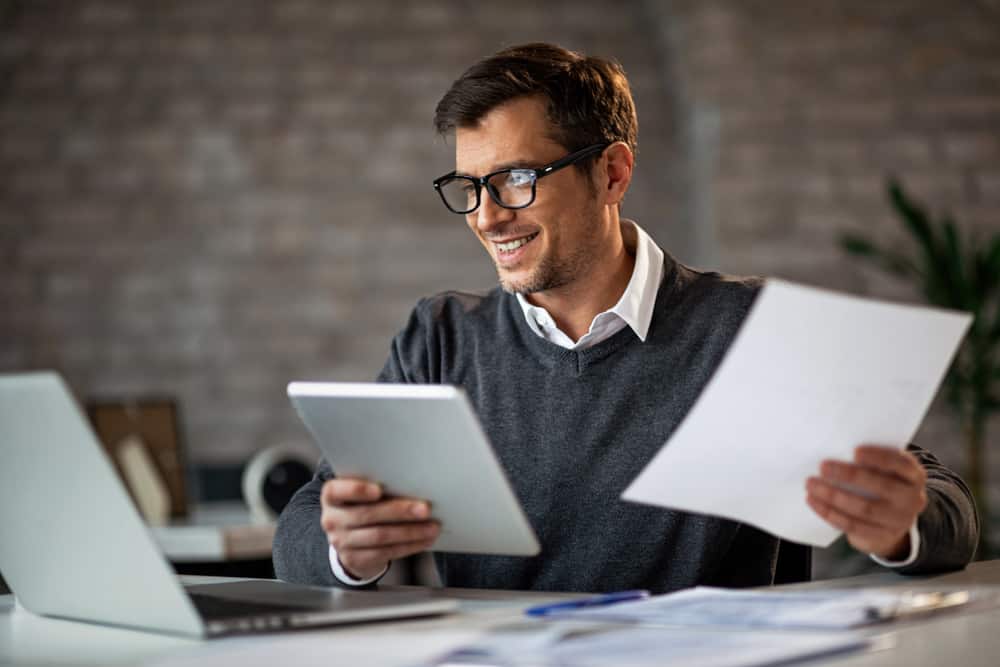 A registered agent service, also known as a resident agent or a statutory agent, is an individual or a business entity that's assigned to accept various important legal documents and government correspondence on your behalf. Their main responsibility is to pass those documents on to you and your business.
There are many benefits that come with hiring a registered agent service, such as giving you more privacy, notifying you of important deadlines, giving you legal support, and saving you a lot of time.
What Are the Requirements for Being a Registered Agent?
There are several requirements a registered agent service needs to meet in order to offer their services.
If the registered agent is an individual, they need to be over 18 years old;

The registered agent service needs to have a physical address where all your documents will be sent – a mere P.O. box isn't enough;

They have to be available at all times during normal business hours.
Does Arizona Require You to Have a Registered Agent?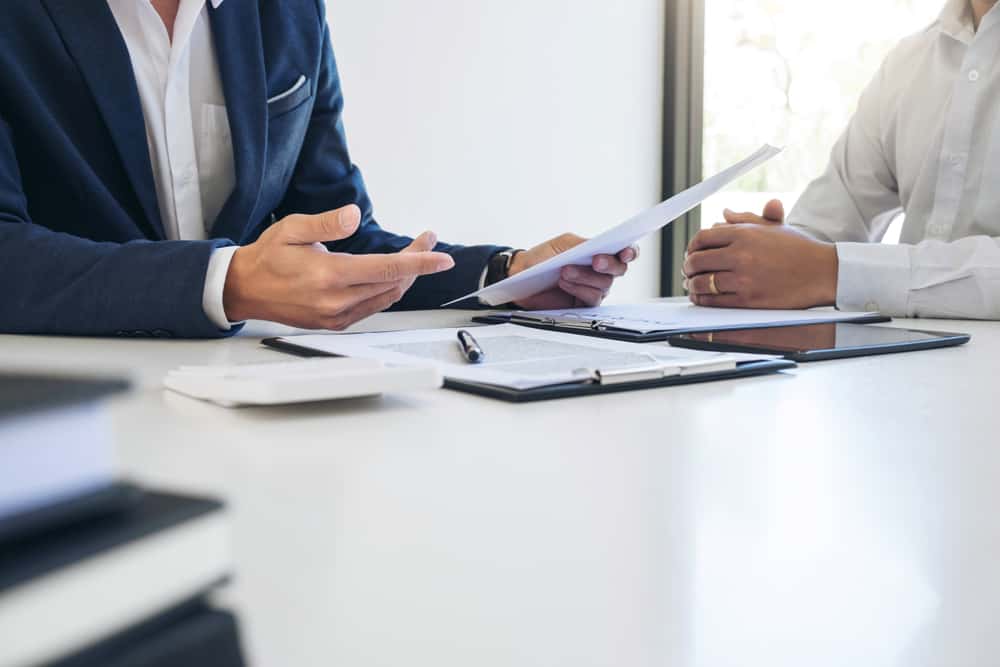 While it's not an official requirement in every state, you're required to hire a registered agent service if you want to form a company or a corporation in Arizona. Needless to say, the registered agent service needs to meet all the requirements we listed above to qualify. With that said, you still have the freedom to choose an individual or a business as a registered agent.
Best Registered Agent Services in Arizona
Registered Agent Service
Cost
Office Location
ZenBusiness
$199 a year
Not stated
Northwest
$125 a year
Oro Valley
IncFile
$119 a year/ first year free
with incorporation
Not stated
Inc Authority
$249 a year
Not stated
Harbor Compliance
$99 a year
Oro Valley
Arizona Statutory
Agent
$49 a year
Oro Valley
Rocket Lawyer
$149 a year
Not stated
LegalZoom
$299 a year
Not stated
Swyft Filings
$149 a year
Not stated
InCorp
$129 a year
Phoenix
Registered Agent Net
$89 a year
Not stated
Now that we've gone over the definition of a registered agent and some of the requirements needed to offer this service, let's delve into our reviews of the best registered agent services in Arizona.
1. ZenBusiness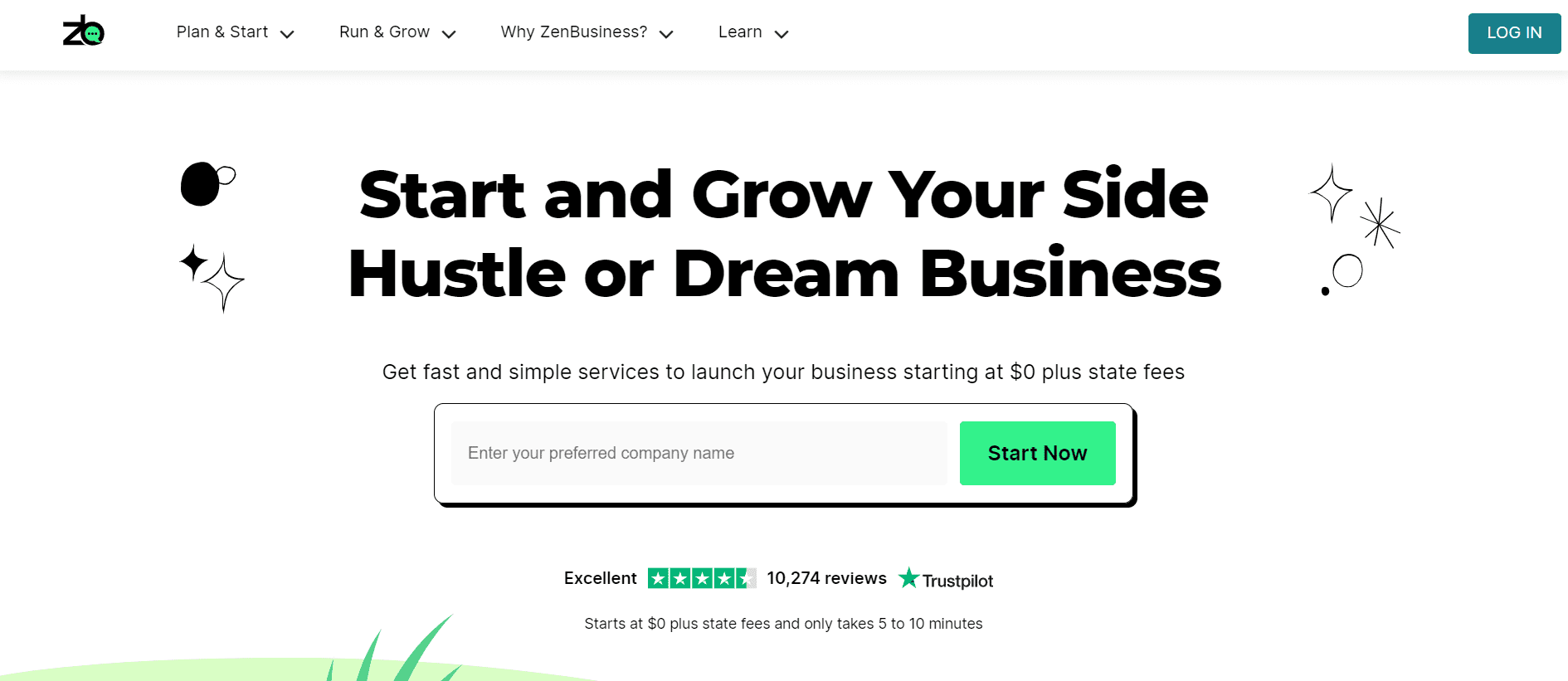 Although relatively new to the market, ZenBusiness is a reputable and renowned registered agent service. Their standard registered agent service costs $199 a year. ZenBusiness helps you comply with your state's unique requirements, preventing you from receiving any fines due to missed deadlines. Here are all the features they offer:
Email notifications

Mail forwarding

Fast turnaround

Document scanning

Access to a personalized dashboard
One of the many benefits you can expect by hiring their registered agent service is excellent customer support. You'll be in good hands at all times and you'll get instant help in case you come across any hurdles.
Another reason to choose ZenBusiness is that they always give back to the community; for instance, they have a 5k Grant Program that allows new entrepreneurs to receive a $5,000 grant to start their business.
ZenBusiness' additional services include:
Incorporation

Operating agreement

Worry-free compliance

Domain name and website

EIN Number

Annual reports

Taxes and accounting

Business license reports

Banking and finances
2. Northwest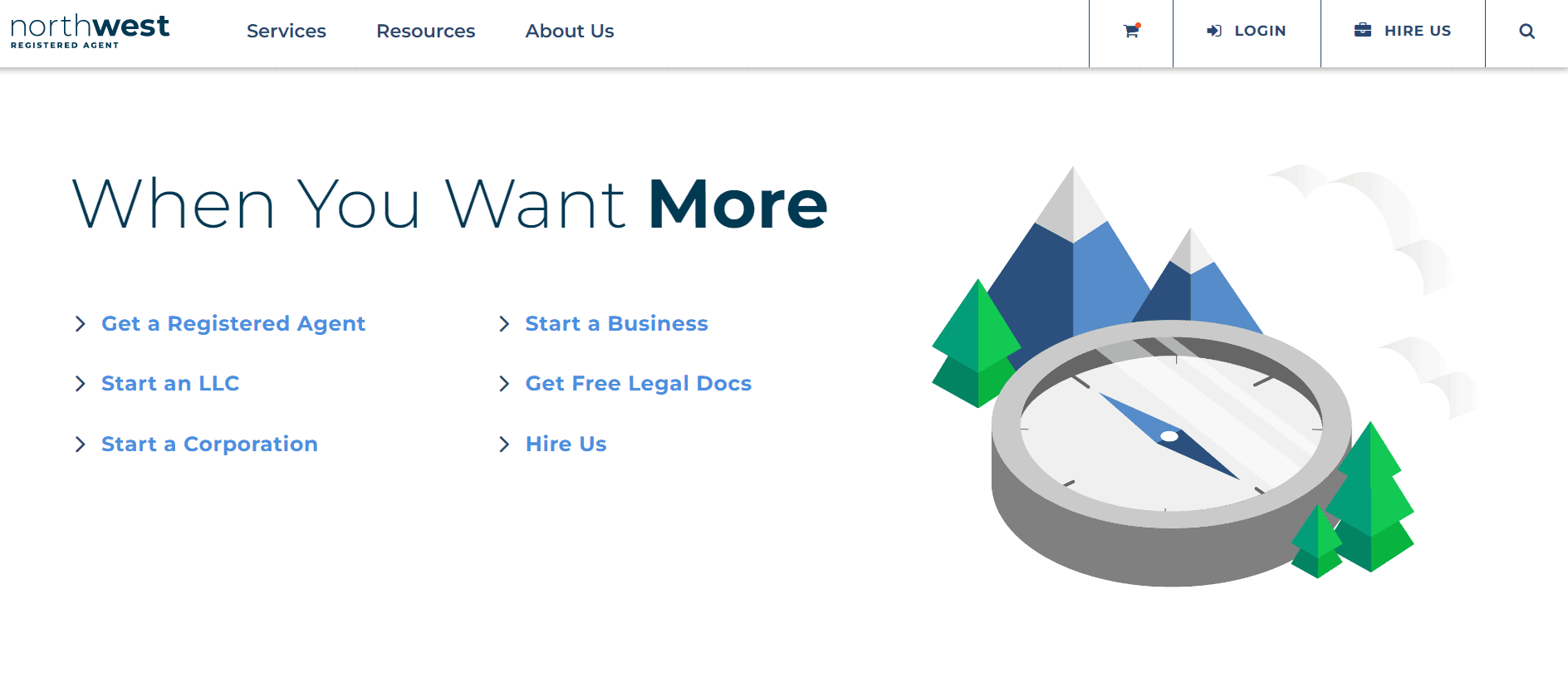 If you've done any registered agent-related research in the past, then you've probably heard of Northwest. As one of the most popular registered agent services in the United States, it's an amazing option for those who want to hire a service with years of experience and thousands of happy customers.  By hiring them, you'll get access to:
Pre-filled state forms

Online document storage

Free mail forwarding

Same-day document scanning

Filing tips

Annual report reminders
You can get access to all the abovementioned features for only $125 a year. If you do business in more than five states, you can hire their registered agent service for only $100 a year.
Customers really appreciate how seamless the user experience is, especially their dedication to data protection.
Their Arizona office is located in Oro Valley.
Northwest also offer the following services:
Annual report filings

Trademarking

Mail forwarding

Phone service

Payment processing

Foreign qualification

Virtual office
3. Inc File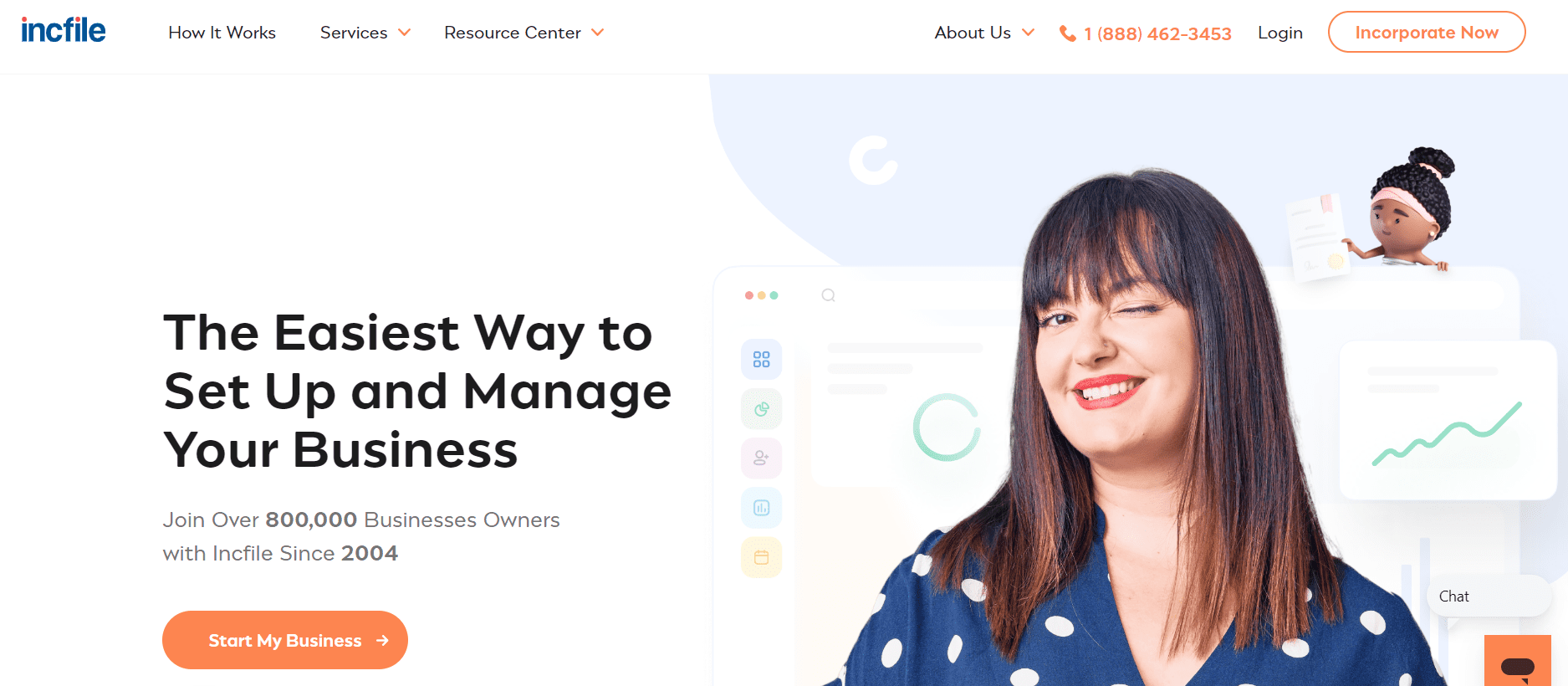 Another amazing recommendation for a registered agent service is IncFile. With over 18 years of experience, this registered agent service provides everything you will need from such a service: 
A reliable physical address

Digital storage of your documents

Document scanning

Tailored notifications
Automatic mail forwarding
Their price sits at $119 annually.
Customers love their excellent support service and how user-friendly their platform is.
You can also hire IncFile for:
EIN Number

Certificate of good standing

Trademarking
Amendment

Foreign qualification

Business licenses and permits

Tax consultations
Virtual address
4. Inc Authority

With Inc Authority, you get access to one year of free registered agent services if you use their LLC registration services. One of their biggest strong suits is their responsive and experienced customer service support, so you can have all your questions answered in due time. This package includes:
Digital storage of documents

Tax planning consultations

Business credit and funding analysis
In other words, all the tools you'll need to start a new business successfully.
It's an excellent option for anyone who is looking to hire a service for the formation of their LLC without wanting to pay for any additional registered agent services.
The annual fee of their registered agent service is $249.
5. Harbor Compliance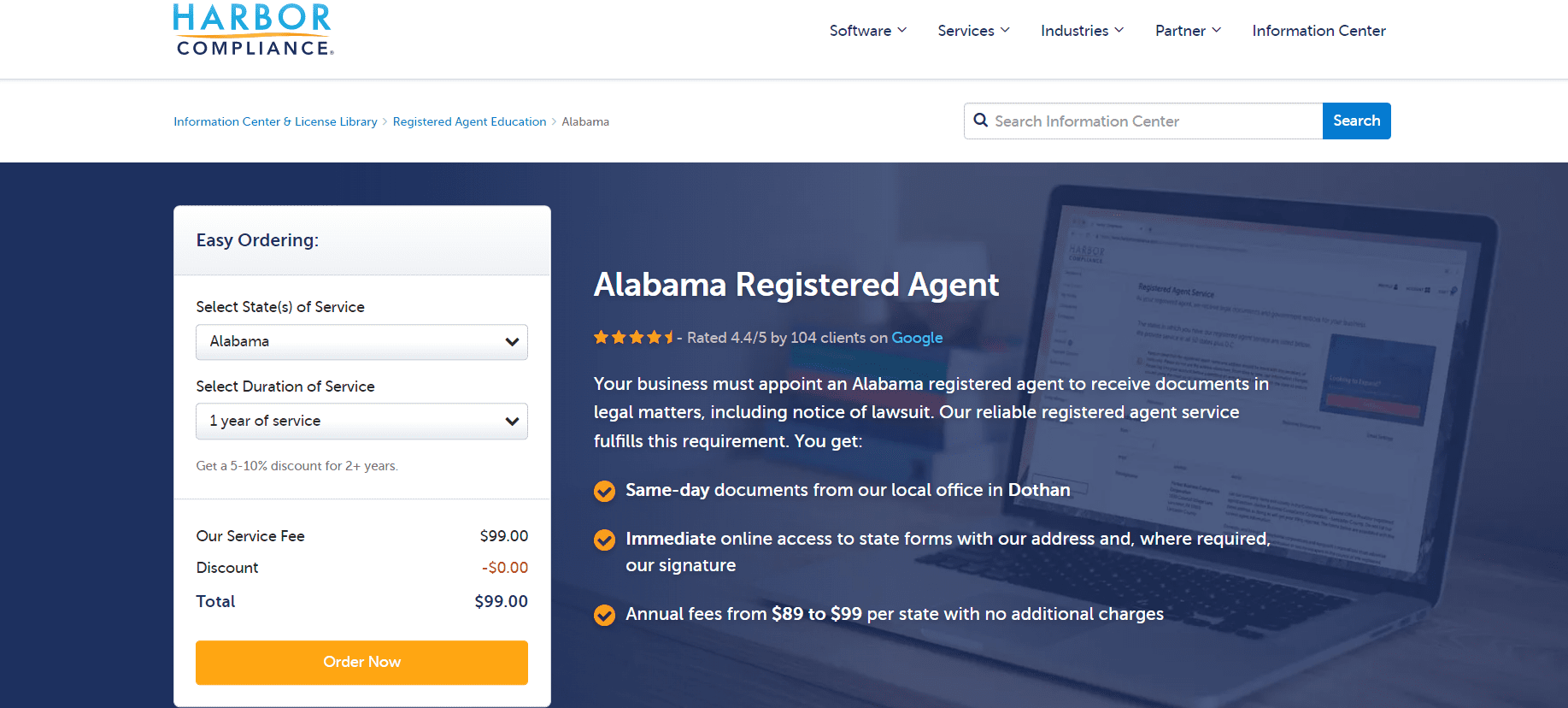 If you're looking for a comprehensive yet affordable registered agent service, you can't go wrong with Harbor Compliance. Apart from storing your documents in an organized manner, with this package, you will receive:
Annual report notifications

Pre-filled and signed state forms

Immediate access to their physical address
If you receive some important legal notices, such as lawsuits, you will be immediately informed via a phone call. 
Their package costs only $99 a year, and if you decide to hire them for multiple years, you can get up to a 10% discount. 
Another benefit you can enjoy is their nationwide presence, so if you ever decide to expand your business in other states, you can use the same registered agent service for every state.
Their Arizona office is located in Oro Valley.
Other services include:
Registration

Amendments

Business licenses

LLC formation

Incorpor

ation
6. Arizona Statutory Agent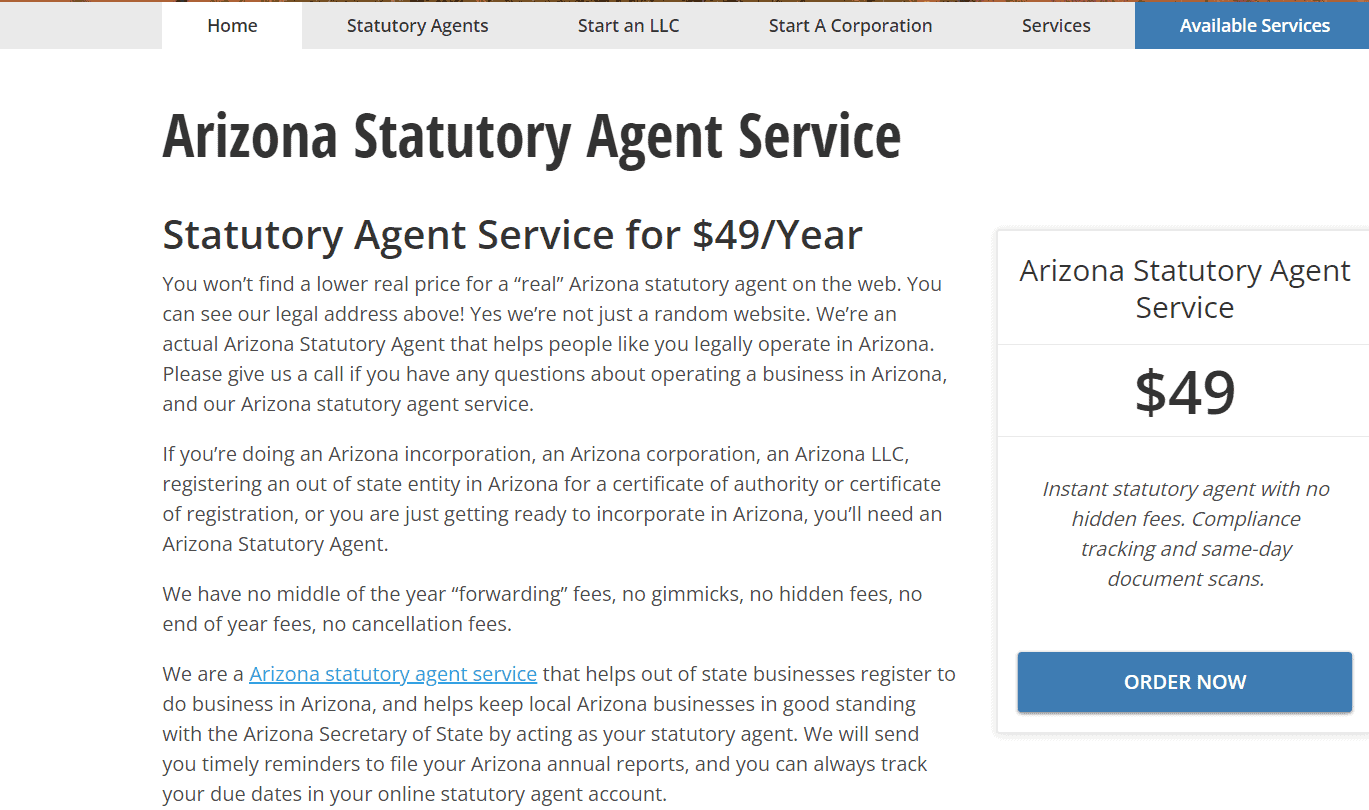 For an even more affordable option, check out the Arizona Statutory Agent service. Their basic package costs only $49 a year. For such an affordable price, you will receive access to:
All the necessary forms

Fling support

Reminders for your annual reports
When you sign up for the service, you will get immediate access to their database where you can access all the documents you will receive. Their scanning is swift and they upload all your important documents in due time.
Overall, it's an incredible option for businesses that are on a very tight budget or businesses that are just starting out.
Their Arizona office is located in Oro Valley.
In addition to registered agent services, they also offer LLC formation and incorporation services.
7. Rocket Lawyer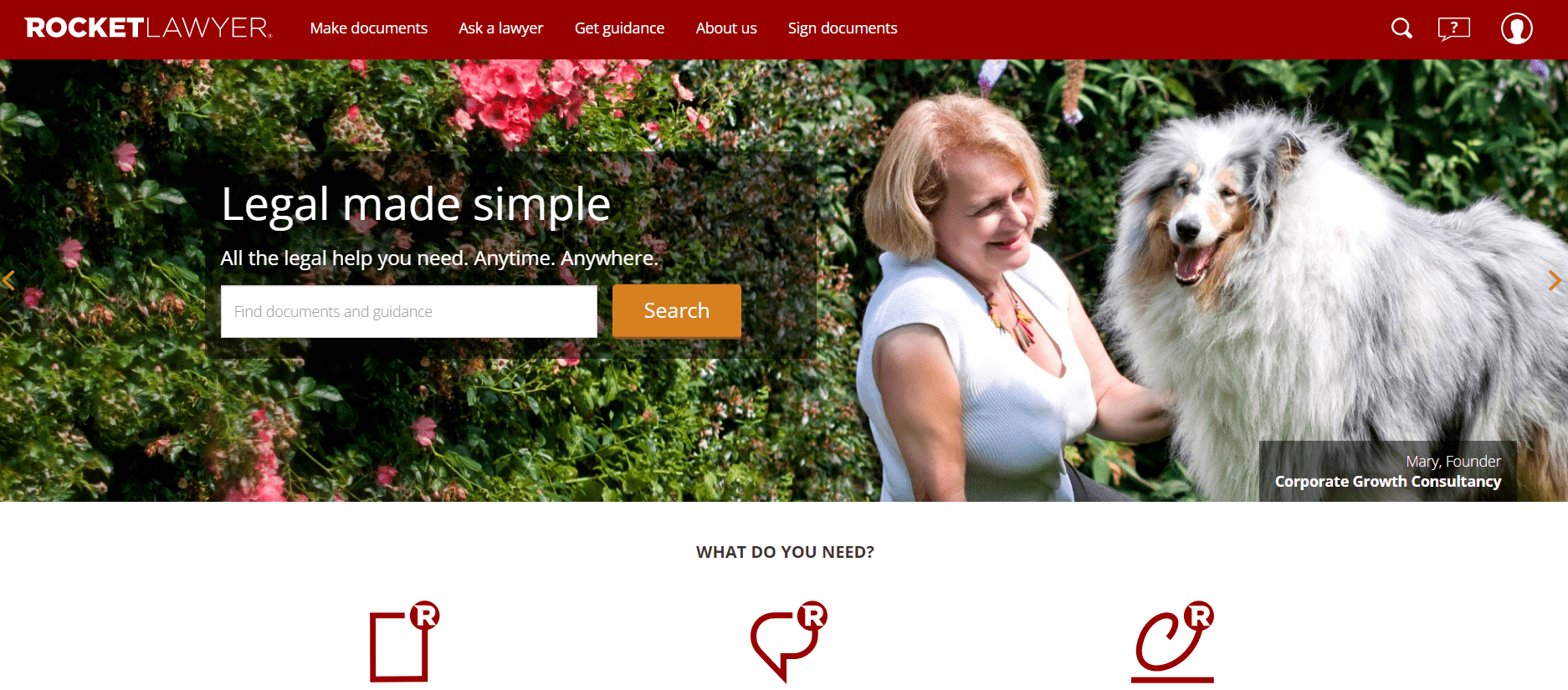 If you're planning on growing your business and want access to expert legal advice on various matters, you can't go wrong with Rocket Lawyer. They have a unique billing system – for only $39.99 a month, you get to become a Premium Member. With this membership, you'll receive:
Free access to any legal documents you need

Free consultations

Access to their "Ask a lawyer" service

Incorporation services

25% off their registered agent services
Alternatively, you can hire them for their registered agent services, which cost $149 a year. With every plan, you will get a 7-day free trial, allowing you to decide whether you are a good match for their services without any commitment.
Any business owners who think they'll be in need of legal help throughout the formation and growth of their business would benefit from hiring Rocket Lawyer. They've helped over 800,000 businesses and their team of legal experts can guide you through any legal matter you might need some help with.
They also offer the following services:
LLC formation
Incorporation
Taxation
Operating agreement
Copyright and trademark
8. Legal Zoom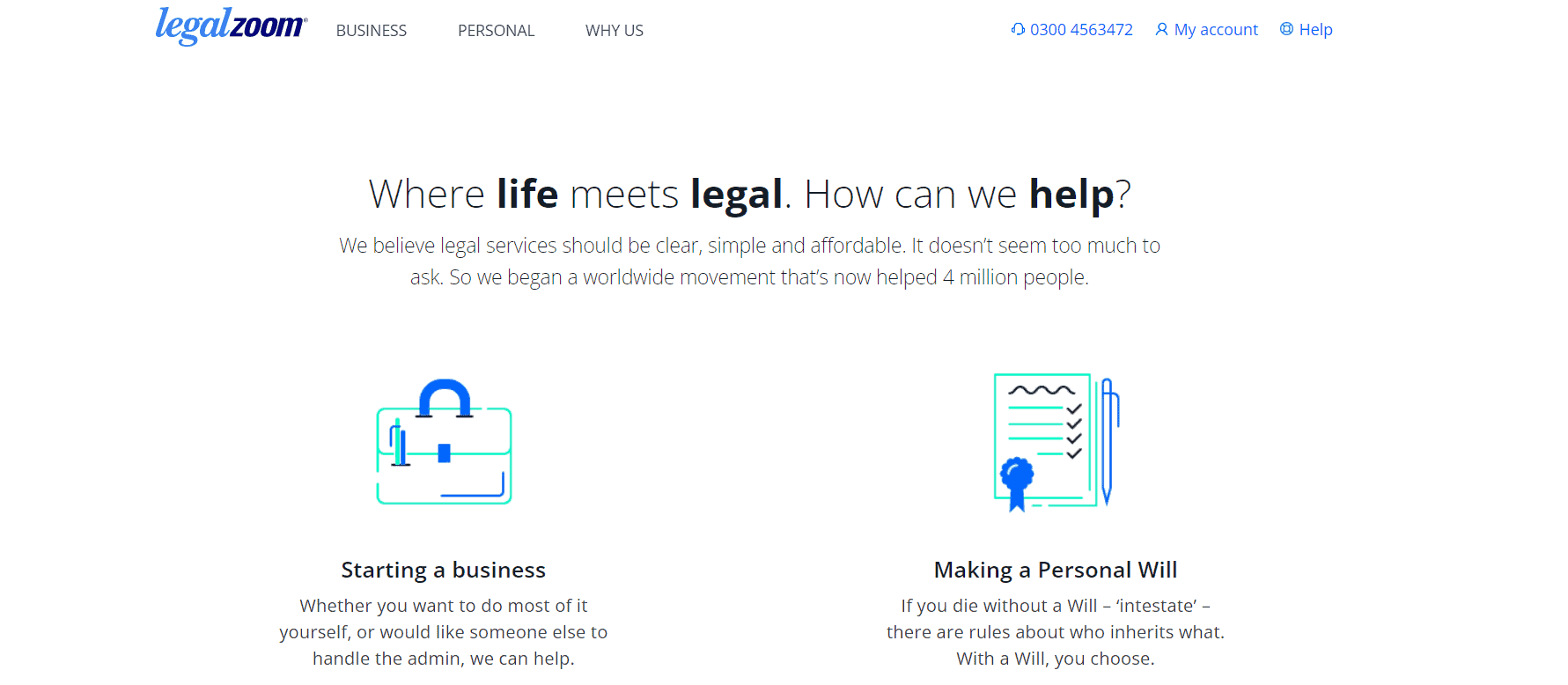 LegalZoom is an outstanding option for bigger businesses that can afford to pay a higher price for a registered agent. Having helped over 2 million businesses, their team is highly experienced in giving you excellent service and taking great care of your documents. For $299 a year, you can get:
Alerts for any mail you receive

Notices about important deadlines

Unlimited cloud storage for all your documents

$1M in identity theft protection
Moreover, due to their dedication to data protection, you won't have to worry about any of your important documents being compromised or leaked. If you decide to hire them for their LLC formation services, the registered agent will only cost you $159 annually.
While their pricing is higher than some of the other services mentioned in our guide, you get tons of features in return, so it's definitely an option worth considering if you have the budget for it.
LegalZoom also offer the following services:
Power of attorney

Taxation

Business registration

Foreign qualification

Annual reports

Trademarking

Residential lease

Copyright 

EIN Number

Business formation

Incorporation 
9. Swyft Filings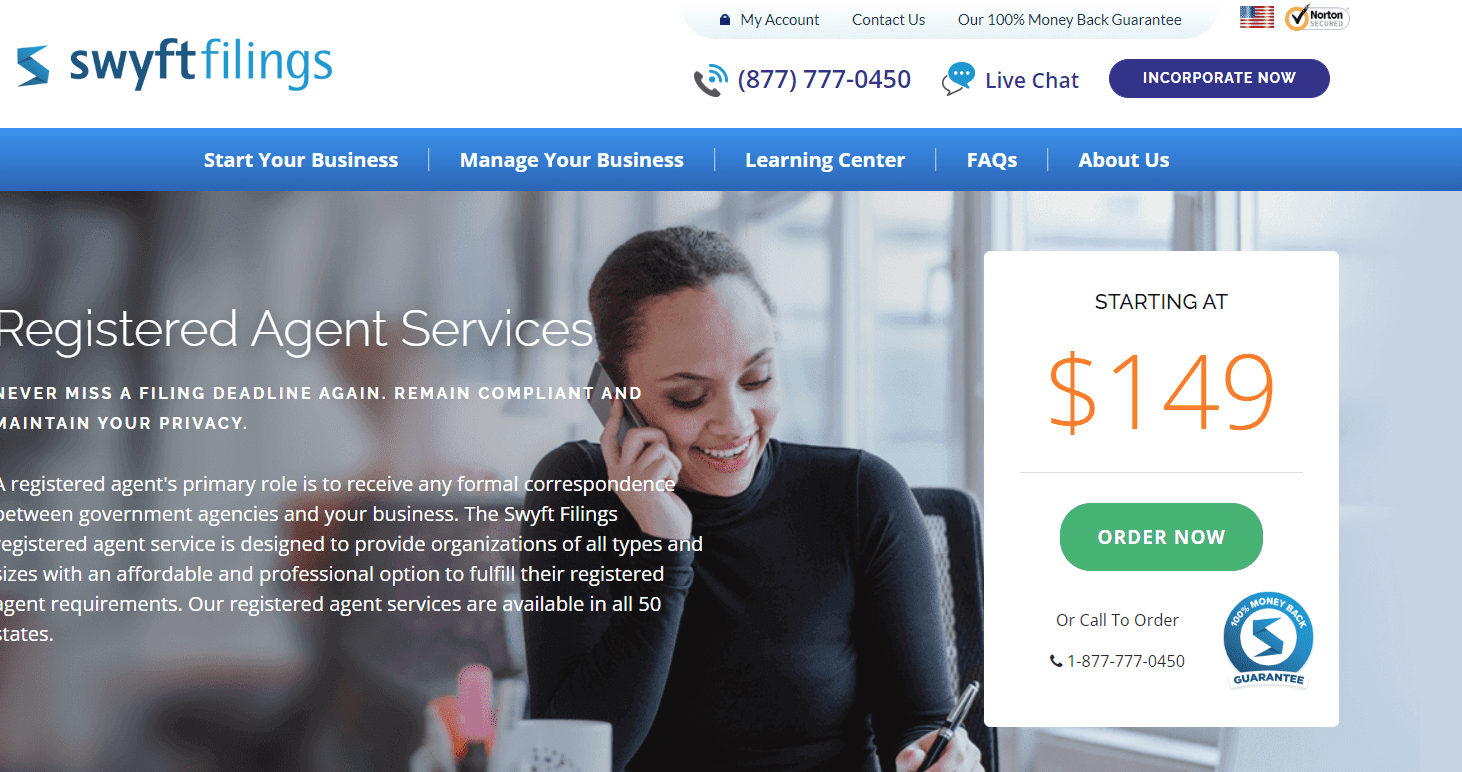 Renowned for their fast processing time, Swyft Filings is an outstanding choice for any business owner looking to get a hold of their important documents as swiftly as possible. Their customer reviews are brimming with positive comments, so it's safe to say that they have a great reputation. 
They handle all your important documents

Quickly upload them to give you fast access so you don't miss any important deadlines

Provide mail storage
Give you access to an online dashboard
Their rates start at $149 a year.
One of their most appealing features is their personalized customer support. Expect quick solutions as opposed to impersonal conversations with bots.
Their other services include:
LLC formation
Incorporation
Annual reports
EIN Number
Amendment
Foreign qualification
Change of registered agent
10. InCorp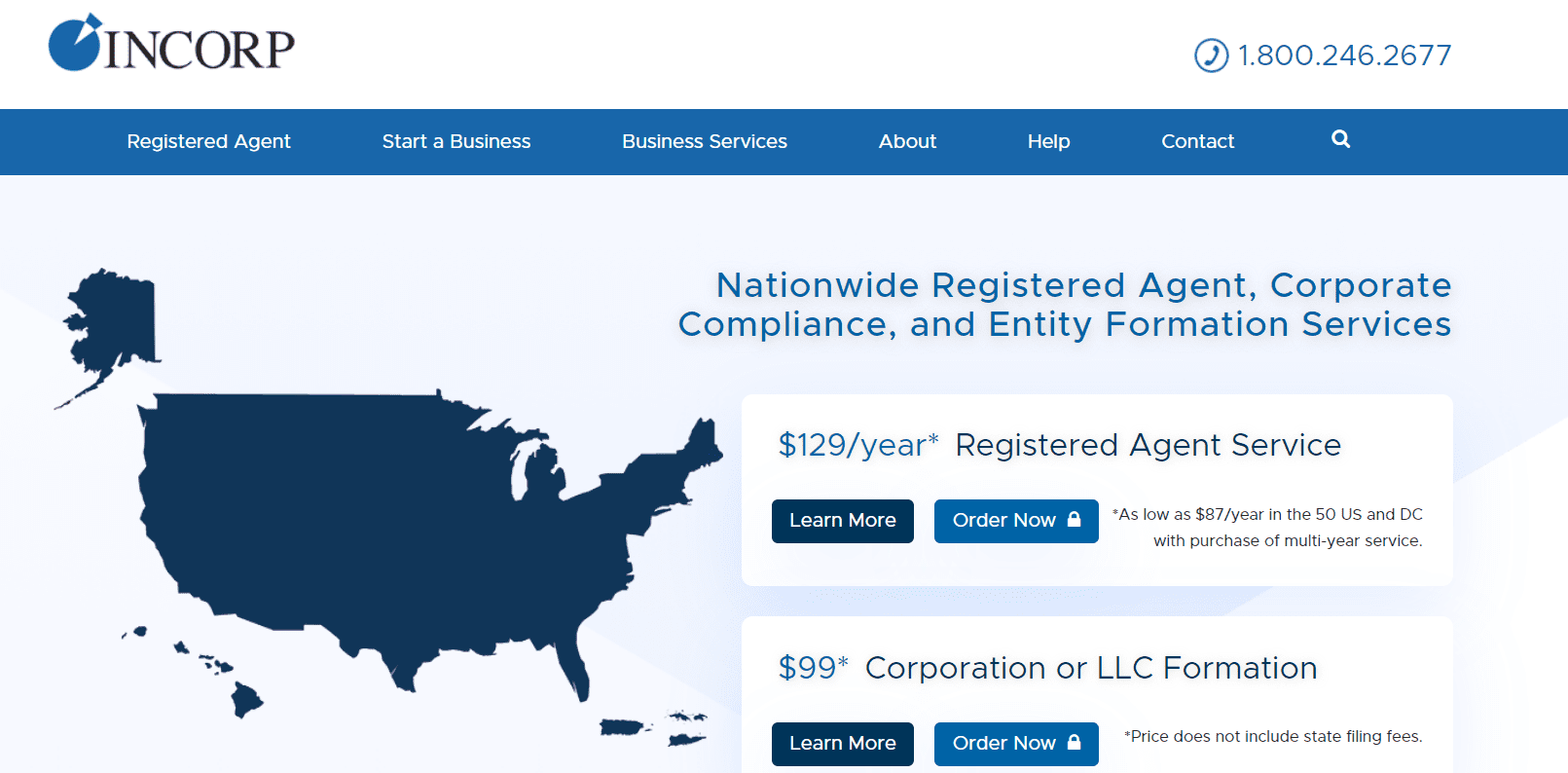 InCorp offer an array of services available nationwide. Their registered agent service costs $129 a year. In return, you will:
Receive legal notifications in due time

Get legal notifications and mail forwarding

Get a physical address you can use instead of your own

Access their EntityWatch innovative technology
This service allows you to access up-to-date information for various states regarding filing status and officers and information on how you can prevent corporate identity theft. 
Another thing we love about InCorp is that you can get your hands on some amazing deals, like their consolidated expenses – if you decide to hire them for multiple years in a row, the annual fee will only be $87 a year.
Their Arizona registered agent office is located in Phoenix.
Apart from providing registered agent services, they also excel in: 
Foreign qualification

Trademarking

Copyright

LLC formation

Incorporation

EIN Number

DBA Filing

UCC search

Articles of amendment

Apostille service
11. Registered Agent Net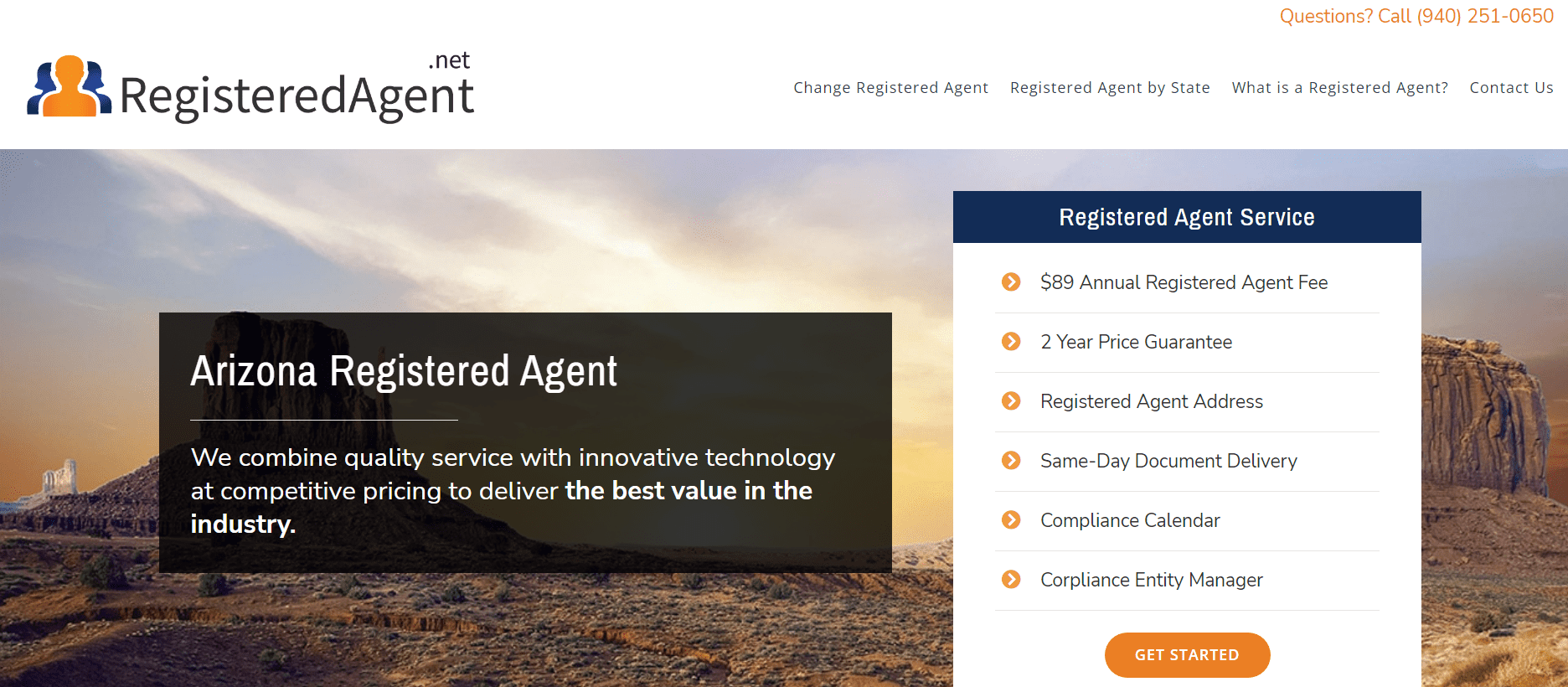 Last but not least, we recommend Registered Agent Net to anyone looking to hire a registered agent service for less than $100 a year. Their fee is only $89 on an annual basis and it gives you:
Access to same-day document delivery

State forms

A registered agent address
In addition, you can seamlessly keep track of all your important deadlines and notices with the help of their complimentary compliance entity manager and compliance calendar. You will receive an email notification ahead of any due dates or annual renewal filings, so you don't miss any filings or applications.
Plus, they provide a two-year price guarantee.
How Do I Register a Business in Arizona?
In this section, we'll cover all the necessary steps you need to complete during your business formation process.
Choose a Business Structure
An essential step in forming any kind of business is choosing what kind of entity you want your business to have. There are four main types of business entities prevalent in Arizona:
LLC (Limited Liability Company)

Corporation
Each business entity comes with specific rules and regulations, as well as pros and cons. For instance, sole proprietorships allow you to have full control over your business and make all the decisions. However, if something goes wrong with your business, you will be held personally liable for it and your personal assets will be up for grabs.
Choose a Name for Your Arizona Business
The first step to starting any business is choosing the right name for it. To avoid any fees or legal hurdles, perform a name search to ensure that the name you've chosen for your business is entirely unique and isn't similar to existing business names in Arizona. This can be accomplished on the Arizona Corporation Commission, the U.S. Patent Office website.
Apart from making sure that the name you've chosen isn't taken, you'll also want to make sure that it complies with the business name restrictions in Arizona. The naming policy is composed of words you have to include in your business name, as well as words that can't be used. For instance, LLCs have to contain some variation of Limited Liability Company in their name. Additionally, corporations aren't allowed to contain words such as "Banking", "Savings Bank", and "Trust" without obtaining the required approval. 
Once you have a name, it's a good idea to reserve your name online with the Arizona Secretary of State. The total reservation fee is $45 – $10 for the basic filing fee and $35 for the expedited fee. If you don't want to submit your application online, you can do so via mail or fax. Keep in mind that online applications are processed first, so if you're in a hurry to reserve your name, it might be a good idea to do it online.
When submitting your application, you'll be required to share information such as the name you've chosen, your personal information as an owner, and information regarding your business entity. Once you submit your application, the state of Arizona will reserve your name for 120 days. To secure the name, you'll need to finish the formation process before that period ends.
File Articles of Organization
If the business entity you've chosen is an LLC, you'll need to file articles of organization with the state of Arizona as part of the formation process of your business. Articles of organization are required by state law and they're a type of legal document that contains information regarding the roles, responsibilities, and liabilities of each member of the LLC.
You can conduct the application online – all you need to do is fill out the form with information regarding the entity type/name, its address, and information about the registered agent you've chosen.
An optional step you can include after you've submitted your articles of organization for review is creating an operating agreement for your LLC. Unlike filing articles of organization, this step is completely optional, but it's a relatively easy way to ensure that the business runs as smoothly as possible. To learn more about the process of filing articles of organization and the instructions for completing the process, check out the Arizona Corporation Commission website.
File Articles of Incorporation
Filing articles of incorporation is an obligatory step in creating a corporation, just like filing articles of organization is for creating an LLC. If you've chosen a corporation as your business entity, you'll need to complete this step and file the articles with the Arizona Secretary of State. You can access the Articles of Incorporation form online – you will need to provide information regarding the type of entity, the name of the business, your address, and information about your registered agent.
Obtain an EIN
If your business has employees or is taxed separately, then you'll also need to get an EIN.
An EIN or Employee Identification Number is a nine-digit number issued to businesses by the IRS for taxation purposes. You can think of EINs as social security numbers for your business. The application for an EIN is conducted online.
Even if your business isn't required to have an EIN, it might be a good idea to get one because you can access benefits such as having an easier time to set up a bank account (having an EIN is a requirement for some banks).
Get Business Licenses and Permits
Another crucial step in registering your business in Arizona is obtaining all the required licenses and permits. The good news is – not all businesses in Arizona are required to have a license, so whether or not you need one will depend entirely on the type of business you're operating. Here are the most common types of licenses you might need to get:
Transaction Privilege Tax License is essentially a sales tax license businesses that sell goods or perform services that qualify for TPT are required to have. If your business falls under categories like retail or hospitality, then you'll probably need a TPT.
Depending on the type of business, you might be required to obtain a Professional License. Typically, this license includes businesses that fall under childcare and teaching. These licenses vary by state and industry.
Apart from licenses, you might require a permit to conduct business in certain cities.
It's a good idea to take a look at the Arizona Commerce Authority checklist for registration and license requirements to ensure that you have every document you need.
How Much Does a Registered Agent Service Cost in Arizona?
The cost of hiring a registered agent service in Arizona depends on several different factors, such as the type of service you'll hire, how many solutions are included, and whether you select a one-year or a multi-year plan. With that said, this service usually costs anywhere between $50 and $150 dollars, while some cost up to $200 or more. 
Another variable that comes into play is how many states your business is expanded in. If you decide to hire a registered agent service for more than one state, then the price will be slightly higher. With that said, you can choose a service that provides a considerable discount and allows you to save money if you hire them for multiple states, as is the case with Northwest.
FAQs
How Much Does It Cost to Register a Business in Arizona?
The registration cost of an LLC in Arizona is $50, whereas the registration cost of a corporation is $60. 
How Can I Do an Arizona Business Entity Search?
You can do an entity search on the Arizona Corporation Commission website.
Can I Be My Own Registered Agent in Arizona?
While most states allow you to be your own registered agent or appoint a family member or an employee as your registered agent, here are some of the reasons why that might not be the best idea.
One of the biggest risks of appointing yourself as a registered agent is that you risk getting served with a lawsuit in front of your clients. You'll be using your business address, so the chances of you being put in an uncomfortable situation in front of a client are significantly higher. In addition, it compromises your privacy since your personal information has to be on public record. You'll also receive more junk mail which can be quite annoying. Not to mention, you won't have any flexibility when it comes to travelling or being away from your office during normal working hours.
How Do I Choose a Registered Agent in Arizona?
Here are some tips to ensure that you choose the right registered agent for your business.
Ensure that they're dedicated to protecting your data. You will be obliged to provide a lot of your personal information to your registered agent, so make sure their online database is safe and that their clients are protected against any cybercrimes.
You'll also want to choose a reputable agent with years of experience. Read up on their history and check out all the reviews (preferably those that aren't included on their website, but pages like Trust Pilot).
On top of those aspects, it's useful to carefully examine all the tools and features you'll get in their packages to know what you're paying for before you make a commitment.
A Word of Farwell
We hope you found our guide on the best Arizona registered agent services useful. Our guide contains various recommendations, so anyone can find a registered agent service that's compatible with their business needs.
If you're looking for the best of the best, we strongly recommend Zen Business or Northwest. Both services have years of experience and thousands of happy clients who vouch for their excellence. You'll receive a myriad of features and access to outstanding customer support throughout the year.