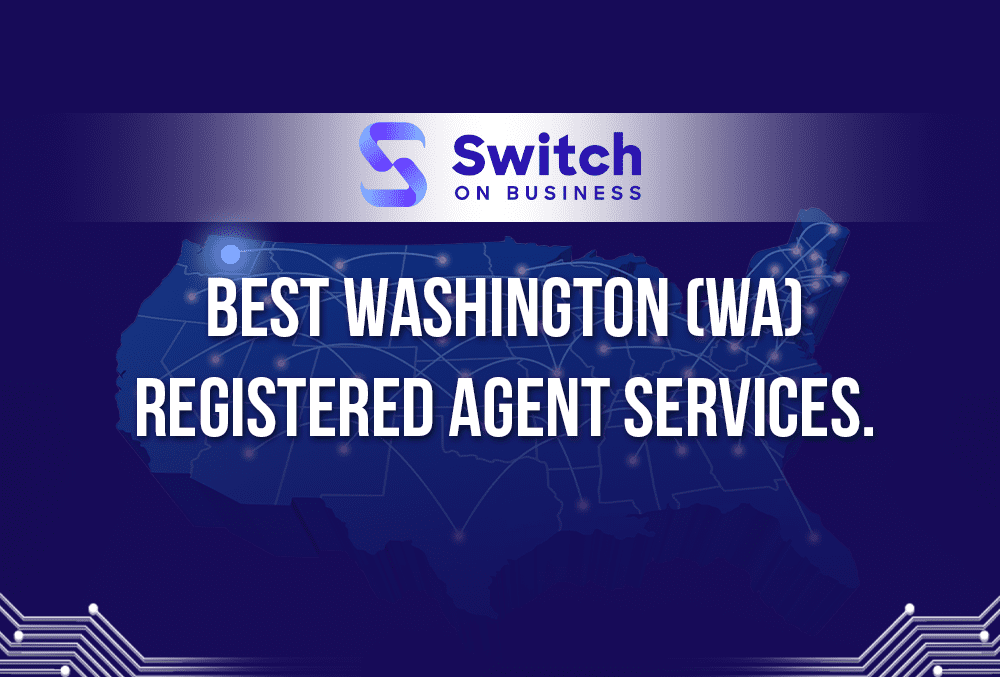 Hiring a professional registered agent service can unburden you of a big portion of the hassle that comes with running a business. It helps your business to remain compliant and gives you more time to focus on other aspects of your business. If you want to experience these benefits and your goal is to start a business in Washington, we have compiled a guide on the best Washington registered agent services to help you pick the best option.
If you're not keen on reading through the whole article and want to get to the gist of our recommendations, check out all the features of our top three picks in the table below.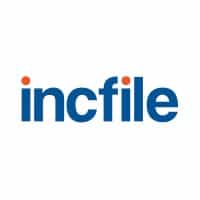 Free For The First Year
$119 / Annually After That
Never Any Hidden Fees or Contracts
Loved by 800,000+ Entrepreneurs
Available in All 50 States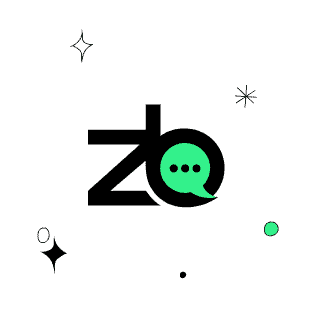 Rated 4.6 out of 5 On Trustpilot
$199 / Year
Only Takes 5 to 10 Minutes To Set-up
100% Accuracy Guarantee
Expert Customer Support

Free First Year If You Use Their $39 formation package
$125 Per Year After
Available in all 50 states
Free mail forwarding
Locally-Scanned Documents
Best Washington Registered Agent Services
Registered Agent Service
Cost
Washington
IncFile
$119 a year/ first year free with
incorporation
Office Location
ZenBusiness
$199 a year
Not stated
Northwest
$125 a year
Not stated
Harbor Compliance
$99 a year
Washington DC
MyCompanyWorks
$99 a year
Spokane
InCorp
$129 a year
Not stated
Better Legal
$10 a month/
Fife
Washington
$90 a year
Not stated
Registered Agent
$59 a year
Spokane
CSC Global
$381 a year
Tumwater
Swyft Filings
$149 a year
Not stated
If you're not sure how to navigate starting your business and you need some guidance, check out our section on how to register your Washington business. Our guide also contains an FAQ section where we cover some important questions.
With all that out of the way, let's begin by defining the purpose of a registered agent and all the benefits it brings.
What Is a Registered Agent?
A registered agent is either an individual or a company that has the task of forwarding the legal correspondence and documents that your business receives directly to you in a timely manner.
Does Washington Require a Registered Agent?
Yes, all business entities in Washington are required to appoint and maintain a registered agent that complies with all the rules imposed by the state.
What Are the Benefits of Hiring a Registered Agent?
Still unsure whether you should hire a registered agent? Here are all the benefits that come with doing so:
You won't have to work during normal business hours and you can be more flexible with your time;

Your business will be easily expandable since you won't have to hire a new registered agent for other states;

You will remain compliant with all the Washington state regulations;

You can travel without the concern of missing a document;

You will never have to risk damaging your business image.
Now that we've got that covered, let's proceed with our first recommendation.
1. IncFile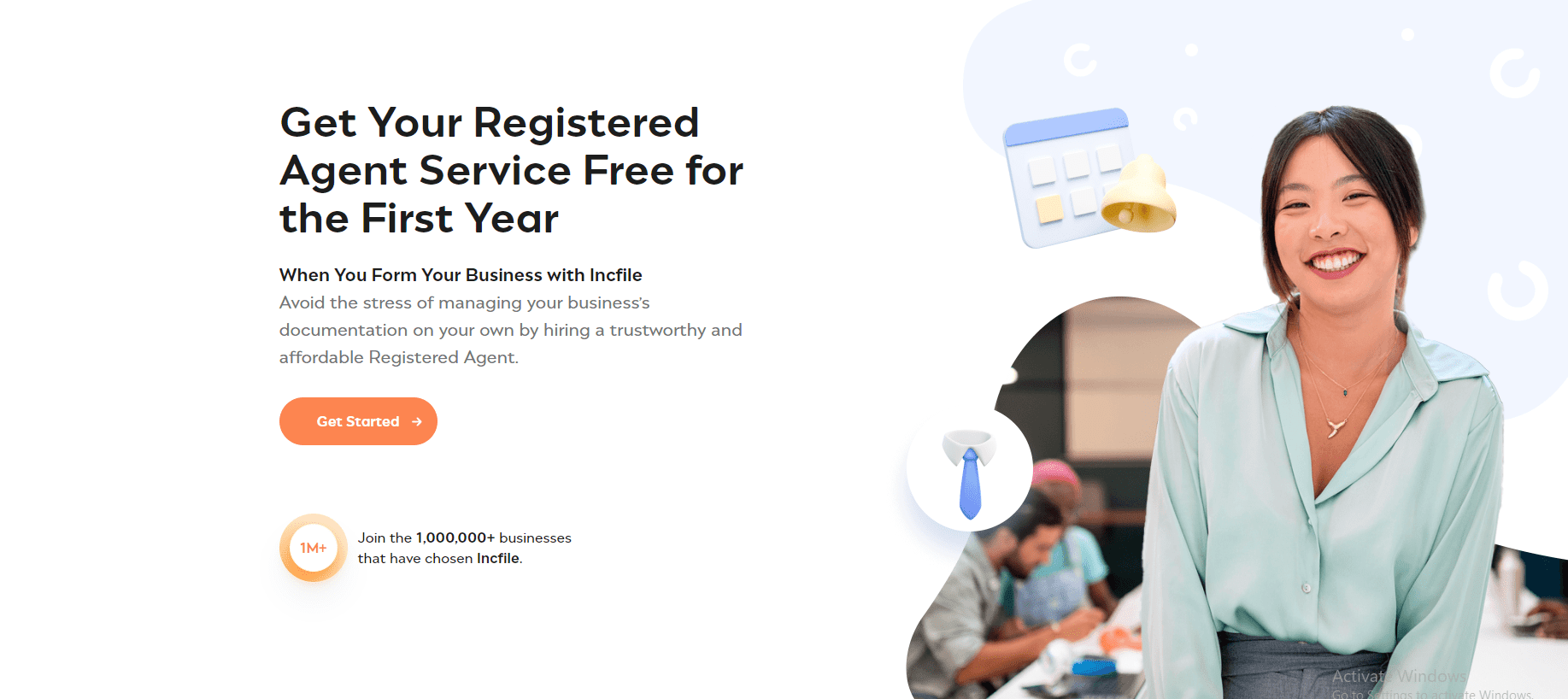 IncFile, a company that's helped over 800,000 customers since their formation, will ensure that you meet all the Washington state legal requirements without breaking the bank. They offer an incredible loyalty deal – if you use their formation service, you can get a complimentary year of registered agent services. This includes:
Access to all your important correspondence in due time

Access to your correspondence on your personal dashboard

Tailored email and text notifications

Automatic mail forwarding
IncFile are dedicated to sending you regular compliance reminders and preventing you from getting fined for missing a deadline.
Moreover, they offer their services in every state, so you can expand your business to multiple states without going through the hassle of changing your agent.
Their regular fee will only cost you $119 a year.
On top of registered agent services, you can hire IncFile for:
Virtual address

Certificate of good standing

Tax consultations

Trademarking

EIN Number

Business licenses and permits

Amendment

Foreign qualification
2. ZenBusiness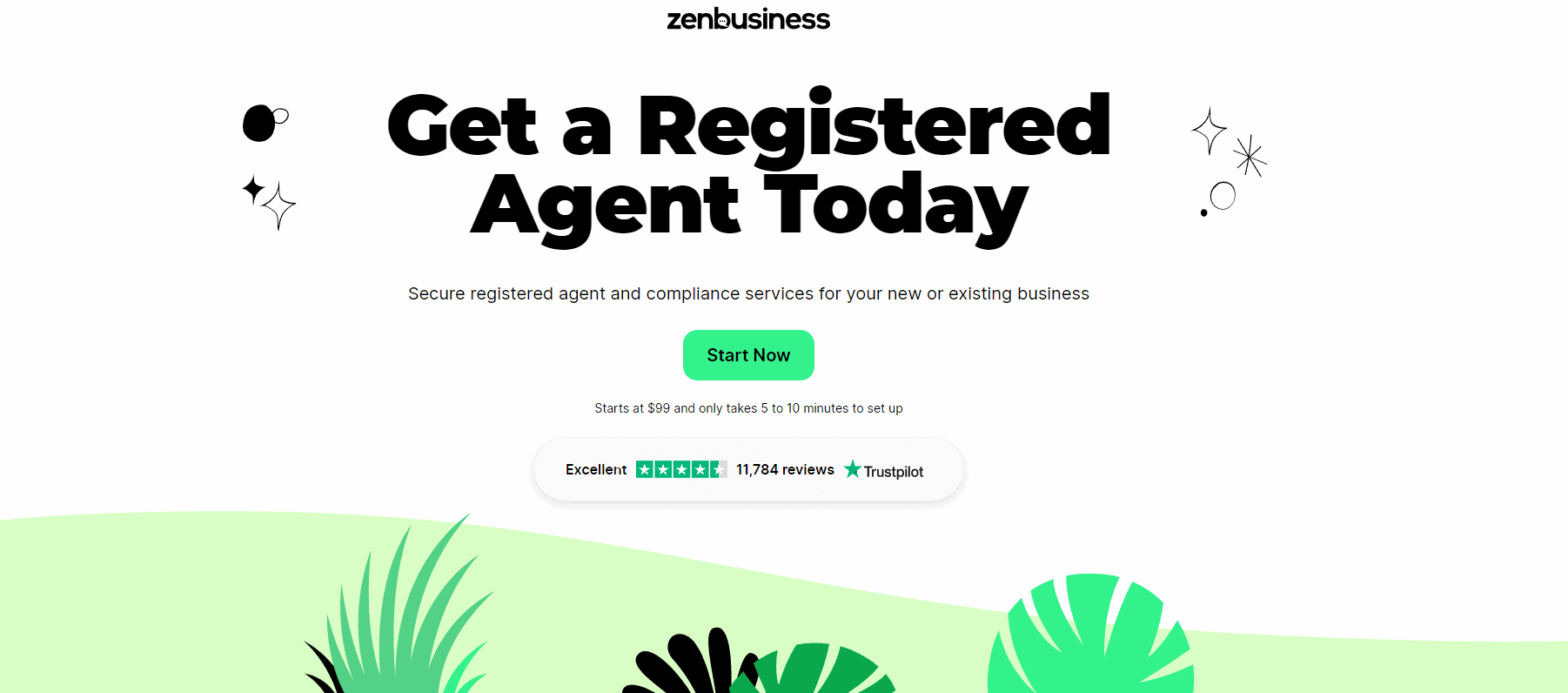 Our next recommendation is rated as #1 on credible sites like Forbes and Investopedia. A popular option among entrepreneurs, ZenBusiness offers a plethora of business services, including a comprehensive registered agent service that includes the following tools:
Access to a personalized dashboard

Email notifications

Mail forwarding

Fast turnaround

Expert handling of all your documents

Document scanning
ZenBusiness also distinguish themselves with their charitable $5K Grant Program that helps financially support business owners who need help with starting and growing their business.
On top of that, they have an excellent customer support team. You can come to them with any compliance-related question, and they'll help you find the answers you need.
And if you're still not convinced, you can read some of the thousands positive online reviews that cement ZenBusiness as one of the best registered agents.
Their starting fee is $199 a year. Customers have the option of upgrading their services to include more perks, like annual support alerts.
Additionally, they offer:
Incorporation

Annual reports

Taxes and accounting

Banking and finances

Business license reports

Operating agreement

EIN Number

Worry-free compliance

Domain name and website
3. Northwest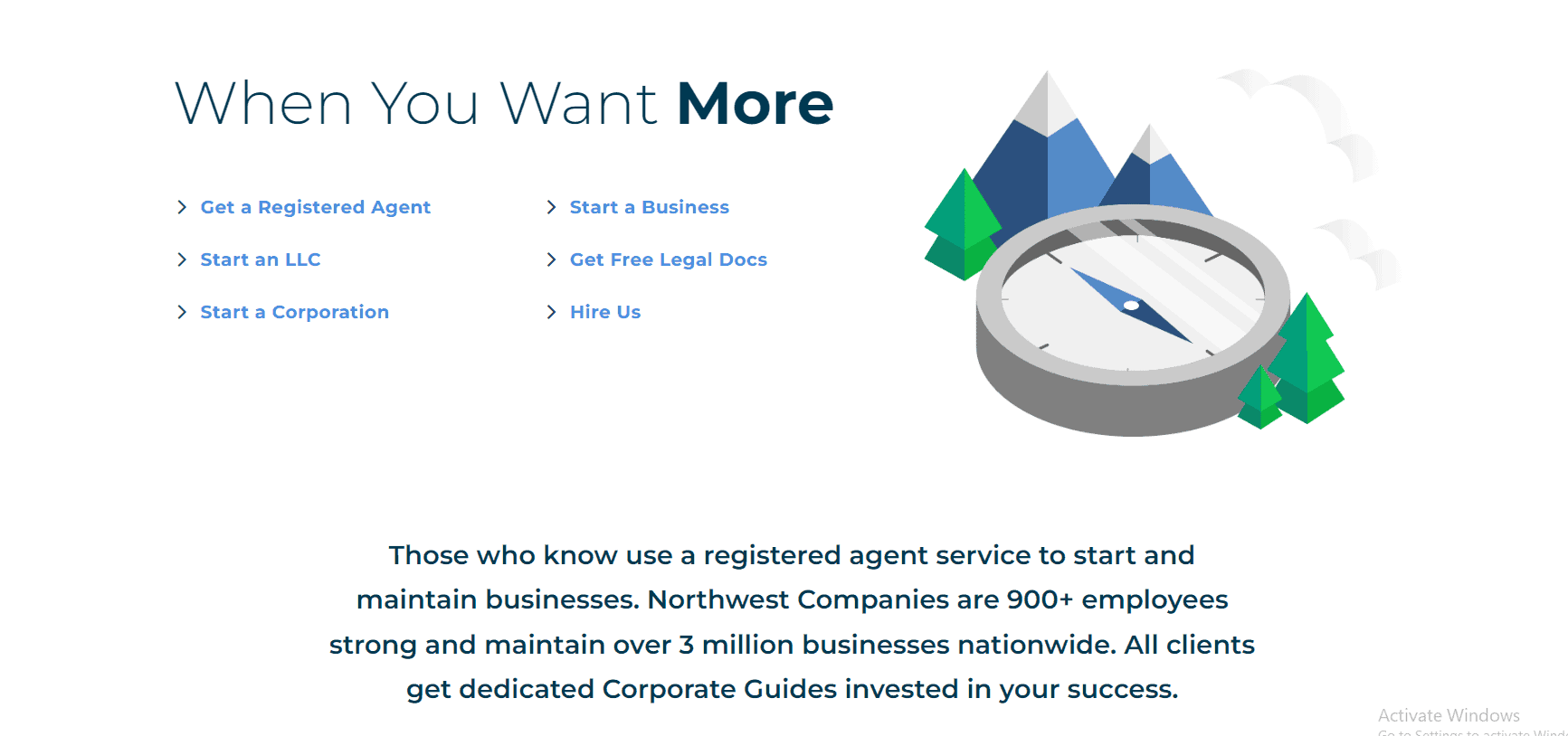 Northwest is another one of our top recommendations for anyone looking for a registered agent in Washington. As your registered agent, they will give you access to a plethora of benefits, such as:
Compliance alerts

Mail forwarding

Annual report reminders

Document storage

Pre-filled state forms

Scanned documents
What stands out most to us regarding Northwest's registered agent service is their premium customer support called Corporate Guides. Containing experts in fields like law and business, their customer support team is one of the best in the industry.
In addition, their sign-up process is fast and seamless, and their website is quite easy to navigate.
What will also help you stay compliant is the fact that you'll get free access to their compliance calendar during your first year with Northwest.
We also like their Privacy by Default practice, the purpose of which is to protect your personal data and privacy.
Northwest's fees are $125 a year if you hire them as your agent in one to four states, and $100 if you use their services in more than four states.
Their Washington office is located in Washington, DC.
Northwest also offer:
Annual report filings

Phone service

Trademarking

Mail forwarding

Payment processing

Virtual office

Foreign qualification
4. Harbor Compliance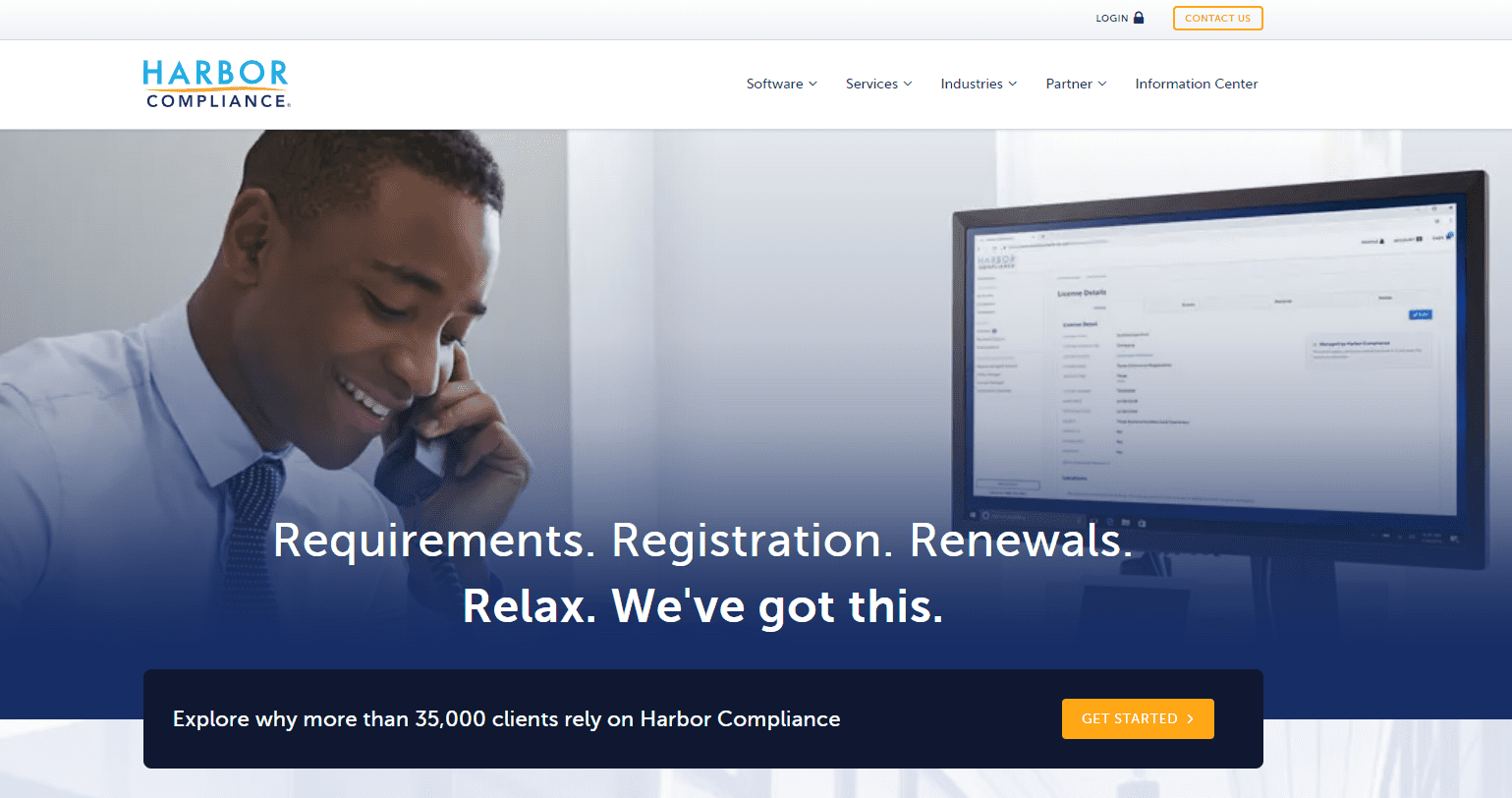 Another one of our picks that will help your business stay seamlessly compliant is Harbor Compliance. With experience that includes over 35,000 customers, Harbor Compliance ensures that you have access to any compliance tool you might need, including:
Access to pre-filled state forms

Annual report reminders

Same-day electronic delivery of your documents

Customizable notifications
Moreover, the setup process of Harbor Compliance is relatively easy, making them a great option for anyone who doesn't have experience with registered agents.
Since they're known for their rapid processing speed, you can rest assured knowing you'll never miss an important due date and get in trouble with the state.
Their yearly fee is $99, but anyone who uses their multi-year service will receive an additional 10% discount.
Their Washington office is located in Spokane.
Harbor Compliance also offer the following services:
LLC formation

Incorporation

Registration

Amendments

Business licenses
5. MyCompanyWorks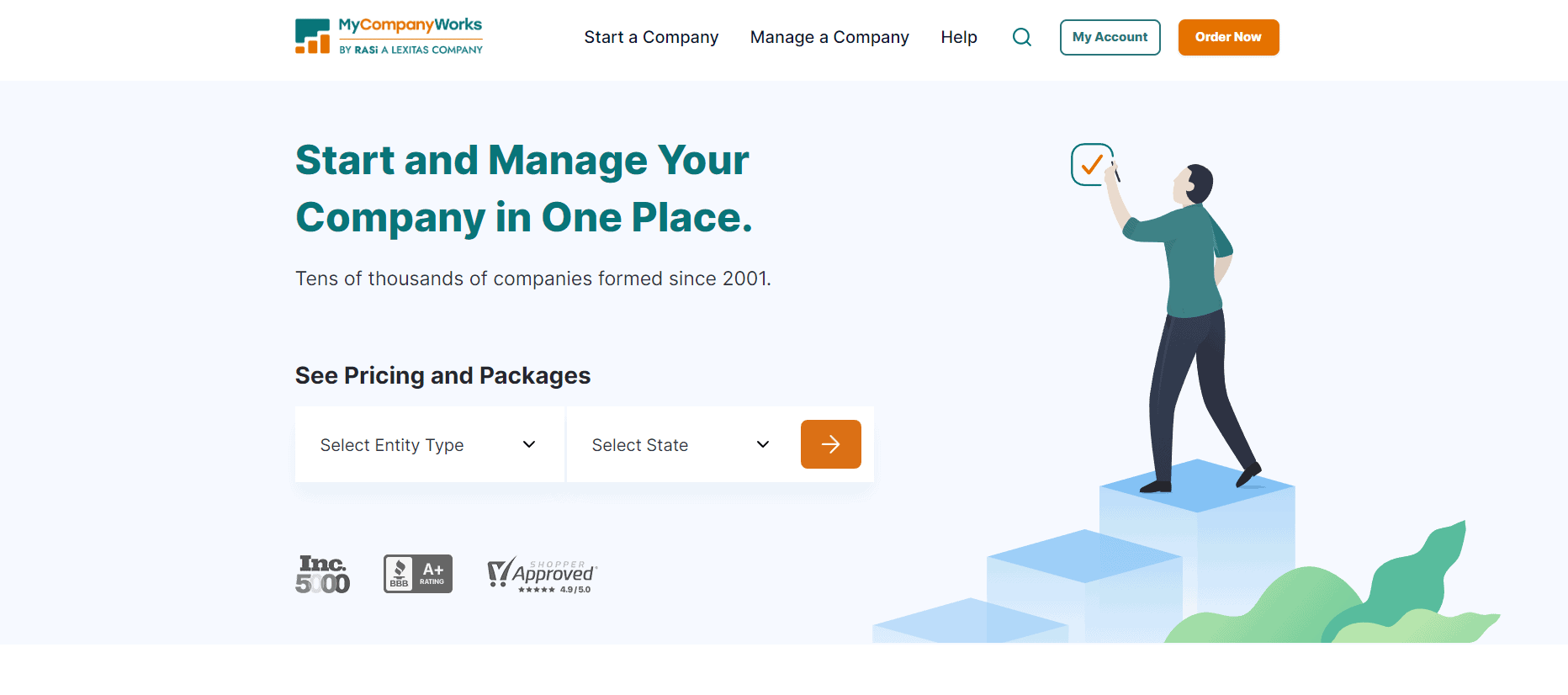 Looking for a reliable registered agent service that will cost you around $100? In that case, we have the perfect recommendation for you – MyCompanyWorks. With their registered agent services, you will receive:
Online order tracking

Free E-delivery

Access to an online dashboard

Compliance monitoring

Access to their Startup Wizard

Same-day processing
One of their customers' favourite aspects about MyCompanyWorks is how customizable their service is, so it's ideal for those looking for an individualised approach.
In addition, they offer a customer-friendly 100% satisfaction guarantee, should you want to cancel your service at any point.
Their yearly fee is $99.
Other than registered agent services, they also offer:
LLC formation

Incorporation

Company dissolution

File a DBA

Business licenses

Virtual office

Annual reports
6. InCorp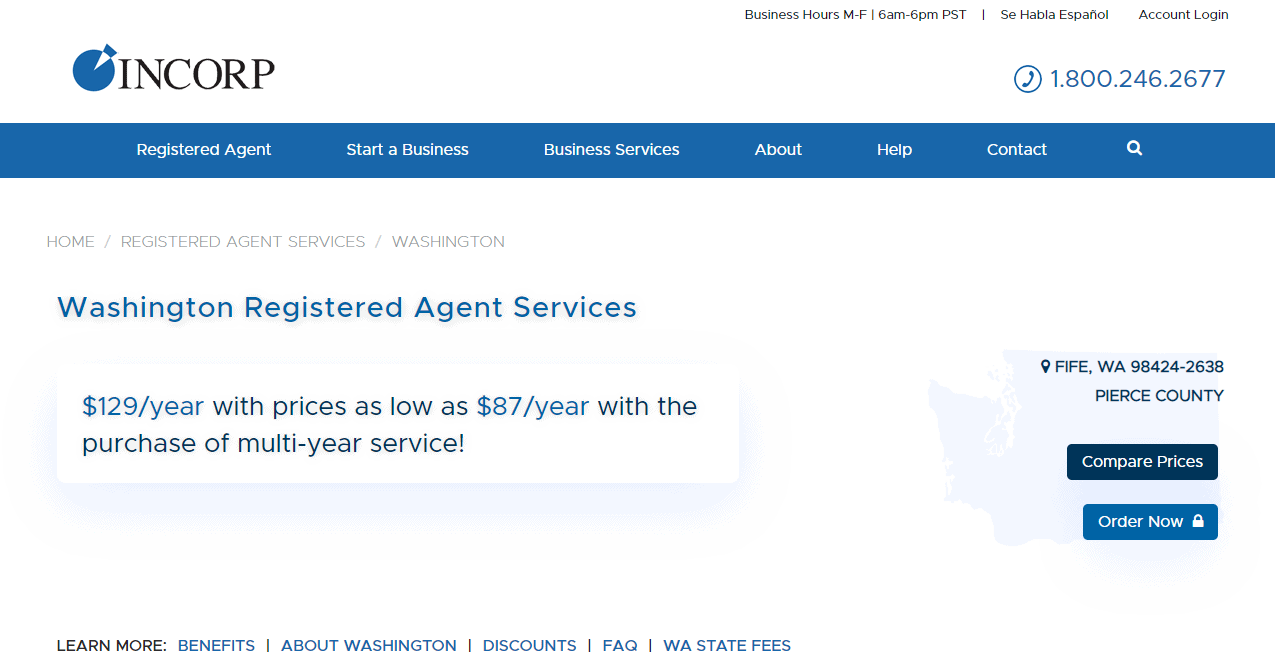 InCorp allows you to keep your Washington business organized and compliant, all for the price of $129. If you decide to use their multi-year service, your fee will be reduced to $87 a year. In return, you'll be given:
Access to their Entity Management System

Legal notifications

Mail forwarding

Annual report filings
Thanks to EntityWatch, their incredibly innovative technology, you can receive up-to-date information about the status of your filings, and the current registered agent, officers, and directors. On top of that, it also prevents corporate identity theft.
Their Washington office is located in Fife.
Other services provided by InCorp include:
Copyright

EIN Number

Foreign qualification

DBA Filing

UCC search

Articles of amendment

Trademarking

Apostille service

LLC formation

Incorporation
7. BetterLegal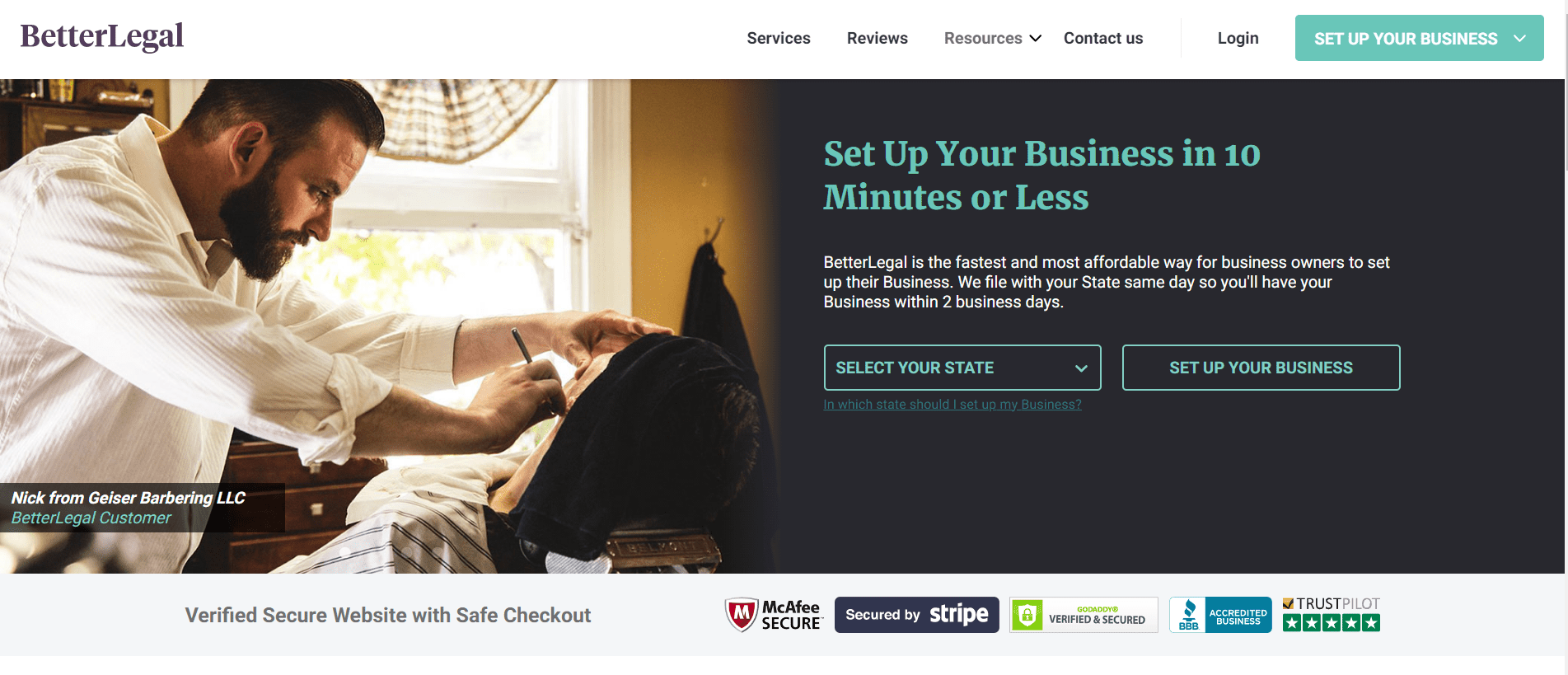 BetterLegal offer a flexible payment plan along with a myriad of outstanding features that will never fail to keep you compliant. These features include:
A Washington physical address

Regular compliance reminders

Fast turnaround

Mail forwarding
Another benefit customers enjoy is their easy-to-use platform. Regardless of your experience navigating similar websites, you'll find your way around it.
You have two choices in terms of payment: you can either pay $10 a month or $90 a year. Both options are quite affordable considering the quality of the service.
BetterLegal also offer other services, such as:
LLC formation

Incorporation

Compliance services

EIN number
8. Washington Registered Agent

Costing only $59 a year, Washington Registered Agent is the most affordable recommendation in our guide. This budget-friendly option includes many different perks, such as:
Year-round compliance monitoring

Document forwarding

10 free courtesy scans

Access to an online account

Annual renewal reminders
In addition, they're dedicated to protecting the privacy of their clients, which is crucial for any business.
Despite the affordable pricing, you'll not encounter any added fees and the pricing will remain the same each year.
Their Washington office is located in Spokane.
They also offer:
Registered agent change

LLC formation

Incorporation

Mail forwarding

Virtual office

EIN Number

Corporate book and seal
9. CSC Global

Ideal for bigger businesses, CSC Global offers a premium registered agent service that comprises of every tool you'll need to never miss a state deadline and fulfil all your legal requirements with the state of Washington. Their clients get access to:
A personalized online dashboard

Annual compliance reminders

Access to SOC-2 facilities

Electronic delivery of documents

Same-day document scans
If you're worried about third parties accessing your vulnerable information, then CSC Global will put all your worries to ease with their outstanding SOC-2 technology that will keep your private data secure.
Even though they're more expensive in comparison with other services and will set you back $381 a year, their comprehensive list of tools makes them a worthwhile investment.
Their Washington office can be found in Tumwater.
They can also be hired for:
Entity management

Legal management

Corporate filings

UCC

Digital brand services

Real estate and erecording
10. Swyft Filings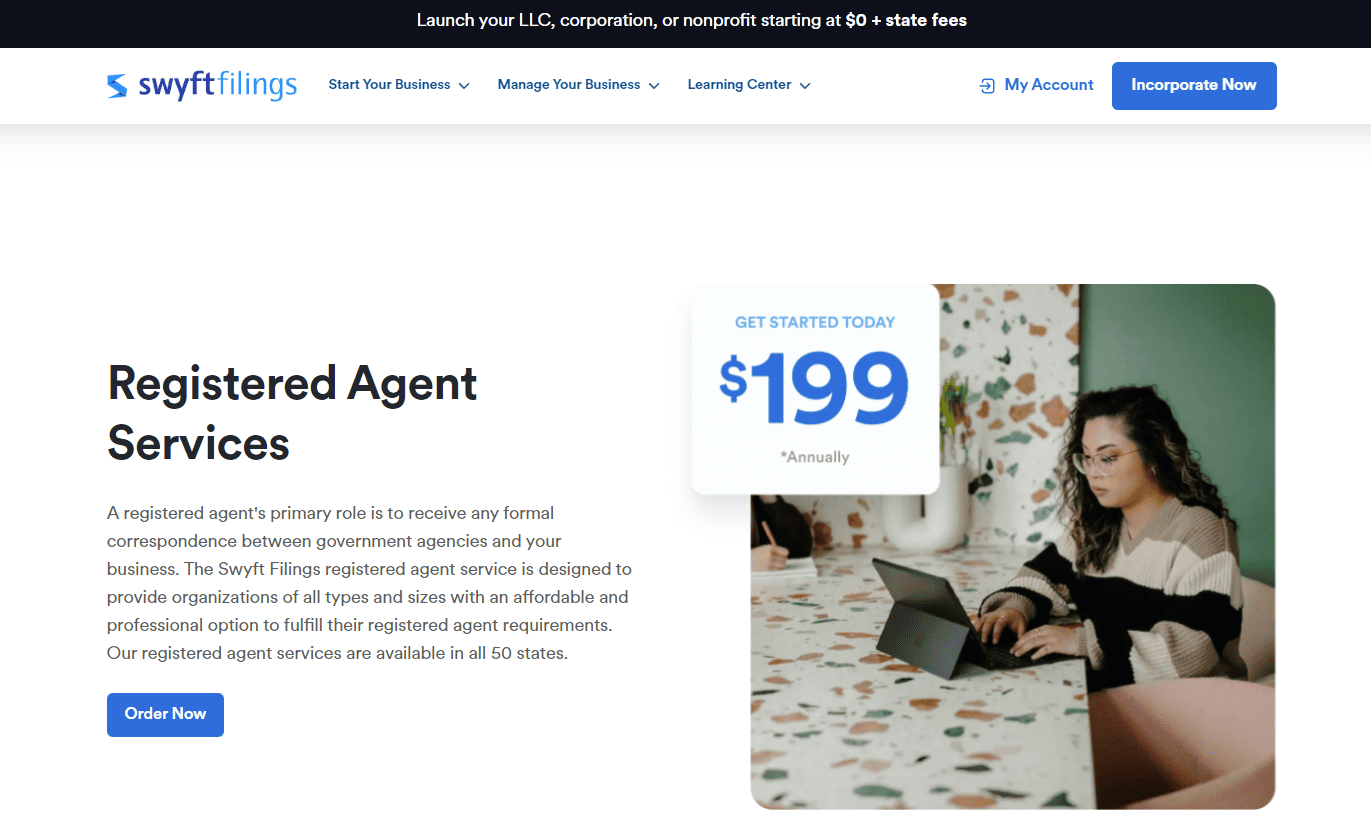 Last but not least, Swyft Filings is an affordable registered agent option that also offers a plethora of other services. They provide all the resources you'll need from a registered agent, like:
Expert handling of all your documents

Access to an online account

Document storage
They're known in the industry for having a fast turnaround service, so if that's something you prioritise, definitely consider them as an option.
Additionally, the sign-up process is easy and their platform is user-friendly.
Their yearly fee will cost you $149. Their pricing remains transparent, so customers don't have to deal with any hidden fees.
Here is a list of the other services Swyft Filings offer:
Foreign qualification

LLC formation

Incorporation

Amendment

Withdrawal

EIN Number

Registered agent change

Business dissolution
How Do I Register a Business in Washington?
Here are all the steps required to open a business in Washington.
Name Your Business
Once you have a business idea in mind, the first step to starting your business is to find the right name for it.
You have a great deal of freedom to choose a creative name that suits your business idea. With that said, there are also a few guidelines business owners have to follow when it comes to naming. For instance, your business name should include a word or an abbreviation that denotes what kind of business entity it has. Some examples include "LLC", "Inc.", "Limited Liability Company".
Additionally, the state of Washington requires all business names to be unique. To see if any other business in the state has your name or a similar name to yours, you can do a Washington business entity search on the Washington Secretary of State website.
Choose a Business Structure
One of the most important decisions you'll make regarding your business is selecting the business structure. These are the four main entity types:
You should make your decision based on a couple of different factors, including how much you're willing to spend per year to fulfil all the state requirements, how big your starting budget is, and whether or not you want to have limited liability.
File a Certificate of Formation
If you decided that the higher cost of forming an LLC is worth it for the protection of the assets and you opted for this type of entity, then you'll need to file a certificate of formation with the state of Washington.
This document includes crucial information about your business and your registered agent, so, at this point, you'll need to have come up with a name for your business and chosen your registered agent.
Filing a certificate of formation will cost you $180.
File Articles of Incorporation
The equivalent of a certificate of formation for corporations is articles of incorporation. If you intend to form a corporation, you'll need to fill out and submit this document to the state. The articles of incorporation contain information about the location of your business, its name and purpose, and information about the stocks and shares of your business.
This process will cost you $180.
Obtain an EIN
Every business owner who wants to hire employees for their business or wants their business to be taxed separately from them needs to apply for an EIN on the IRS website. Getting an EIN comes with many benefits, like allowing you to pay taxes, open business bank accounts, and obtain certain licenses.
The application is free of charge and it takes minutes to complete.
Obtain all the Required Licences and Permits
Last but not least, to ensure that your business is operating legally, you'll need to get all your required licenses and permits.
Unlike many other states, the state of Washington requires all businesses to apply for a general business license. The application fee is $19 and you can apply either online or by mail.
On top of obtaining a general business license, you might have to get a professional or occupational license, depending on what industry your business is in. These types of licenses usually pertain to business owners who work as medical professionals, accountants, or real estate brokers.
The Washington State Department of Licensing website has a section detailing all the specific licenses required by every industry, so make sure you check that out.
To help you out in this process, you can also do a business license search.
FAQs
How Much Does It Cost to Register a Business in Washington?
The cost of starting a business in Washington is $180.
Where Can I Do a Washington Business Entity Search?
You can do a Washington business entity search on the Washington Secretary of State website.
Final Thoughts
Choosing the right registered agent can be a daunting task. Hopefully, with our detailed recommendations, you are able to pick the option that suits your business vision and budget best.
If you don't have a specific preference for your future registered agent, consider one of our top picks – IncFile, ZenBusiness, or Northwest.