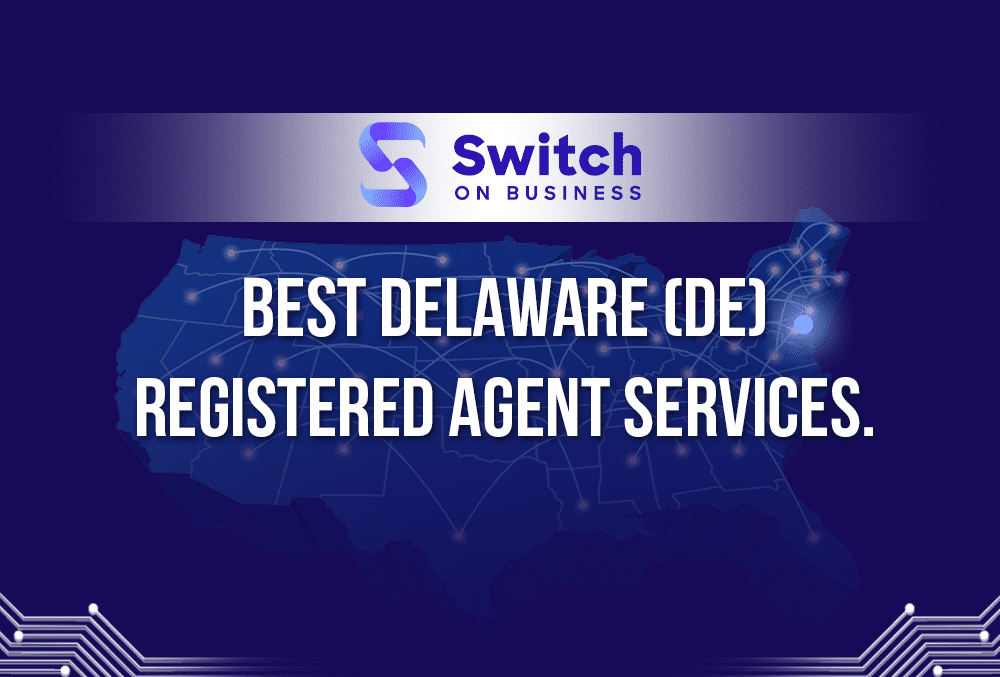 If you're planning on forming a business or expanding your current business in Delaware, you're also probably thinking of hiring a registered agent. After all, the right registered agent can make your business run more smoothly, give you peace of mind knowing that you're staying compliant with Delaware's state laws, and ensure that you're not missing any important deadlines that can result in being fined. 
To help you find the right registered agent for your business, we compiled a list of our best Delaware registered agent services recommendations.
Here are the top three choices for a registered agent service in Delaware.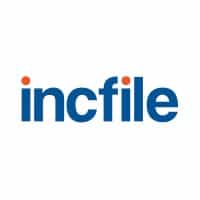 Free For The First Year
$119 / Annually After That
Never Any Hidden Fees or Contracts
Loved by 800,000+ Entrepreneurs
Available in All 50 States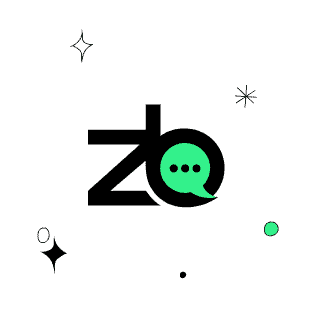 Rated 4.6 out of 5 On Trustpilot
$199 / Year
Only Takes 5 to 10 Minutes To Set-up
100% Accuracy Guarantee
Expert Customer Support

Free First Year If You Use Their $39 formation package
$125 Per Year After
Available in all 50 states
Free mail forwarding
Locally-Scanned Documents
Best Delaware Registered Agent Services
Registered Agent Service
Cost
Office Location
Northwest
$125 a year
Dover
ZenBusiness
$199 a year
Not stated
IncFile
$119 a year
Not stated
Better Legal
$90 a year/
$10 a month
Not stated
Delaware Registered Agent
$45 a year
Dover
Delaware Registered Agent Service
$50 a year
Wilmington
CSC Global
$381 a year
Not stated
Registered Agent Inc.
$200 a year
Dover
Legal Zoom
$299 a year
Not stated
Harbor Compliance
$99 a year
Not stated
In addition to giving you individual recommendations, we also included a section where we go over the necessary steps to form a business in Delaware. At the end of our article, you'll also find an FAQ section where we answer some questions concerning registered agent services in Delaware.
Let's first see what exactly a registered agent is and whether it's required to hire one in Delaware.
What Is a Delaware Registered Agent?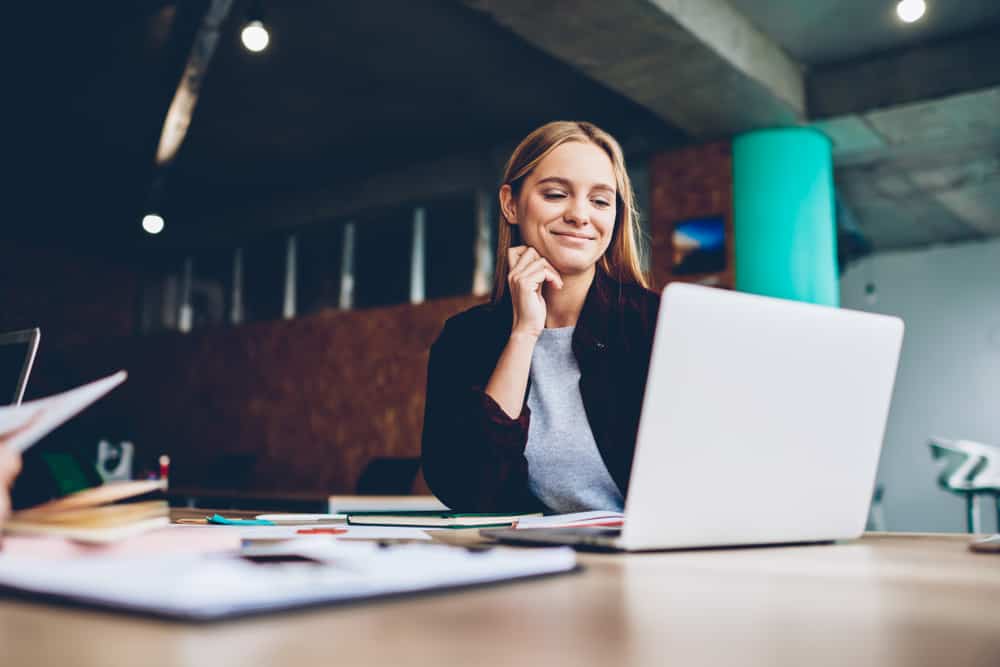 A registered agent is an individual or a business entity who is responsible for forwarding and receiving all your important business documents and correspondence. There are a few universal requirements registered agents need to comply with to operate legally, such as having a distinct physical address, being over 18 years of age, and operating during normal business hours.
Does Delaware Require a Registered Agent?
Not all states impose appointing a registered agent to business owners. However, Delaware law requires that every business appoints and maintains a registered agent while the business is operating. With that said, there are no restrictions in appointing a foreign or a domestic legal entity. If you want, you could appoint yourself as your own registered agent, although that decision should be carefully considered because it comes with a plethora of disadvantages, like compromised privacy.
Since you're now acquainted with the official definition of a registered agent and know some of the requirements that a registered agent needs to fulfil, it's time to explore our individual registered agent recommendations.
1. Northwest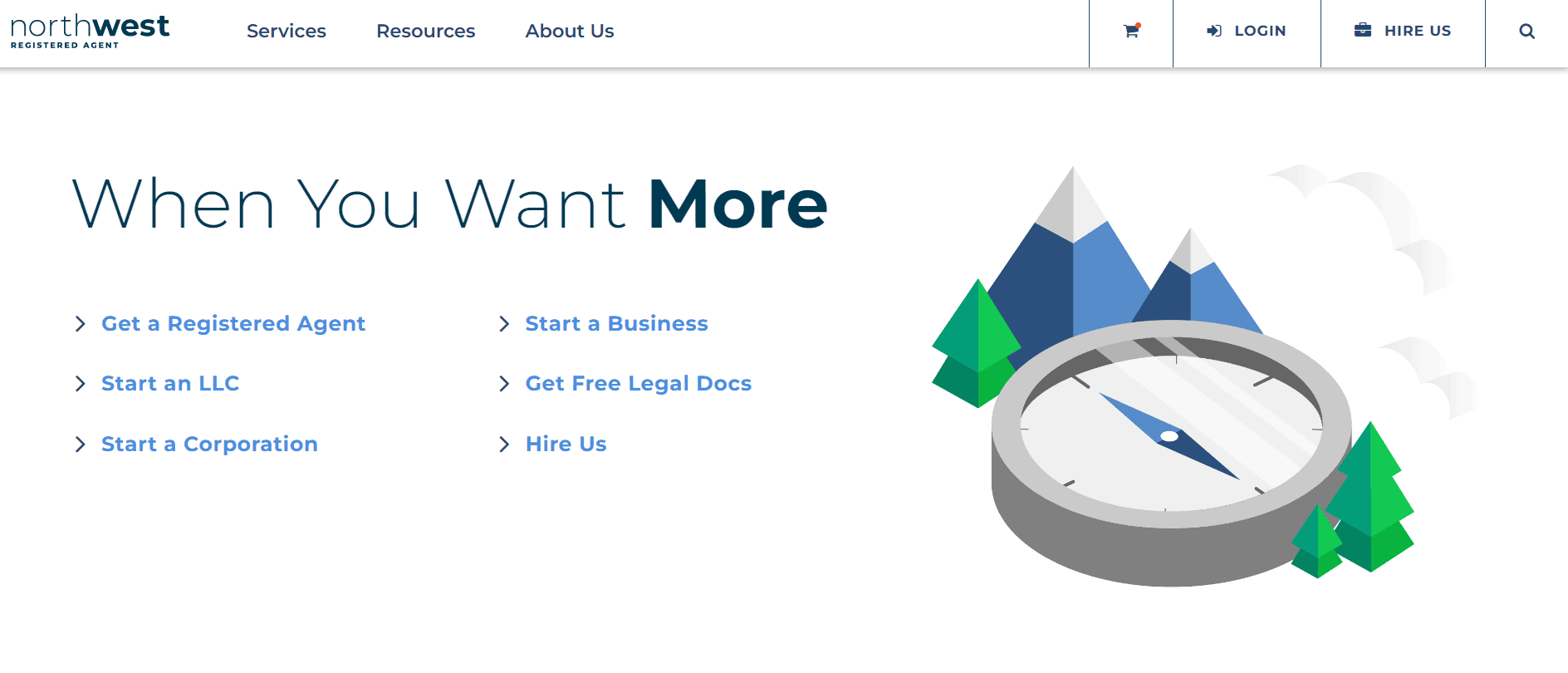 Northwest is one of the best registered agents in the United States. Known for their impeccable customer service and glowing reviews, it's an excellent option for both smaller and bigger businesses. Their registered agent service boasts features such as:
Locally scanned documents

Access to their Corporate Guides

Free mail forwarding

Pre-filled state forms

Annual report compliance reminders
In addition, they're dedicated to protecting your data and keeping your personal information secure with their Privacy by Default feature that ensures your data is never sold to third parties.
Their registered agent package will only cost you $125. There are no hidden fees or price increases, and you get an additional discount if you hire Northwest for five or more states.
Apart from offering registered agent services, Northwest are also known for their LLC formation services. 
The Delaware office of Northwest is located in Dover.
2. ZenBusiness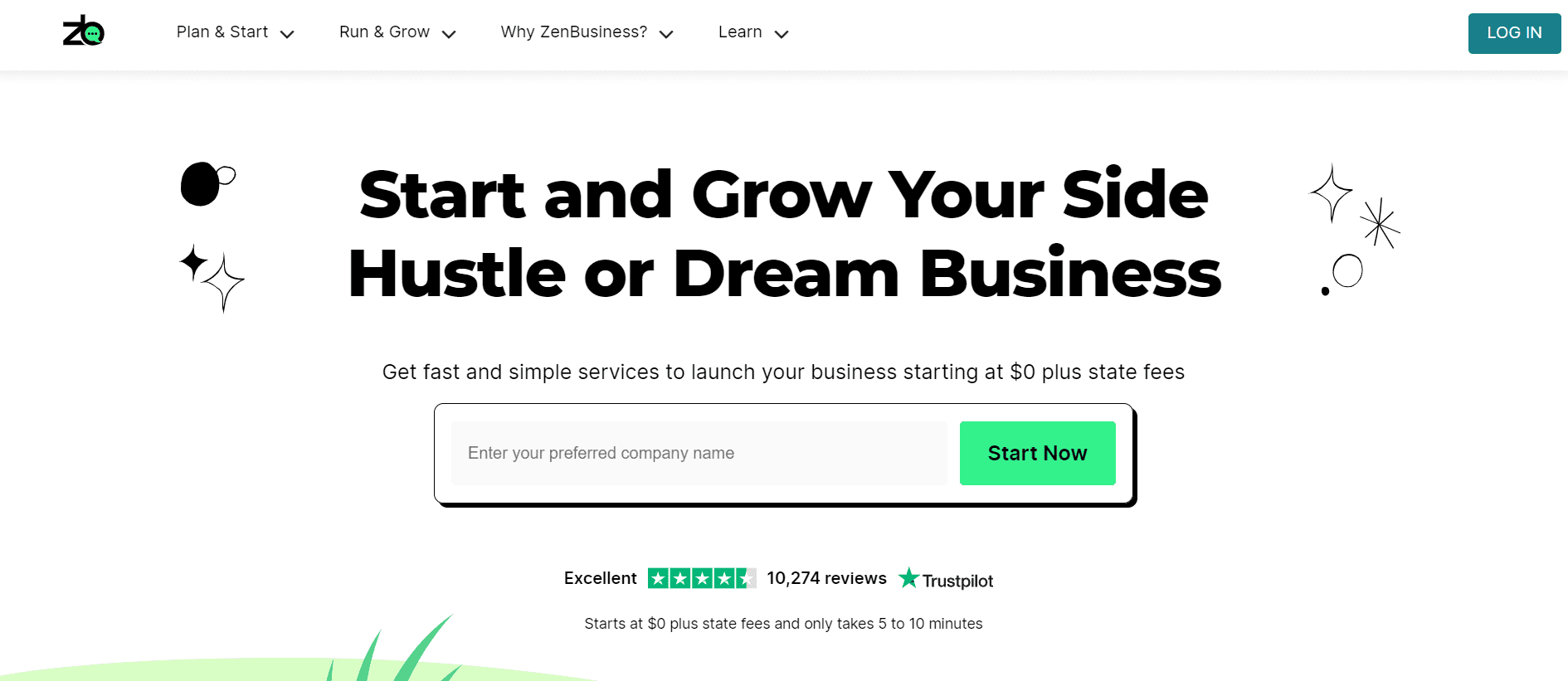 Having helped over 300,000 businesses start and flourish, ZenBusiness are also one of the best registered agent services you can hire nationwide. Hiring ZenBusiness as your registered agent gives you access to perks such as:
Access to all uploaded documents on your personal dashboard

Document scanning

Email notifications

Great customer support
Their plan is slightly more expensive than some of the other registered agent services mentioned on our list – it costs $199 on an annual basis. However, if your business can afford it, the perks you get in return make it a worthwhile investment.
Customers really appreciate their after-hours customer support – they can help you at any time, regardless of the issues you're facing.
In addition to registered agent services, they also offer LLC formation services that include obtaining an EIN, as well as taxes and accounting services.
3. IncFile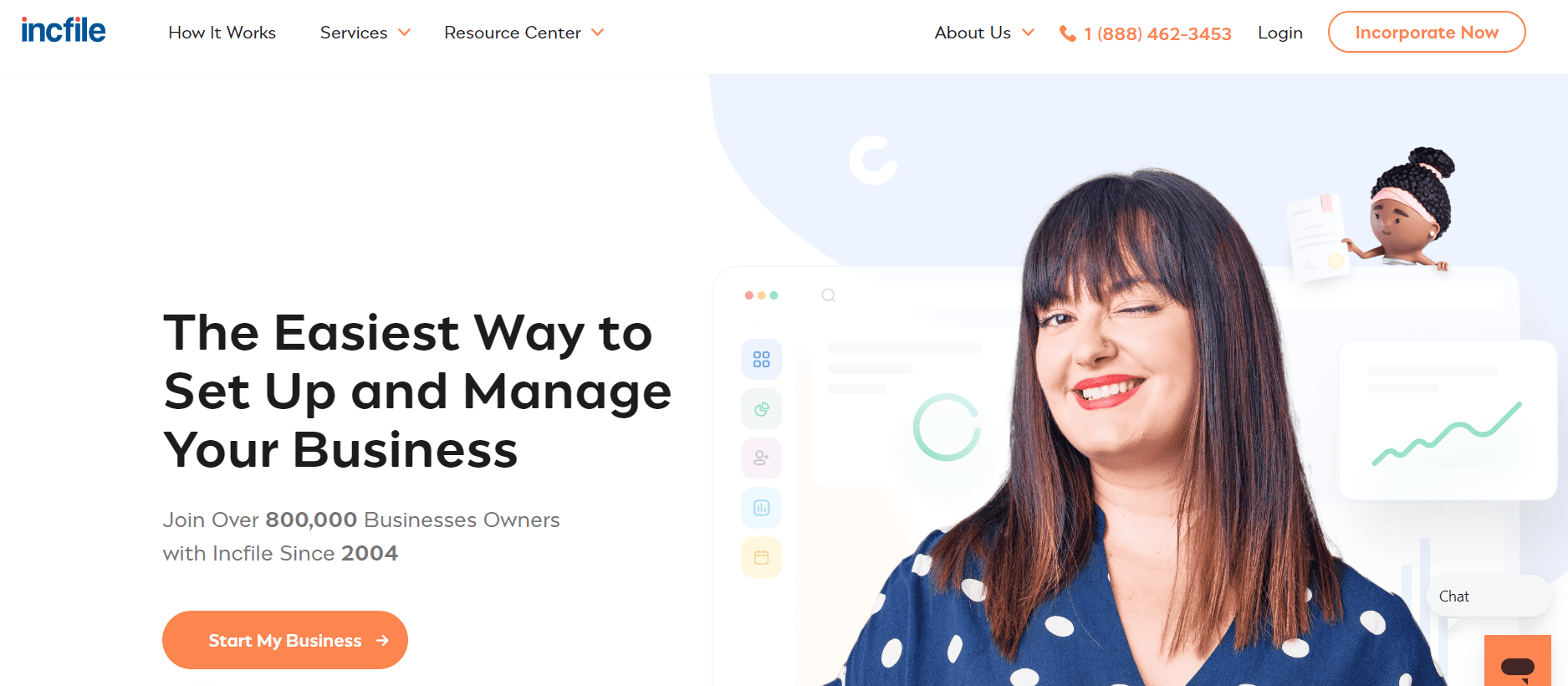 Known nationwide for their excellent and affordable services, IncFile are another great option for a registered agent service in Delaware. Here are some of the advantages of hiring them:
Automatic mail forwarding

Personalized notifications

Access to a personalized dashboard
Another reason to opt for IncFile is their incredibly appealing offer that allows you to get a free year of registered agent services if you use their formation service. The regular fee for their registered agent service is only $119 annually.
4. Better Legal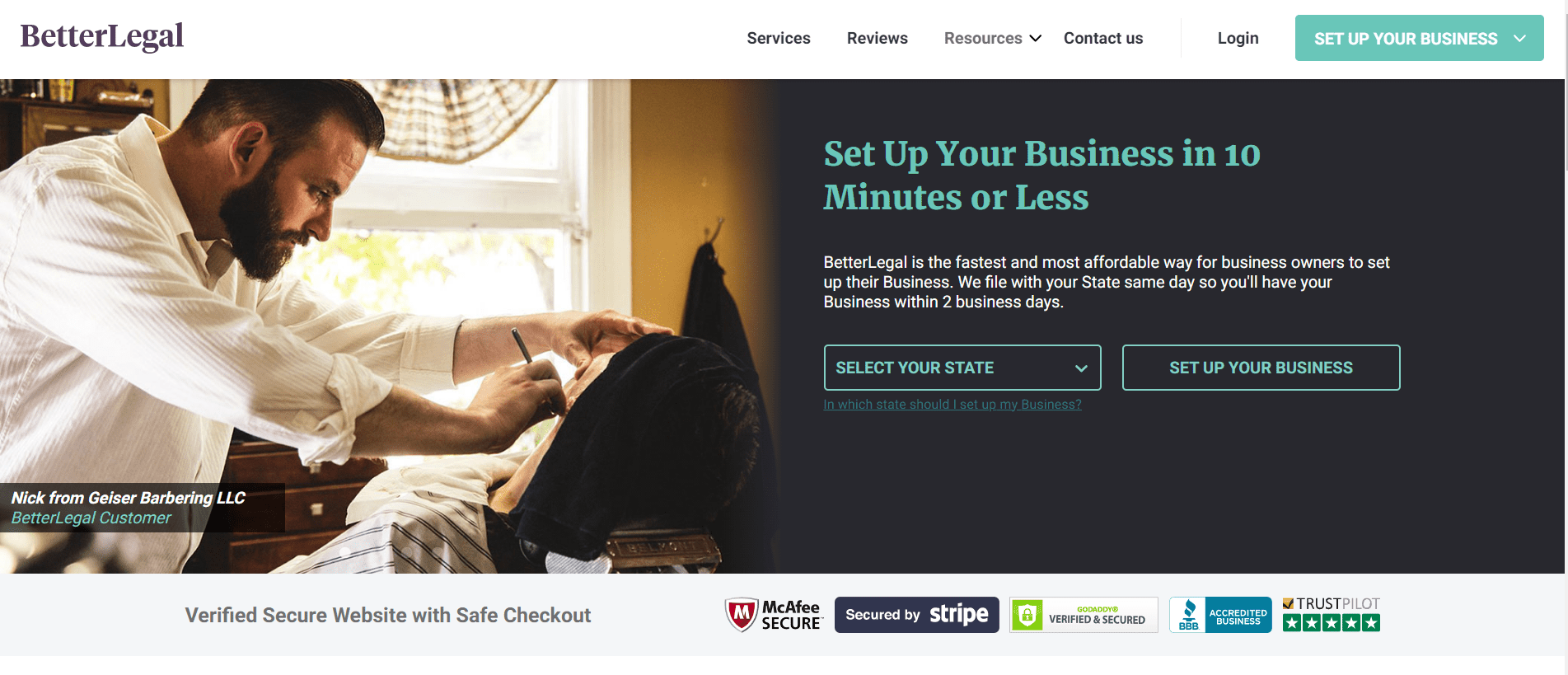 If you're looking for a well-rounded registered agent service that provides various types of business services, we highly recommend Better Legal. In addition to access to their Delaware physical address, they offer the following services:
Mail forwarding

Compliance reminders

Document scanning and uploading
We love their flexible payment plan – you have the option of paying $10 a month or $90 a year, depending on what's more convenient for you.
Customers appreciate their user-friendly interface, as well as the fast turnaround time.
In addition to offering registered agent services, they also offer LLC formation, incorporation, and compliance services.
5. Delaware Registered Agent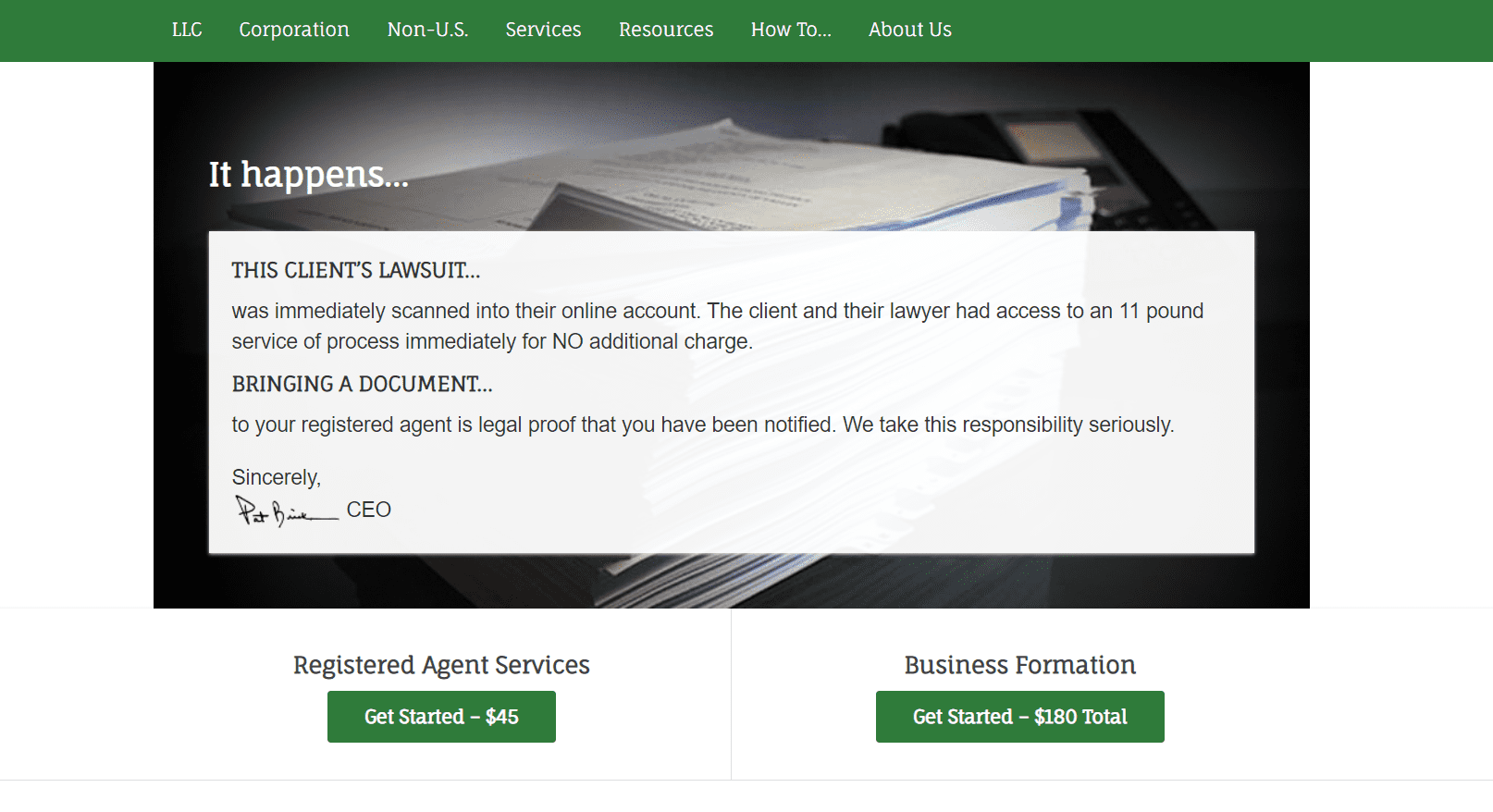 If you're on a tight budget and you want to purchase a registered agent service that will get the job done, we recommend Delaware Registered Agent. For only $45 a year, you will get access to:
Mail forwarding

Scanned documents

Pre-populated forms

Self-filing instructions

Annual report and tax reminders
The price doesn't change year to year and there are no hidden fees or automatic renewals.
The office of Delaware Registered Agent is located in Dover.
6. Delaware Registered Agent Service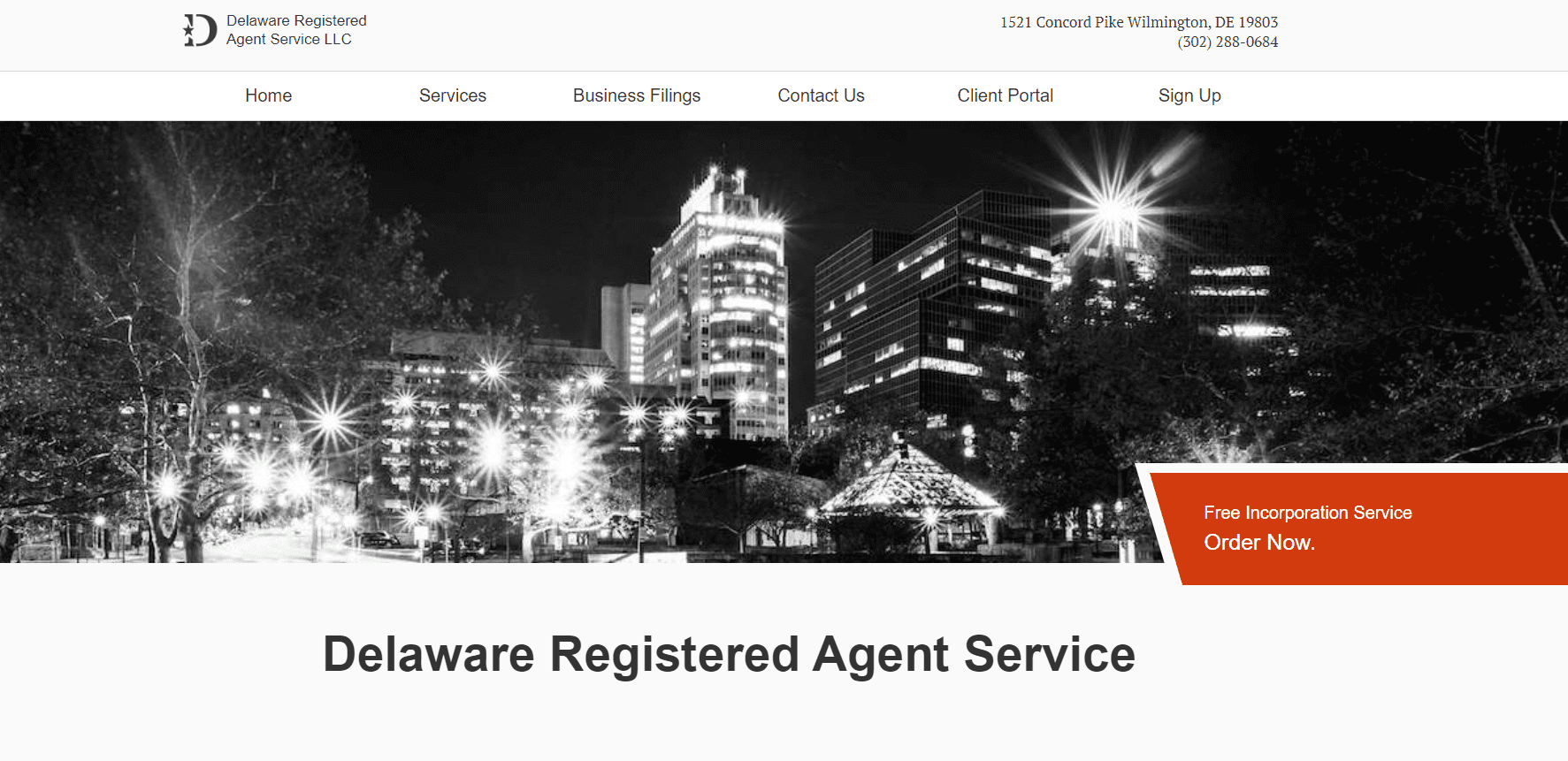 Another excellent recommendation if you're on the lookout for an affordable Delaware registered agent service is Delaware Registered Agent Service. Their package includes:
Annual tax report reminders

Access to an online account where all your documents are stored

Mail forwarding
Despite their low fees (only $50 a year), they don't charge extra for any services or have any hidden fees.
If you'd like to get a hold of some of their other equally affordable business services, they offer an appealing Incorporation package that includes expedited filing, one year of registered agent services, free incorporation, and state fees for only $190.
The office of the Delaware Registered Agent Service is located in Wilmington.
7. CSC Global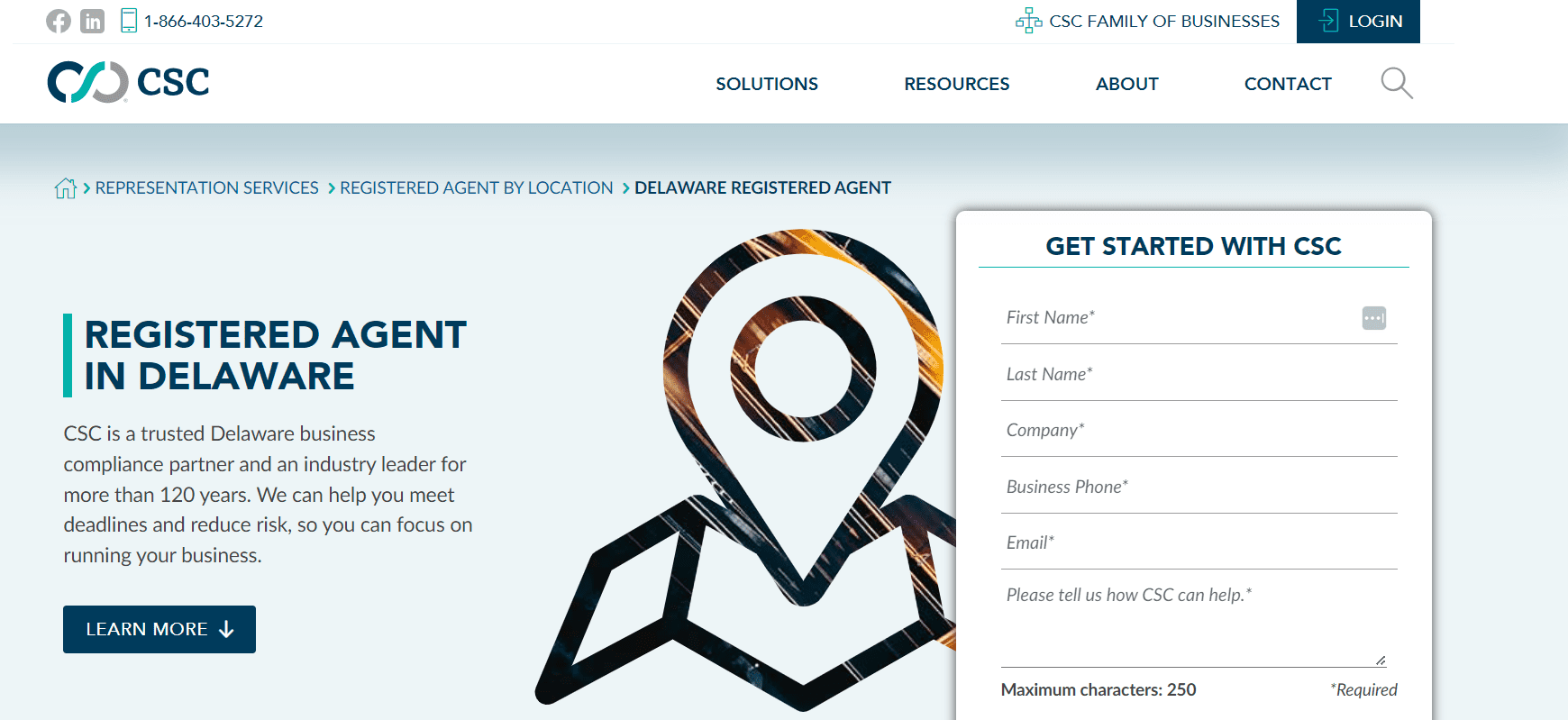 With their 120 years of experience offering business services, CSC Global is an outstanding choice for a registered agent. Regardless of whether you want to expand your business in Delaware or do business solely in this state, we guarantee you will be satisfied with the quality of the services they offer. Their registered agent package includes perks like:
Same-day scanning and electronic delivery of SOP

Annual report compliance notifications

An unlimited access to CSCNavigator – an online dashboard
Additionally, they pride themselves on their high level of data security, facilitated by their SOC2 technology.
On top of providing registered agent services, they also offer annual reports, corporate filings, business licences, and UCC search.
8. Registered Agent Inc.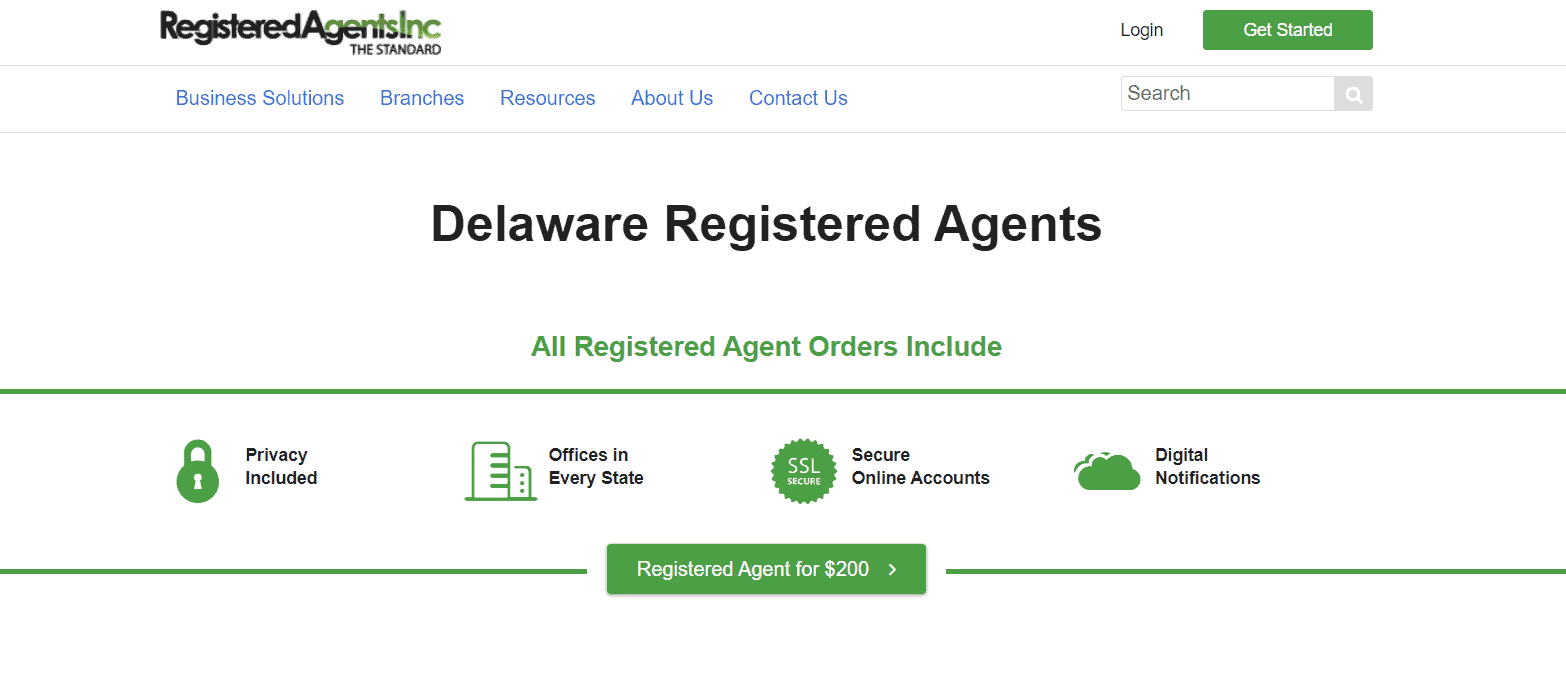 Registered Agent Inc. is a nationwide registered agent service that provides many benefits, such as:
Annual report reminders

Access to state forms

Digital notifications

Scanned and uploaded documents
Their dedication to online security and information protection is outstanding – you won't have to worry about any of your data being compromised at any point.
You can access their registered agent services for $200 a year. 
Their Delaware office is located in Dover.
9. Legal Zoom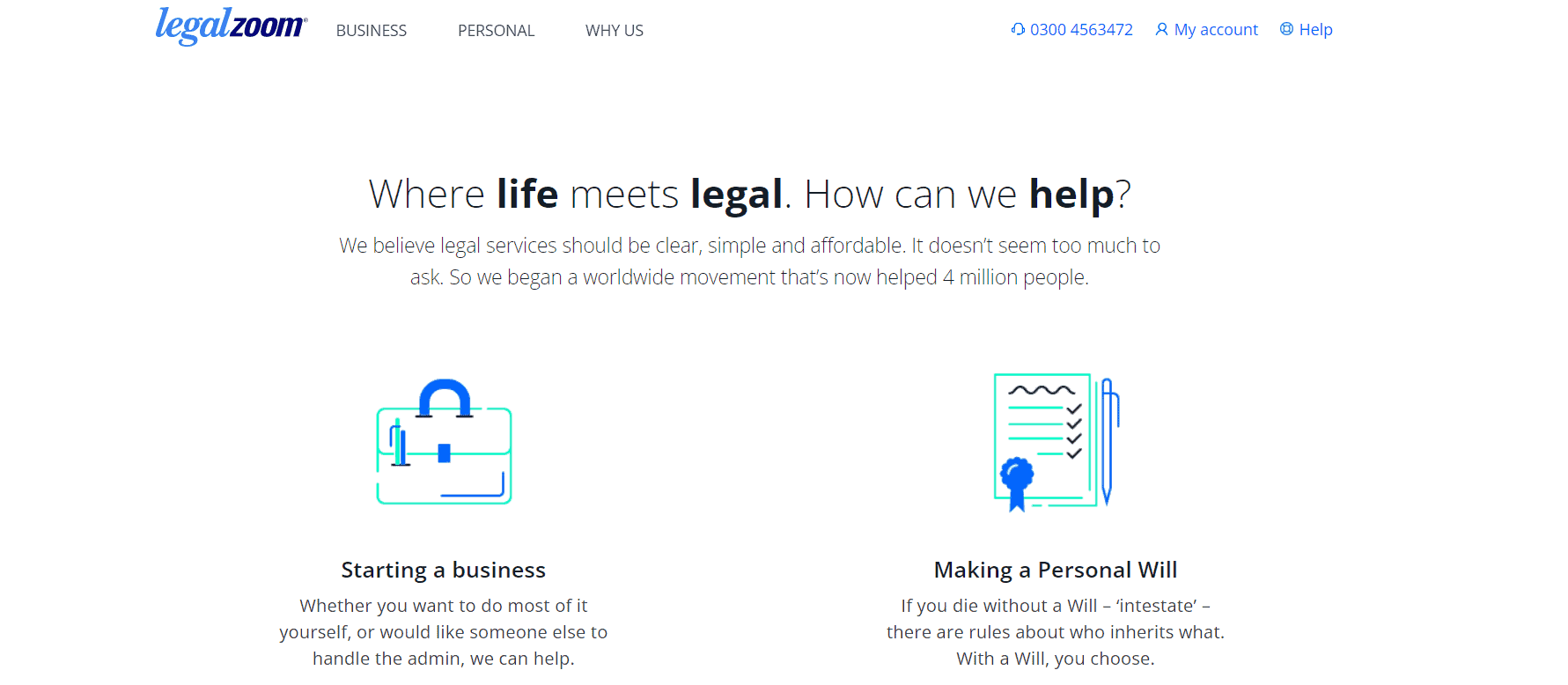 Legal Zoom is one of the best services to turn to for all things law-related. They've helped over 2 million businesses and have thousands of consultations on a yearly basis, so you know you'll be in good hands. Their registered agent services include:
Annual report deadline reminders

Email alerts

Unlimited cloud storage

$1M in identity theft protection
While their fees are slightly more expensive ($299 annually), they're an amazing option for larger businesses that might be in need of legal consultation. If you use their formation services, you can get a slight discount on their registered agent services.
If you're in the process of switching your registered agent, they offer to handle all the paperwork and cover any fees in the process.
In addition to registered agent services, you can also access various other services, such as trademark registration, business licenses, and corporation services.
10. Harbor Compliance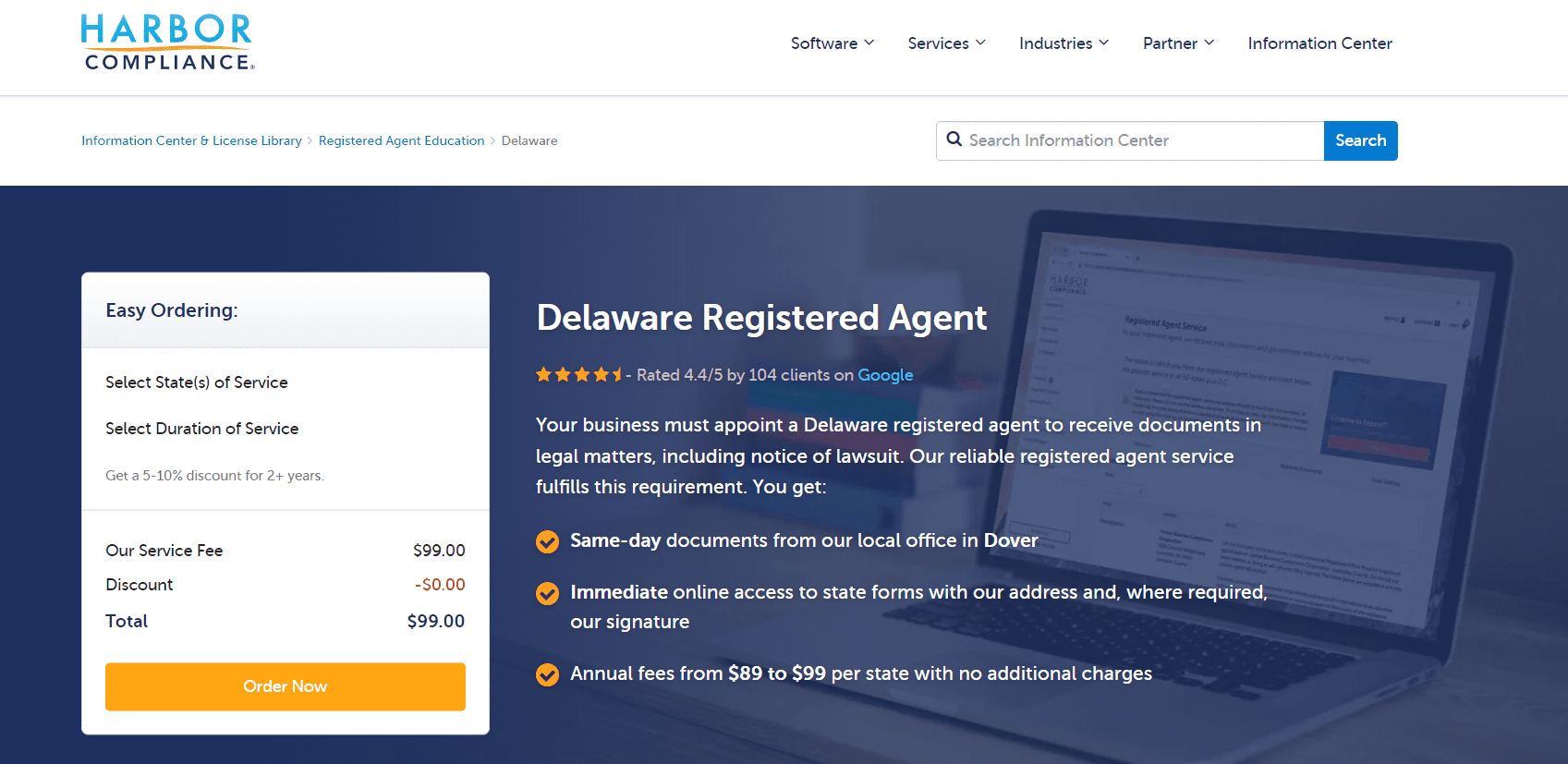 Another great option for a registered agent service in Delaware is Harbor Compliance. This nationwide registered agent service offers the following benefits:
Same-day electronic delivery of all your documents

Annual report notifications

Pre-filled state forms
One of our favourite aspects of Harbor Compliance is the annual fee – the subscription will only cost you $99. If you expand your business in multiple states, you can get up to 10% discount. If you're looking for an affordable registered agent service that'll cost you around $100, then Harbor Compliance is the way to go.
They offer many other services apart from registered agent, such as incorporation, LLC formation, business licenses, and amendments.
How Do I Register a Business in Delaware?
Now that we covered the best registered agent services in Delaware, it's time to discuss the necessary steps for starting your business in this state. 
Decide on a Legal Structure
One of the first crucial decisions you need to make regarding your business is deciding on its legal structure. There are several business types, the most common of which are:
Limited Liability Company (LLC)

Corporation
Every business type comes with its own set of pros and cons. For instance, while LLCs provide their members with limited liability, they're much more expensive to form than sole proprietorships and partnerships. Research these business types and consider factors such as taxation, limited liability, and potential costs, and choose the one that best fits your goals and the nature of your business.
Decide on a Name
The next step to forming a business in Delaware is deciding on a name. There are always certain restrictions imposed on business names in each state, such as the exclusion of certain words, so you might want to hire a legal consultant when brainstorming ideas for the name of your business.
Apart from ensuring that the name complies with state laws, it's crucial that you do a name search. Essentially, this includes searching the online database to make sure that your business name is unique, which is a requirement in every state.
Once you have a name, you can reserve your name for 120 days to avoid someone else stealing it before your business is up and running. In addition to that, consider the option of reserving a domain name for your business.
File a Certificate of Formation/ Incorporation
Depending on your chosen business type, the next step is to file a certificate of formation or incorporation with the state. A certificate of formation is a document that states information about the business and how it'll operate. This step also requires you to choose your registered agent and present their information to the state. Once the state accepts your application, you're free to start your business.
If you're forming a corporation, an optional step you can complete is forming corporate bylaws – a compilation of rules regarding the management and operation of your company that states the individual responsibilities of each director and shareholder.
Get Business Licenses and Permits
Depending on what field you're working in, you might need to obtain certain business licenses and permits. Typically, these fields include agriculture, health, environmental control, transportation, and drinks. Check out the official Delaware government website if you want specific information regarding licensing your business and all the ensuing fees. In addition to this, you should also apply for an EIN (Employee Identification Number) with the IRS.
Depending on your business, there might be additional requirements you need to fulfil, so we recommend doing a thorough search or consulting someone to ensure that you have everything you need to complete the formation of your business.
How Much Does It Cost to Register a Business in Delaware?
The state filing fee for Delaware is $90. However, to determine how much registering a business will cost, you also need to take into account fees such as obtaining licenses, appointing a registered agent, and hiring legal consultation. On average, the accumulated cost of registering a business in Delaware is a couple of hundred dollars.
FAQs
Where Can I Do a Delaware Business Entity Search?
You can do a business entity search on the Security of State's website.
How Much Does a Delaware Registered Agent Cost?
The average cost for a Delaware registered agent is around $100. If you want a more budget-friendly option, there are various options that will cost you around $50 annually.
A Word of Farewell
We hope you found our article on the best Delaware registered agent services helpful and that we helped you pick a registered agent that suits your preferences and budget.
If you want a top-notch service and the pricing isn't an issue, we recommend opting for Northwest or ZenBusiness. If you want a slightly more affordable option, check out Harbor Compliance. Those who are on a tight budget and want a registered agent who will cost them less than $100 should check out Delaware Registered Agent or Delaware Registered Agent Service.