Delaware is an attractive location for forming an LLC for various reasons, including the absence of sales tax and lower tax rates. Regardless of your reasons for starting an LLC in this state, our guide on how to form an LLC in Delaware will guide you through every step you need to complete to make your dream a reality.
We'll go through all the mandatory steps required by the state of Delaware, like filing a certificate of formation and paying an annual tax. On top of that, we'll also explore some optional steps that can significantly help you run an LLC, such as forming an operating agreement. 
Apart from that, our guide also contains registered agent and formation service recommendations for those who would like to get some additional help during this process. At the end of our article, we've included a detailed FAQ section that will help you get to the bottom of some important questions.
With all that out of the way, it's time to start with the first step of forming an LLC – finding the right name for it.
Find a Name for Your Delaware LLC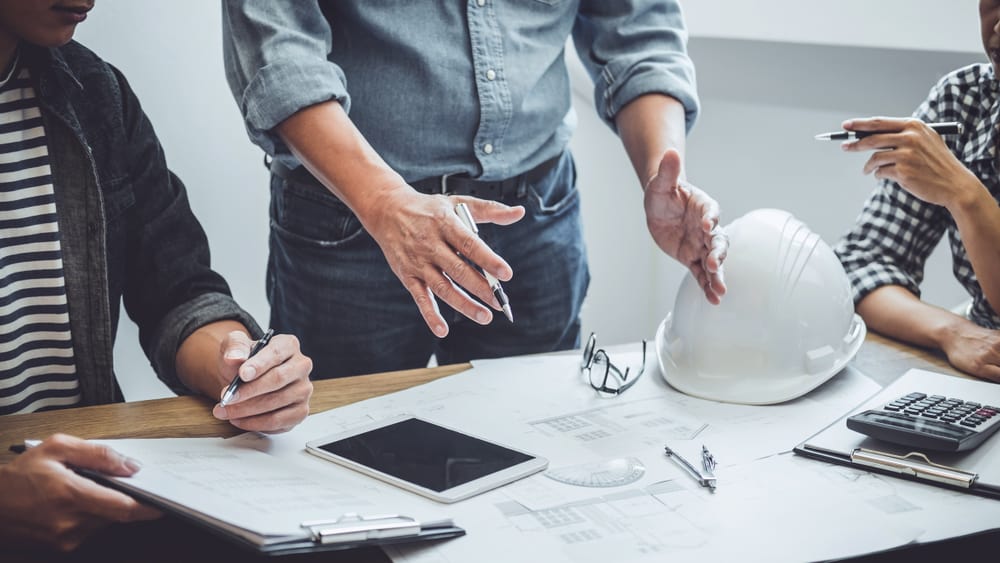 Choosing your business name is one of the first and most important steps in starting an LLC. Apart from choosing a name that you think corresponds well with your values and accurately represents your business, you need to ensure that it also complies with the naming requirements in Delaware.
The first naming requirement you need to fulfil is choosing a name that's distinguishable from all the other business names in the state. You can check if the name you have in mind is available by doing an online business entity search on the State of Delaware website. 
To fully comply with the naming requirements, you'll also have to add a word to your business name that denotes the business entity you've chosen. In this case, it would be Limited Liability Company, or some abbreviation of the word, like "LLC" or "L.L.C".
Keep in mind that you are not allowed to use certain words that allude to an association with a government agency, such as "FBI" or "State Department".
In the state of Delaware, there is also a list of restricted words that you can't include in your business name without providing additional documents to the state. Words like "Attorney" or "Bank" require you to provide proof of your expertise and have a licensed professional be a part of your LLC.
During this stage of forming an LLC, many future LLC owners neglect to check if the URL that corresponds with their business name is available. Even if you're convinced that your future business won't need a website, it's a good idea to reserve the domain name in case you change your mind in the future.
If you're worried that your business name might be taken by someone else while you're working on filling out all the necessary documents to start your LLC, consider reserving your business name. The cost of applying for a business name reservation is $75. Your business name will remain reserved for a total of 120 days.
If you'd like to learn more about the naming requirements in Delaware, check out the Limited Liability Company Act chapter on the Delaware Code Online website.
Hire a Registered Agent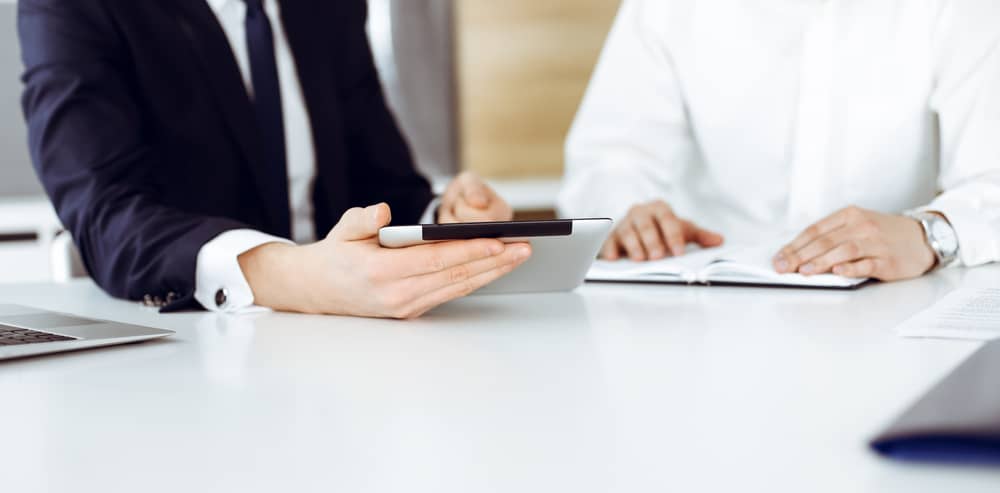 Delaware law states that every business owner must appoint a registered agent when they're forming their company, as well as maintain the registered agent while the business is legally operating. A registered agent can be either a person or a business entity that's responsible for handling all your legal and official correspondence, and forwarding your correspondence to you. While the state of Delaware allows you to appoint yourself as your own registered agent, there are several drawbacks to doing so.
One of the many benefits that come with hiring a registered agent is having the ability to protect your privacy. If you're your own registered agent, you'll be forced to share your personal address with the public. If you hire a registered agent, you can use their address on public records instead. Not to mention, hiring a registered agent allows you to dedicate more time and energy to your business since you won't be busy sorting out documents. If you'd like to experience these benefits and many more, consider hiring a professional registered agent service.
Don't know where to start? Here are our top three recommendations.
1. Northwest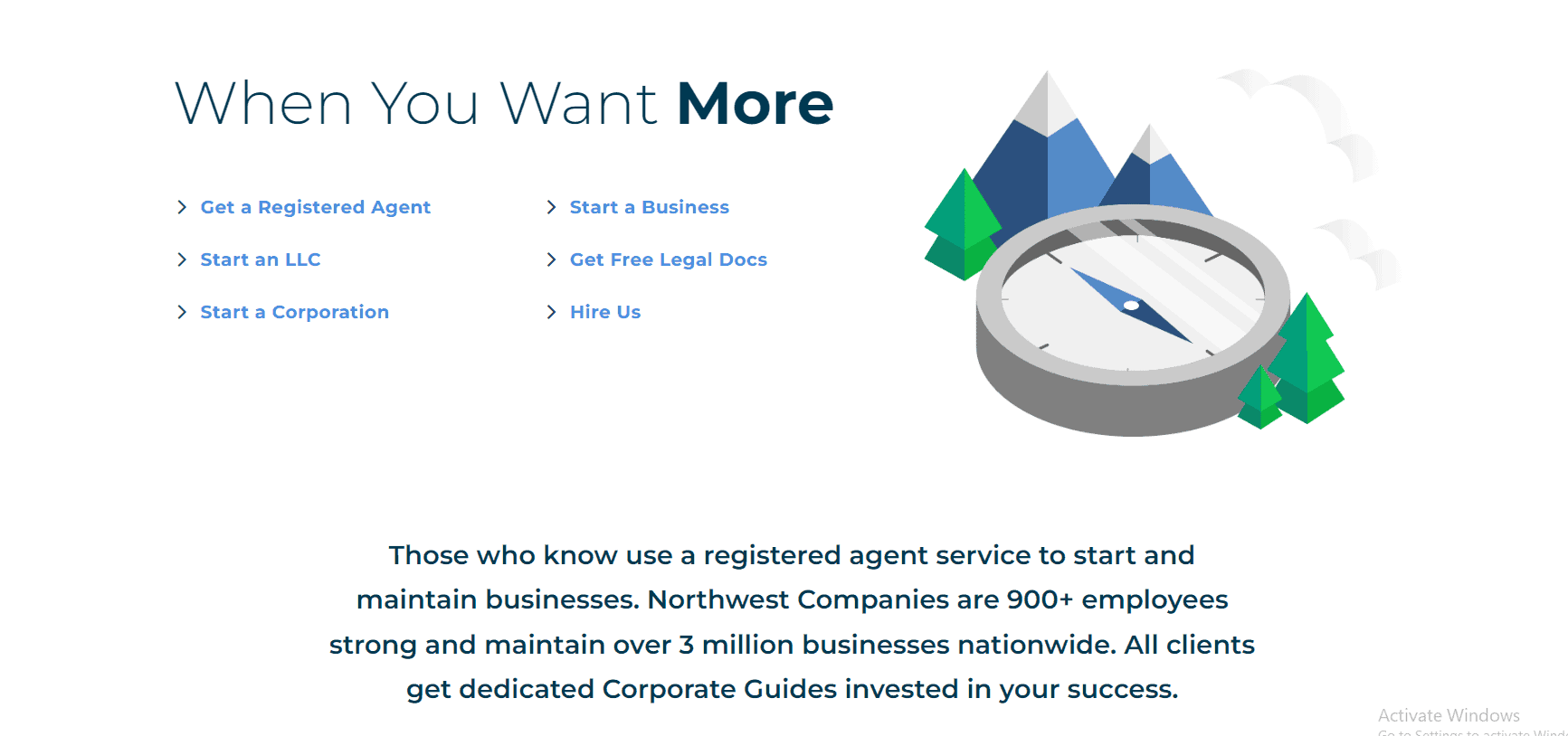 Northwest is one of the most popular registered agent services across the United States, with thousands of happy customers and glowing online reviews. Costing only $125, this registered agent service provides a comprehensive package that includes document storage, pre-filled state forms, mail forwarding, scanned documents, annual report reminders, and compliance alerts.
On top of that, their customer support team is renowned – also referred to as Corporate Guides, their team comprises experts across different fields who are always at your disposal to help you with any issue you're facing.
Additionally, they pride themselves on their excellent Privacy by Default practice, which allows your data to remain protected from any third-party infiltrations.
If you make a volume purchase and hire Northwest as your registered agent for more than four states, you will be given an additional discount that will lower your fee to only $100!
2. ZenBusiness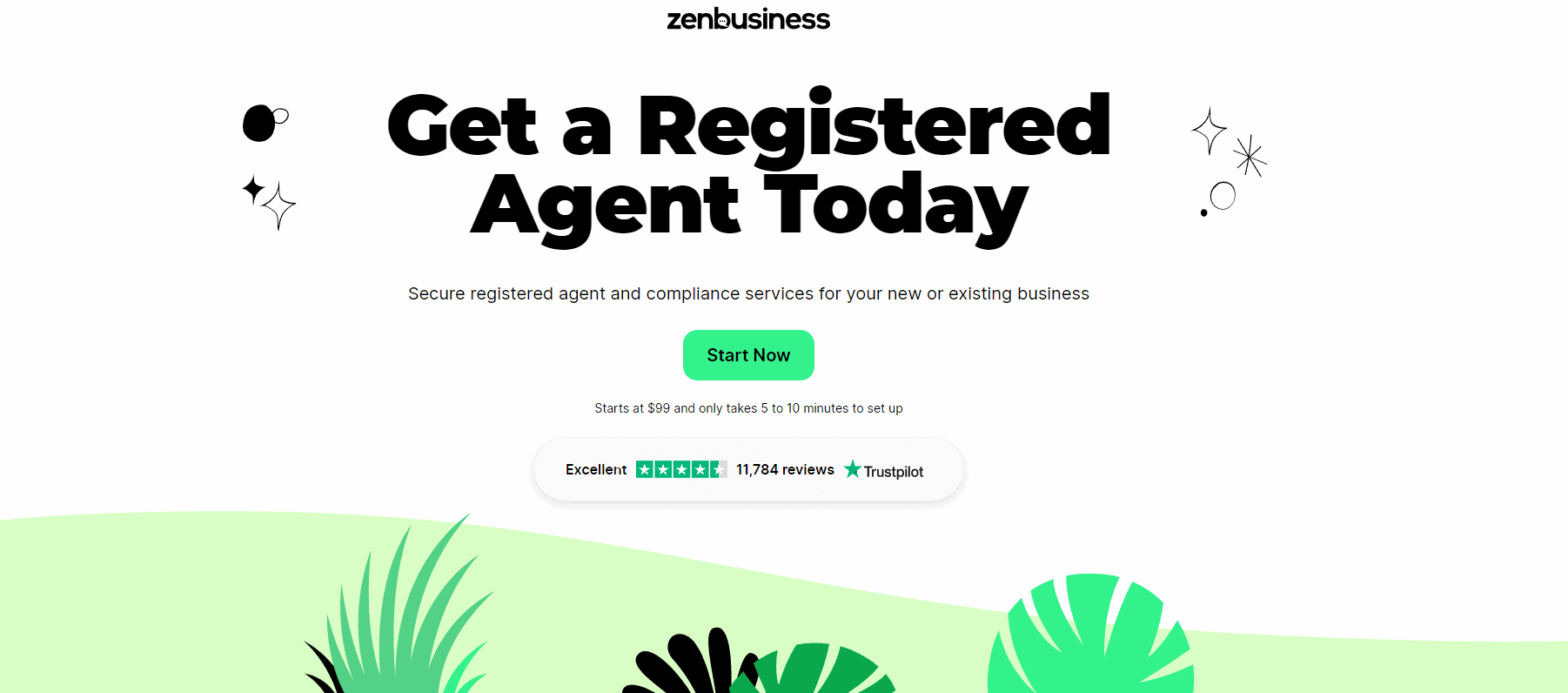 Another amazing option for a Delaware registered agent is ZenBusiness. They're rated as #1 across various influential sites, like Forbes and MarketWatch, so you can rest assured knowing your business is in great hands. Throughout the years, they've helped over 300,000 businesses, which is another testament to their excellence. As your registered agent, ZenBusiness will provide email notifications, access to a personalized dashboard, document scanning, and fast turnaround.
In addition, you will be supporting a great cause – ZenBusiness are known for giving back to its community with the help of its $5K Grant Program. This project enables struggling entrepreneurs to get funding for their businesses.
Their yearly fee is $199, but you have the option to upgrade this package to include more benefits like two free filing changes a year.
3. IncFile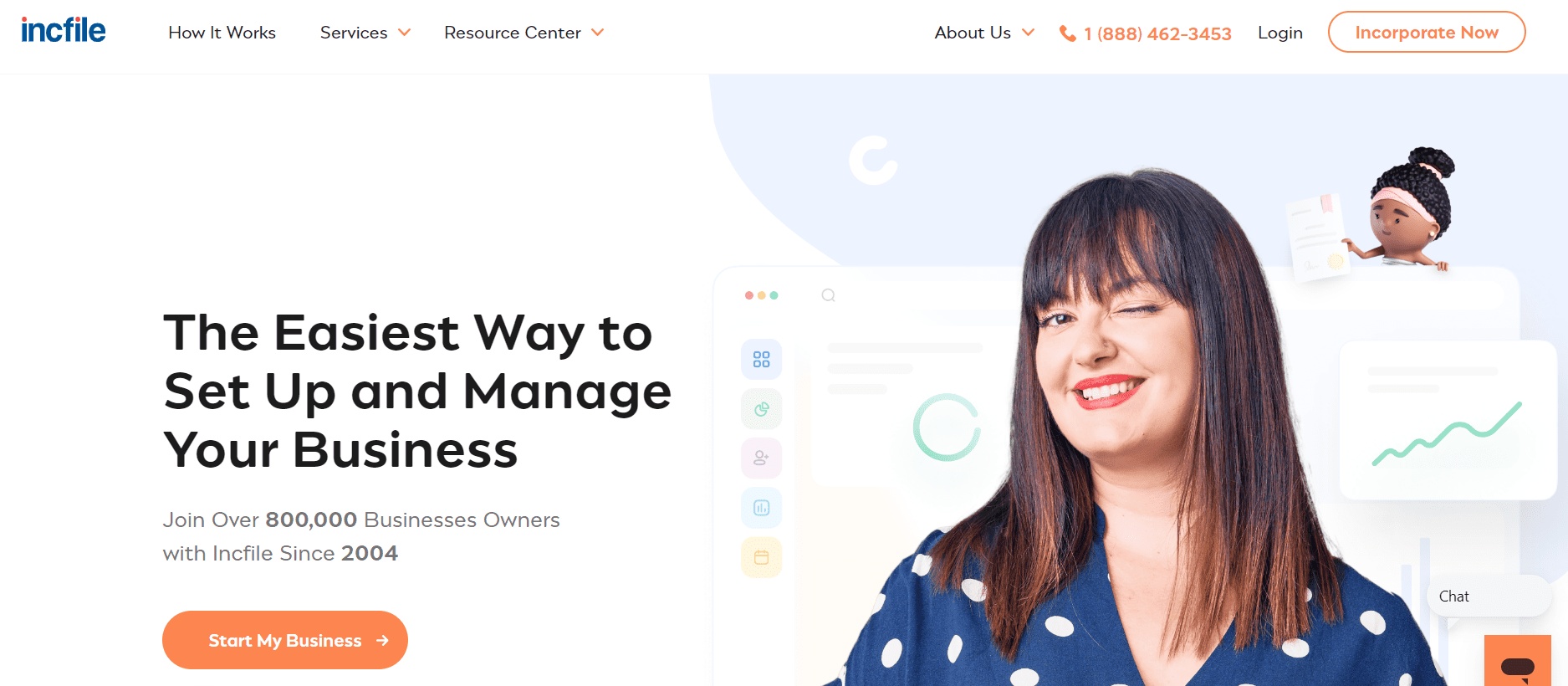 Our last registered agent recommendation for Delaware is IncFile. This popular company has helped over 800,000 businesses stay compliant throughout the years. When you sign up for their services, you will get tailored email and text notifications, automatic mail forwarding, and access to all your correspondence on a personal dashboard.
On top of that, they send regular compliance reminders so you'll never have to worry about risking a fine or getting in legal trouble with the state.
Their yearly fee is $119 and their pricing remains transparent. You can also hire IncFile for some of their other services, like foreign qualification and tax consultations.
File a Certificate of Formation
One of the mandatory steps you need to complete during the formation process of your LLC is filing a certificate of formation with the state of Delaware.
This essential formation document contains important information about your business, such as its location, name, information regarding the owners, and information about your registered agent. To file this document, you'll need to have already chosen a registered agent that will represent your business.
You can either file the document online or send it via mail. The filing fee for a certificate of formation in Delaware is $90.
Craft an Operating Agreement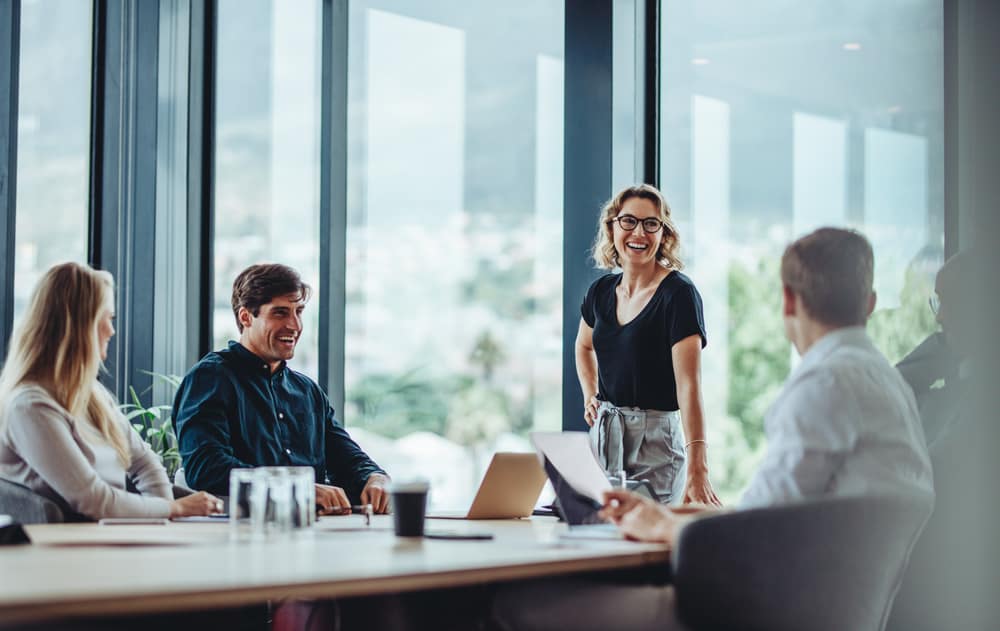 Unlike a certificate of formation, preparing an operating agreement for your LLC is entirely optional in Delaware. However, doing so comes with many benefits.
An operating agreement is an internal document that includes all the intricacies of your LLC management, the division of the profits and losses, and information about the liability clauses. Essentially, it details the responsibilities of each owner and what they can expect in case the LLC is dissolved. Since it states all the rules of how the LLC will operate, it can prevent conflict between members and owners.
In addition to preventing conflicts, having an operating agreement can significantly help to establish your LLC as a separate business entity.
If you're interested in creating an operating agreement, you can search online for free samples. Alternatively, you can also hire a formation service that includes providing an operating agreement as a feature. We'll include some of our top formation service recommendations below.
Apply for an EIN
Getting an EIN (Employer Identification Number) is an obligatory step for some businesses. An EIN is like a Social Security Number for your business – it's a nine-digit number issued by the IRS for tax purposes. If your business has at least one employee, if you have a Keogh plan, or if your business is taxed separately, then you'll need to get an EIN.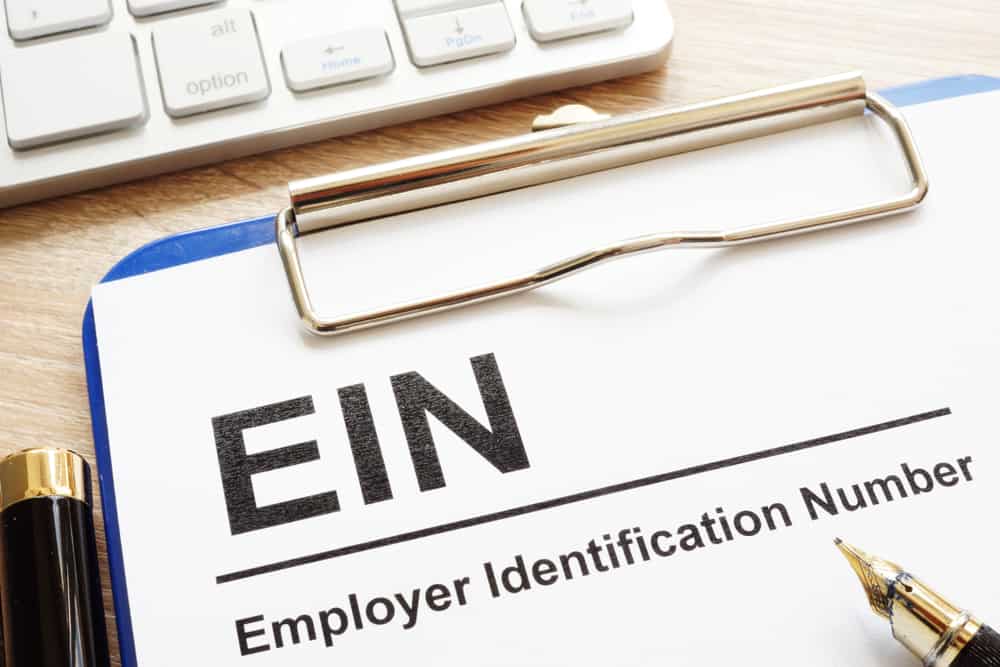 The application for an EIN is online, on the IRS website. Submitting the application is an easy and fast process and it comes free of charge.
If your business doesn't need an EIN, it still might be a good idea to spend some time putting together an application. Having an EIN comes with a plethora of benefits, such as allowing you to open a business bank account easily, get a loan, and even prevent identity theft. Not to mention, it'll make the whole process of filing taxes a lot easier.
Get all the Required Licenses and Permits
Having a general business license isn't a requirement in every state. However, the state of Delaware requires every business to obtain a State of Delaware Business License from the Delaware Division of Revenue. This license will cost you $75 annually.
In Delaware, there are three licensing jurisdictions: state, local, and federal. Some licenses vary from location to location, so make sure you check with your county or municipality to ensure that you're meeting all the requirements.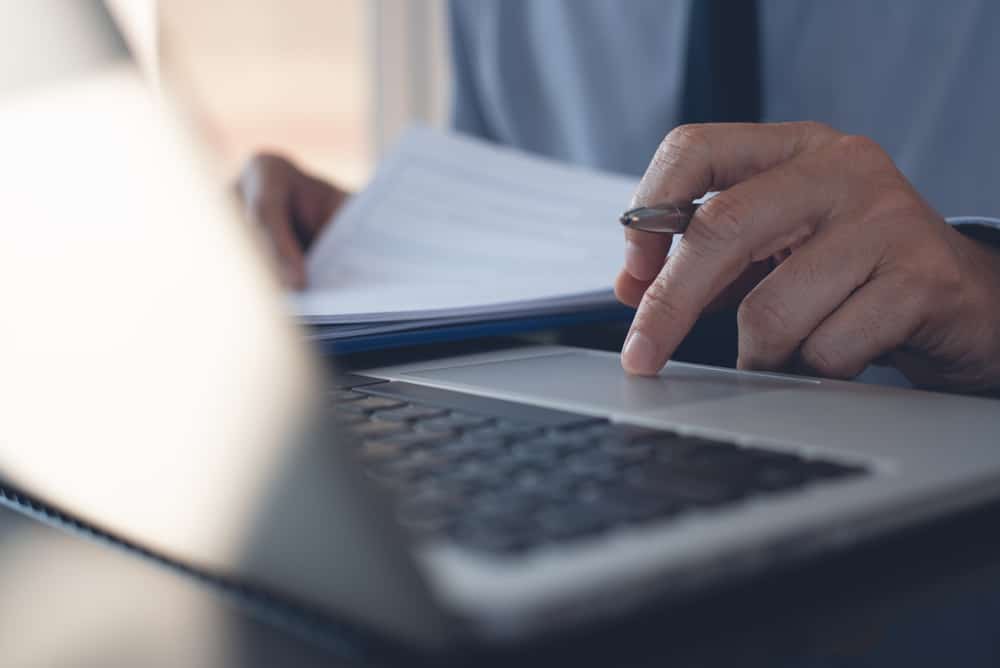 If your business is a part of a specific industry, like health and food, you also might need to get an occupational/professional license. If your business includes selling alcohol, then you'll also need a liquor license.
If you want more information about all the licensing requirements in Delaware, don't hesitate to check the Business Licensing FAQs section on the Delaware Division of Revenue website.
Pay Annual Entity Tax
In addition to ensuring that you have all the appropriate licenses for your business, you'll also need to pay your taxes on time.
In Delaware, all LLCs have to pay an annual entity tax, the cost of which is $300. Businesses also need to file an annual report by June 30th each year. The annual filing fee is $125.
Get a Formation Package
Many companies offer formation packages in addition to registered agent services. If you'd like to get some additional help during the formation process of your LLC, here are some of our top formation package recommendations.
Regardless of your current budget, there is a formation package suitable for every business. Some companies, like ZenBusiness, offer to do it for free – all you're required to do is cover the Delaware state fees.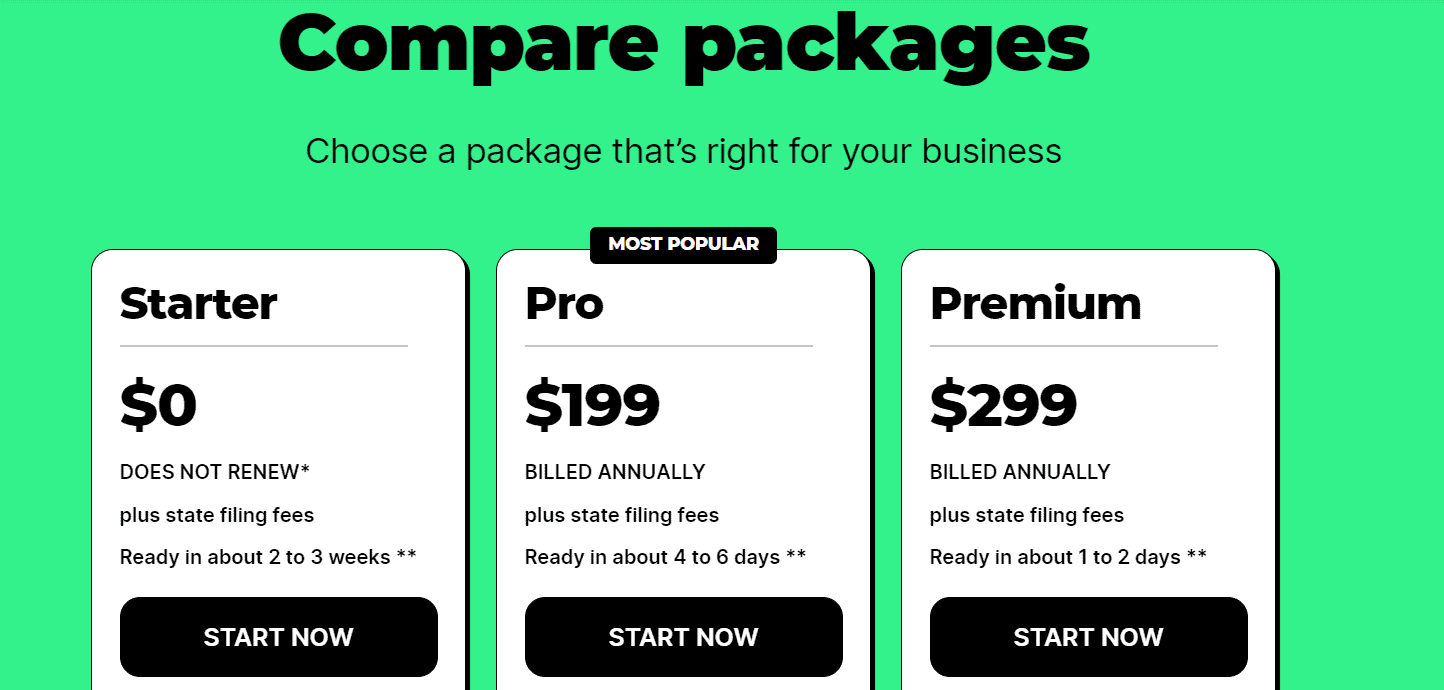 Their Starter package is completely free of charge and it includes expense and deduction tracking, as well as a 100% accuracy guarantee. It has a standard filing speed and your LLC will be ready in two to three weeks. Keep in mind that this package doesn't review.
Their most popular option is the Pro package. This comes with an operating agreement, worry-free compliance, and it has an expedited filing speed. This package, unlike their Starter package, is billed annually, and you're required to cover the state filing fees. Your LLC will be ready in four to six days.
For those who don't mind splurging on a formation package, ZenBusiness also offer a Premium package that can get your LLC up and running in only one to two days. It includes a domain name and email address, a customizable business website, and is billed annually.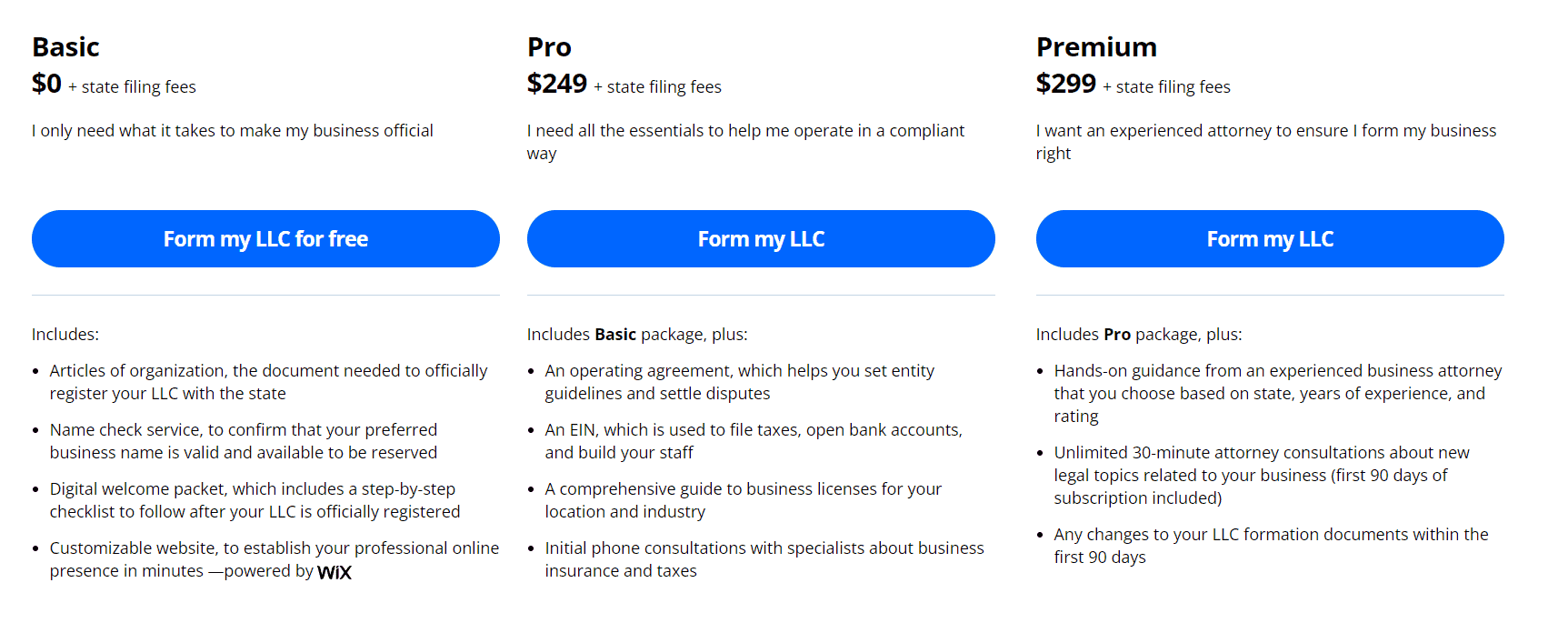 Another excellent company that offers formation packages is LegalZoom. With their free Basic package, you get articles of organization, a name check service, a digital welcome packet, and a customizable website. All you're required to do is cover the necessary state fees. Their Pro package will set you back $249, but it comes with a myriad of appealing features, like an EIN, an operating agreement, a customized guide depending on your location and industry, as well as initial phone consultations with specialists in the business. This is an excellent option for anyone looking for a comprehensive formation package.
If your budget allows it, you can't go wrong with LegalZoom's Premium package. Costing $299 plus state fees, this formation package includes every feature from the Pro package, plus hands-on guidance, unlimited attorney consultations, and it allows changes to your LLC documents for up to 90 days.
FAQs
Do I Need a Social Security Number to Get an EIN?
EIN, or Employee Identification Number, is a nine-digit number that some LLCs are required by law to get. With that said, you don't need to have a Social Security Number to get one – all you have to do is complete the online application that you can find on the IRS website.
How Much Does It Cost to Start a Delaware LLC?
The cost of starting a Delaware LLC depends on what kind of services you're planning on getting. If you only opt for filing the necessary formation documents, the cost of starting an LLC will be around $100. If, however, you're planning on purchasing some additional services, like a name reservation or hiring legal help, the cost will be higher.
Do I Need an Operating Agreement for My Delaware LLC?
No, you're not required to get an operating agreement during the formation stage of your LLC. However, crafting together an operating agreement is highly advisable since it can prevent conflict in the workplace.
A Word of Farewell
We hope you enjoyed our guide on how to form an LLC in Delaware and that you're now acquainted with all the steps required to legally form and operate an LLC in this state.
There are some one-time formation documents you'll need to submit to the state to open an LLC, such as filing a certificate of formation. There are also some annual obligations you'll have with your LLC, like filing an annual entity tax and annual reports. If you'd like to be reminded of this on time, we recommend hiring a registered agent service that includes compliance reminders.