The nature of building a career has evolved in recent years following pandemic layoffs, the great resignation and the great renegotiation. Workers have figured out they can expect jobs to have a more amenable, flexible nature than before, even as employers are dialing back some of those freedoms, such as remote working and flexible hours.
In theory, it's a job hunter's market right now, with labor shortages in the U.S., UK and elsewhere. But the truth is more complex: some industries are more desperate than others, and a concurrent skill shortage suggests that those who are available for work cannot expect to just walk into their dream office and demand a job with favorable terms.
In such a climate, those building a career are balancing cautious optimism with mindful pragmatism — as our new research illustrates. Curious about which companies people are most interested in building careers with, Switch On Business discovered the company in every country that people are Googling for opportunities.
What We Did
Switch On Business analyzed Google search volume data for employment opportunities at different companies in every country using the Ahrefs Keyword Explorer. We ranked the companies within each country based on the number of monthly Google searches for each company name plus the keyword "careers."
---
KEY FINDINGS
Walmart is the most sought-after career provider in the U.S. with 590,000 Americans searching for a job there each month.
RBC is the company Canadians most want to work for, with 20,000 monthly career searches.
Tesco is the company UK most residents want to work for (43,000 searches).
Coles Supermarket is the company Australians most want to work for (24,000 searches).
---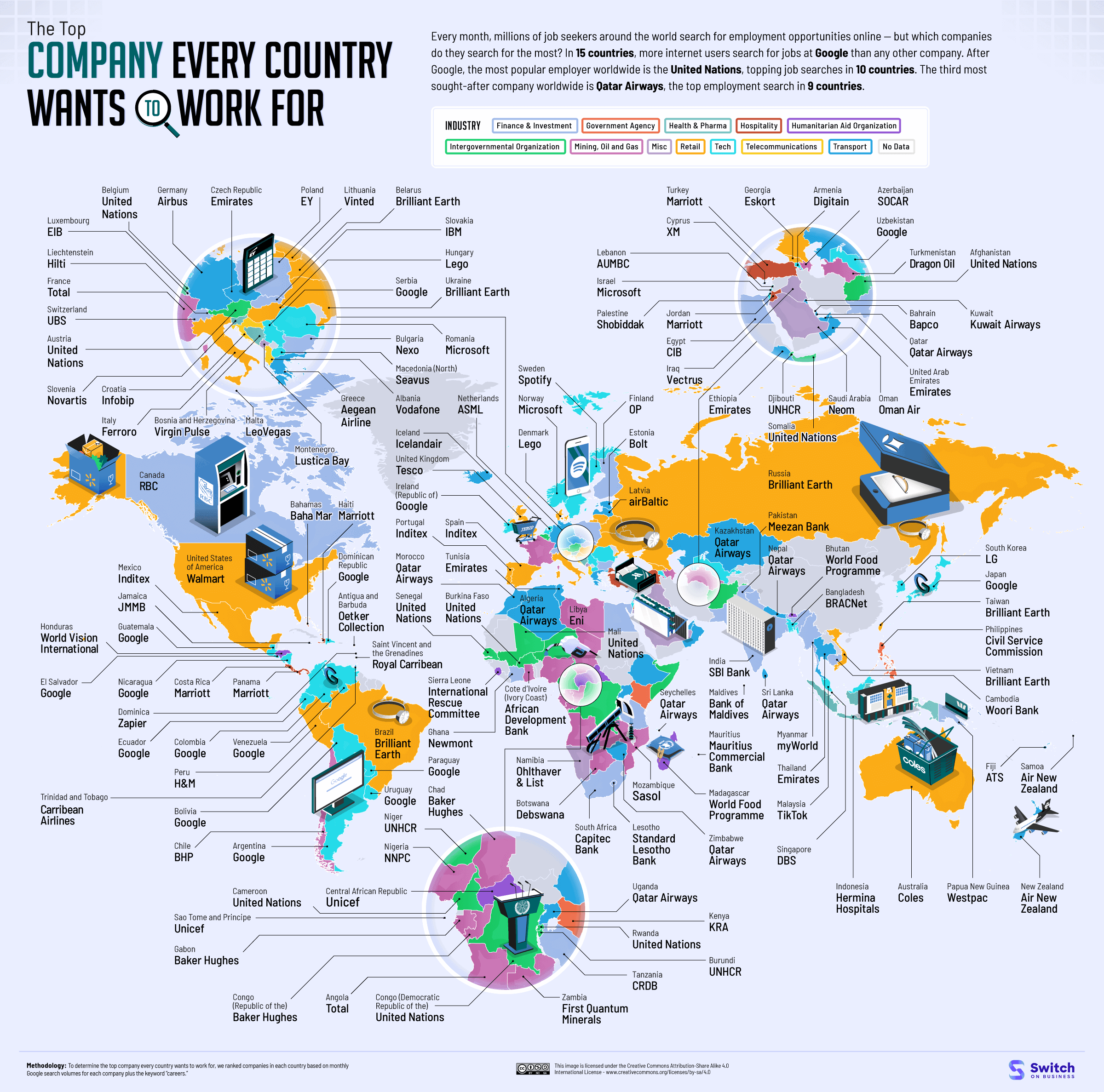 Click here to see the image in full size
North America: Caribbean Workers Opt for Tourism; Americans Apply at Walmart
The employment landscape across North American countries is diverse. Countries such as Antigua and Barbuda, Bahamas and Saint Vincent have a workforce eager to build careers in the countries' thriving tourism industries — specifically, their luxury hotels. Other countries are looking to work for local outposts of American tech giants such as Google and Zapier, and Mexico's most attractive employer is a Spanish fashion brand.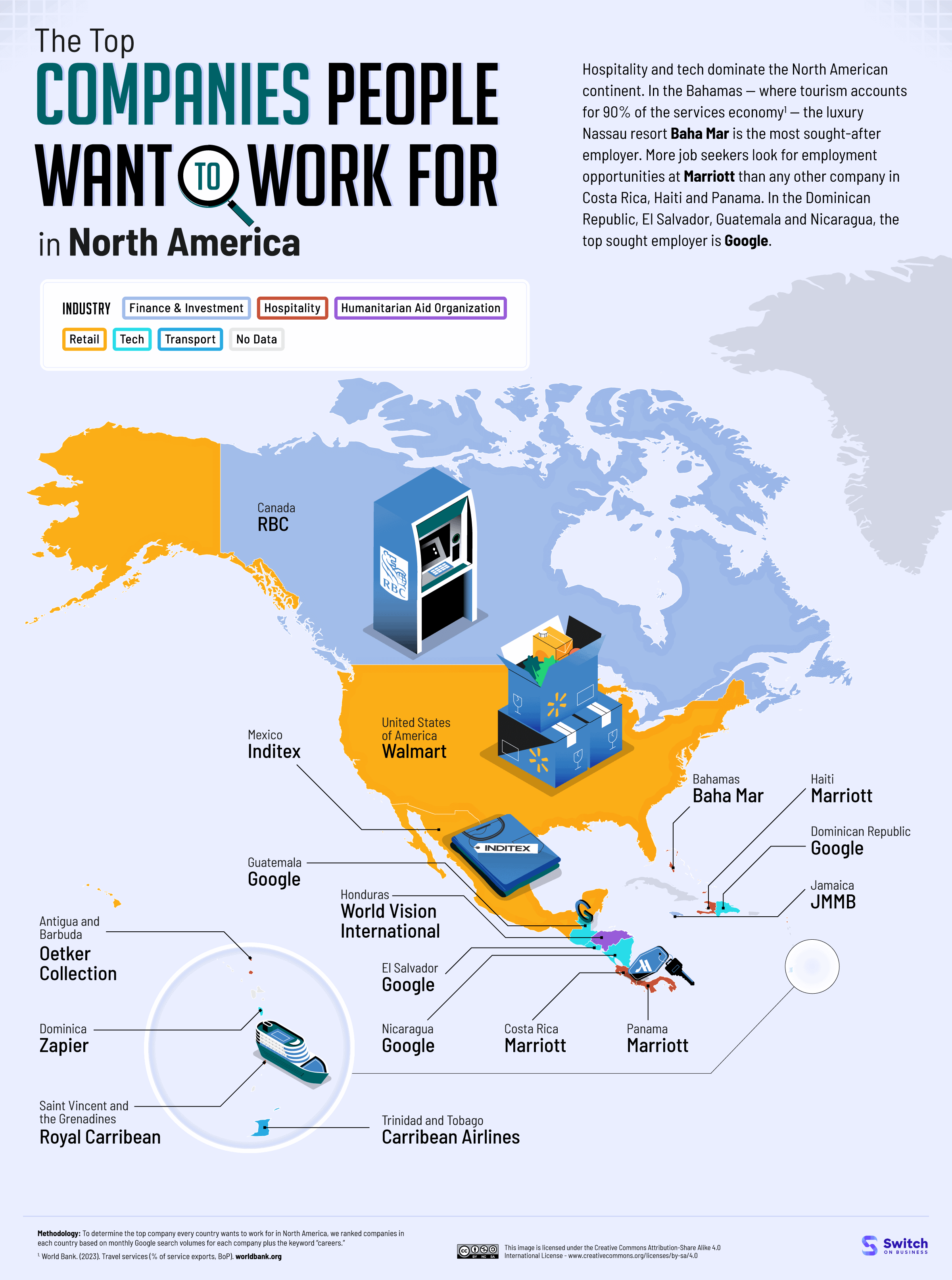 Click here to see the image in full size
Trinidad and Tobago is another country whose tourism industry fuels dreams of glamor: the state-owned Caribbean Airlines Limited is the most searched by local job hunters, attracting 450 Google searches per month (although they could just be hoping for a glimpse of the iconic animated hummingbird logo that appears while the website loads). Caribbean Airlines offers a wide range of airline roles as the biggest company in the Caribbean — and also boasts strong diversity stats, with over half of its team and one-third of senior managers being female.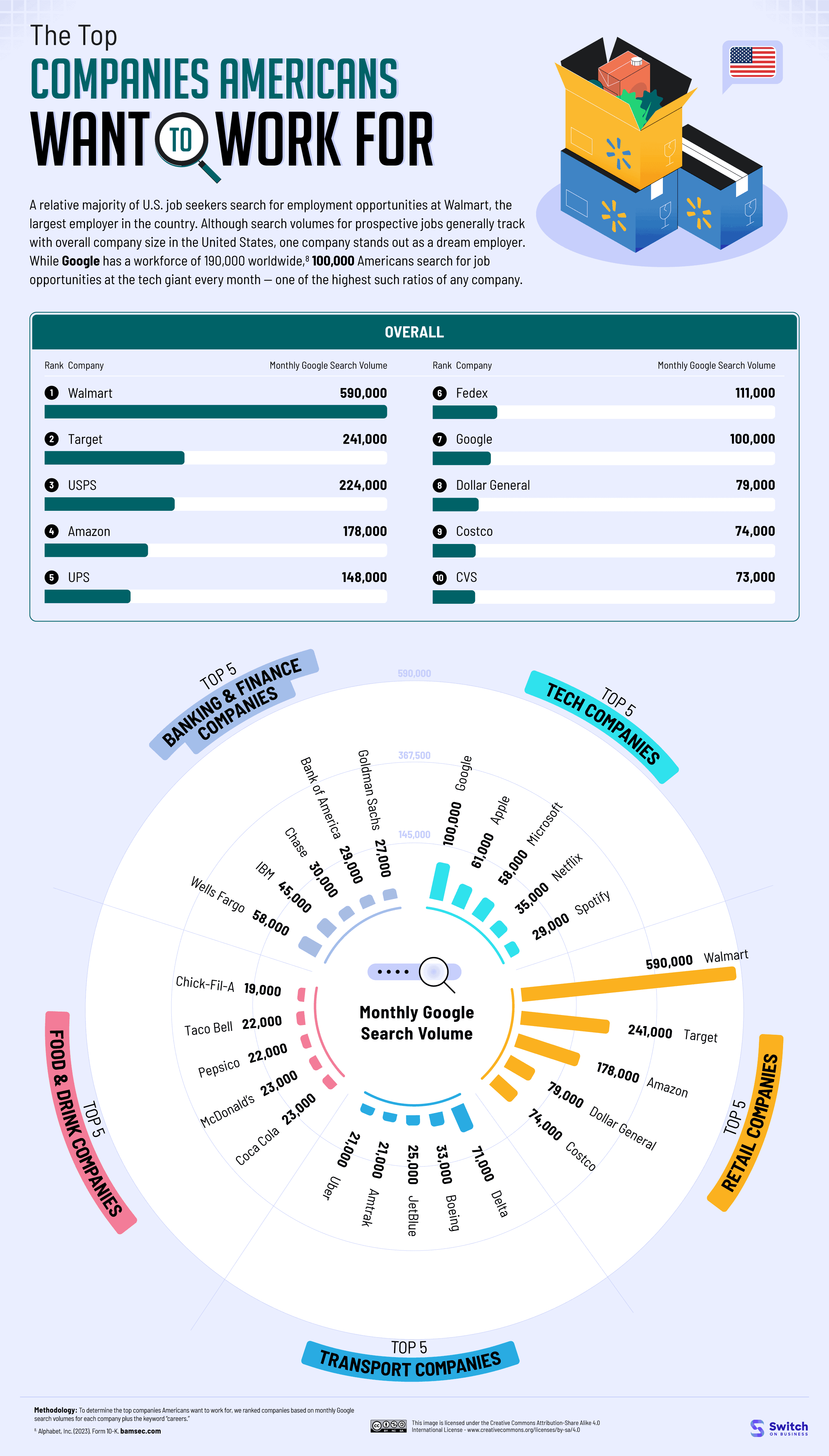 Click here to see the image in full size
Retail companies dominate among the companies Americans most want to work for — and Walmart dominates among U.S. retail companies. Walmart has received good press in recent years for finally attempting to set decent industry standards for pay, although critics say the company still doesn't pay enough. Meanwhile, second-placed Target has grabbed the flag for employee rights, boasting admirable diversity stats and "a debt-free education assistance program" that appeals to those looking for not just a job but a career.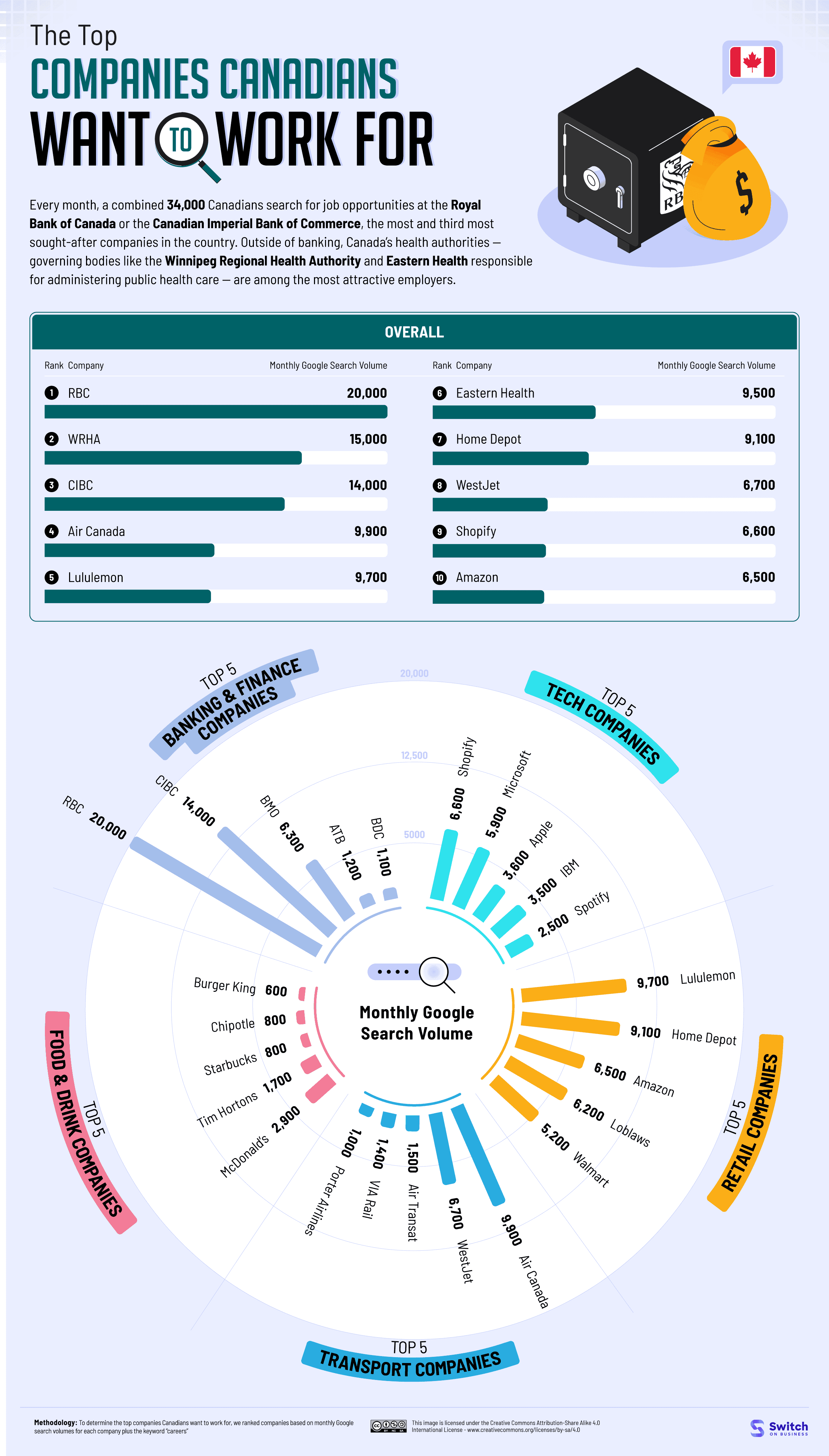 Click here to see the image in full size
Canadians are keeping it Canadian, with the Winnipeg Regional Health Authority sandwiched between two national banks at the top of the most-wanted list, followed by Air Canada. In fifth place — and number one for retail employers — is Lululemon. The Canadian activewear brand offers full gender pay equity; up to six months paid parental leave for mums, dads and adoptive parents; and a monthly cash allocation for wellness named Sweaty Pursuits.
South America: Google Looking for Talent; Talent Searching for Google
At least seven countries in South America can count Google as the company that locals most want to work for. Google announced a "five-year, $1.2 billion commitment" to Latin America in 2022. The company also announced the creation of one million Google Career Certificate scholarships in Latin America and later added PhD Fellowships for students attending universities in the region.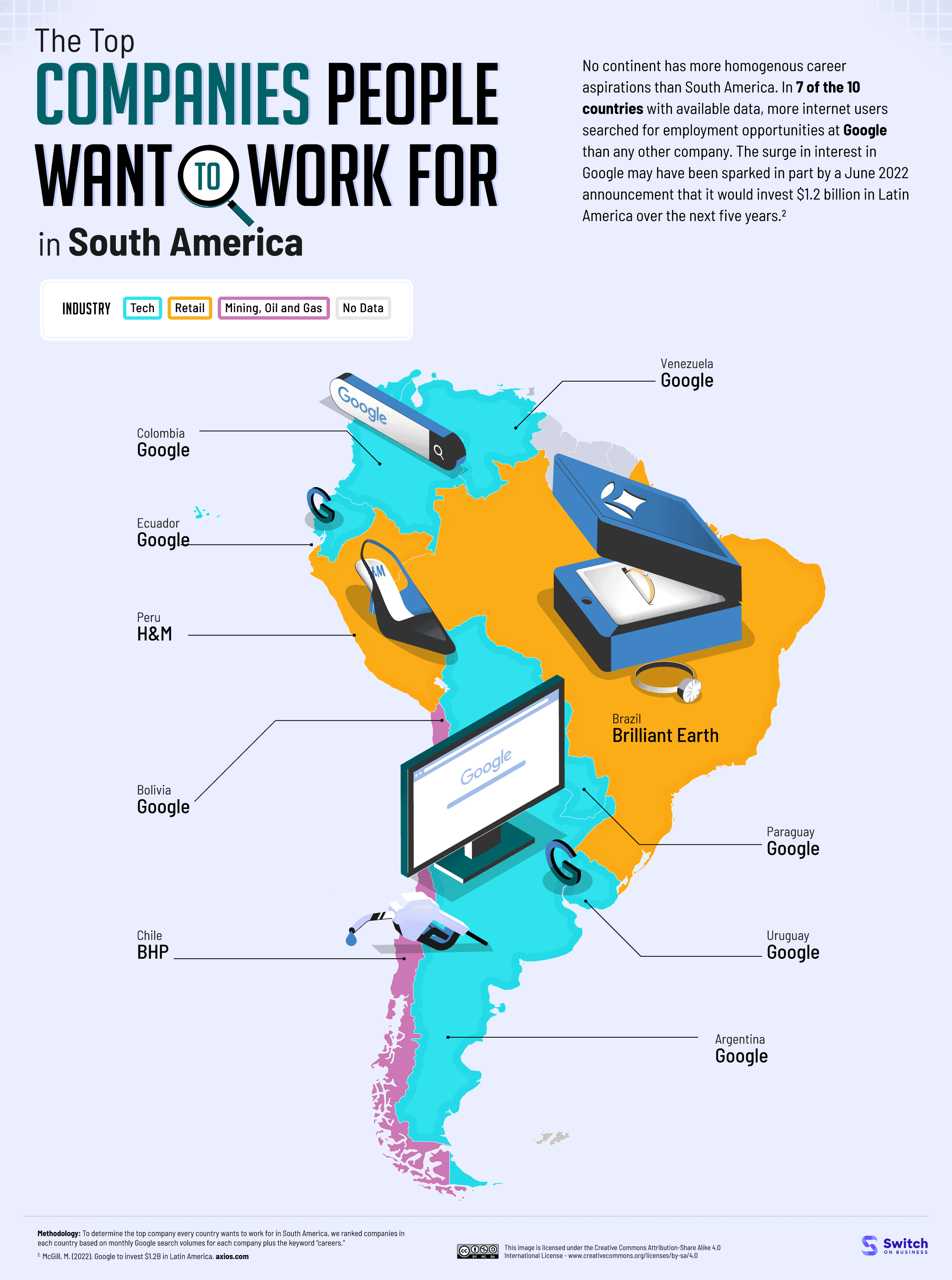 Click here to see the image in full size
Australian mining company BHP owns 50% of the Brazilian firm Samarco, which employs around 11,600 people. However, the companies have a troubled reputation in Brazil due to the 2015 Samarco mine dam collapse, among other ongoing environmental concerns. BHP does not directly employ workers in Brazil, but its Samarco arm offers a range of benefits that keep Brazilians interested in working there.
Europe: UK's Biggest Supermarket and the "Lithuanian eBay" Are Europe's Most Wanted Employers
Retail employers are the most popular option across Europe, at number one in 12 countries. Tech companies are the most popular dream destination in eight countries, including the Swedish firms Spotify and Seavus, which are most searched in Sweden and North Macedonia, respectively. In seven countries, including the banking hubs of Luxembourg and Switzerland, workers most commonly search for a finance company when thinking about careers.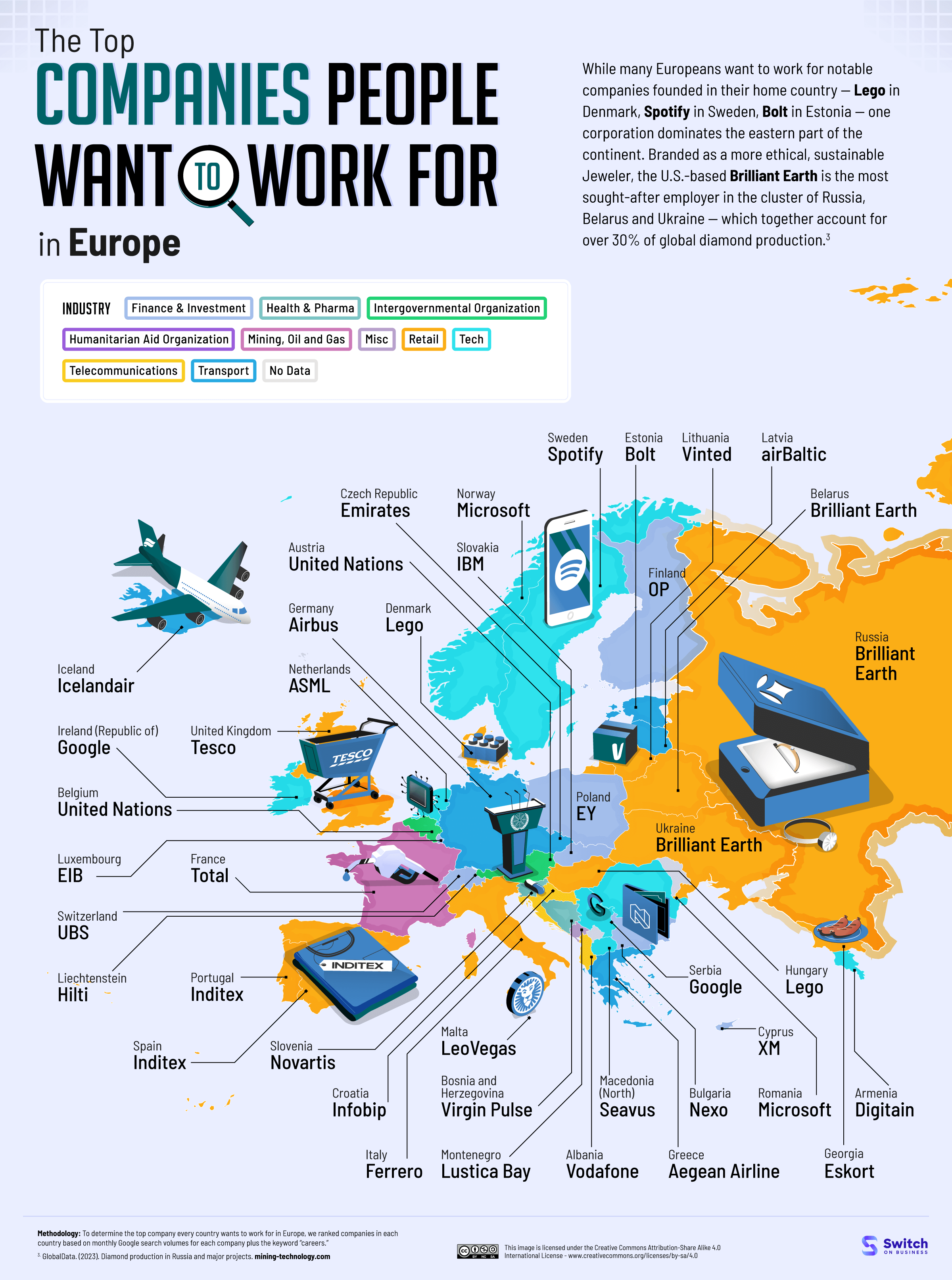 Click here to see the image in full size
Lithuania has a unicorn at number one. Vinted — an auction site for secondhand clothes — is the country's first billion-dollar company and is credited with boosting Lithuanian business esteem as well as continuing to employ at a healthy rate as other European companies falter in the present economic conditions.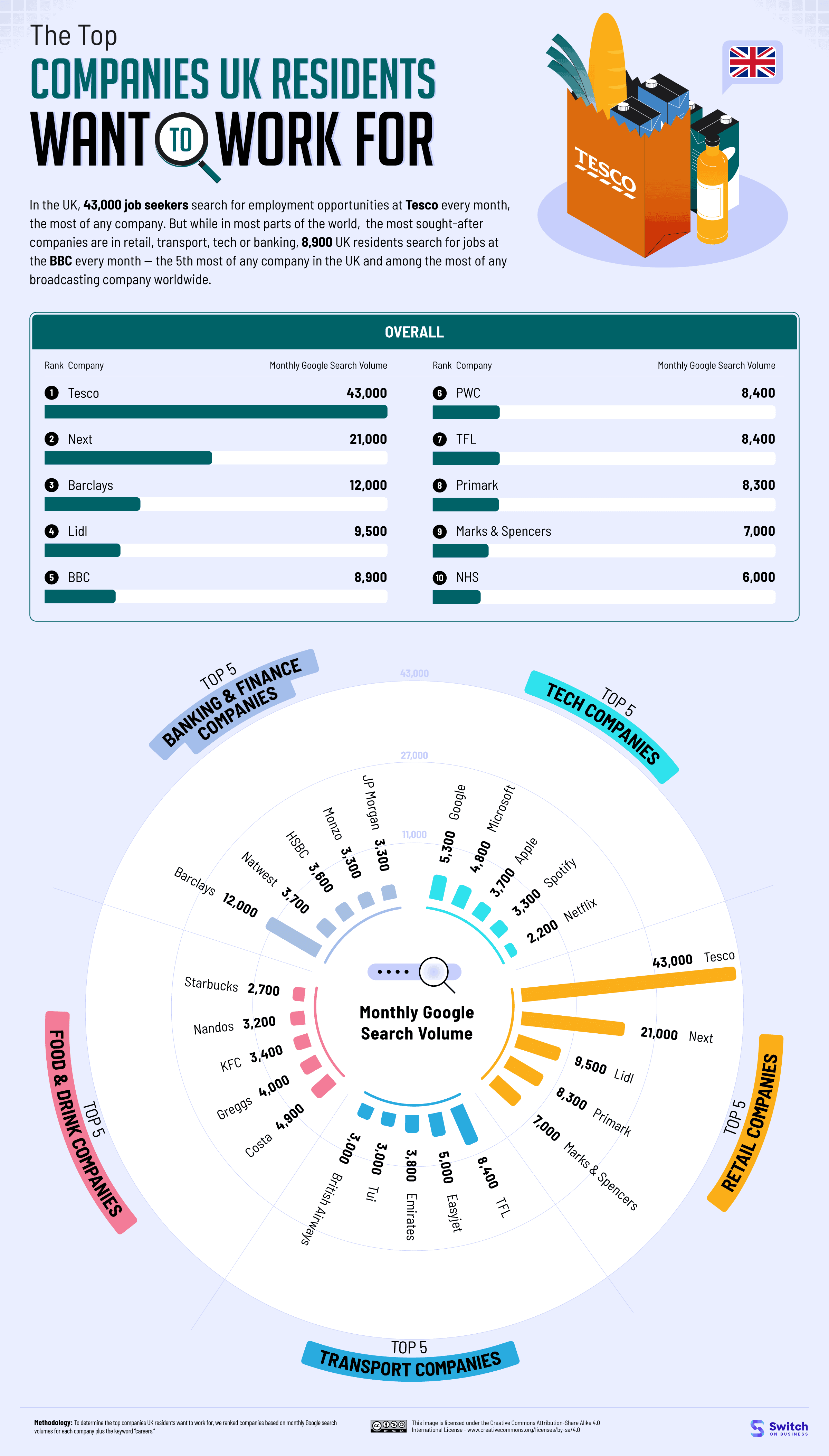 Click here to see the image in full size
Big UK high street names make up the bulk of the UK's most-wanted employers. Tesco is the country's biggest supermarket, employing 310,000 people locally. The company recently launched a virtual GP service for staff to circumvent the UK's overstretched healthcare system. Troublingly, since the government considers the UK to be a tech hub, none of the top five tech firms that Brits want to work for are British — with four based in the U.S. and Spotify a little closer to home in Sweden.
Middle East & Central Asia: Transport and Travel Companies Get Carers Moving
Middle Eastern careerists are on the move. Five countries in the region below have airlines as their most desired destination, while Palestine's Shobiddak is an online classified site built largely around secondhand cars. Jordan and Turkey both aspire to work at the Marriot hotel chain, while oil companies in Azerbaijan, Bahrain and Turkmenistan are greasing the way.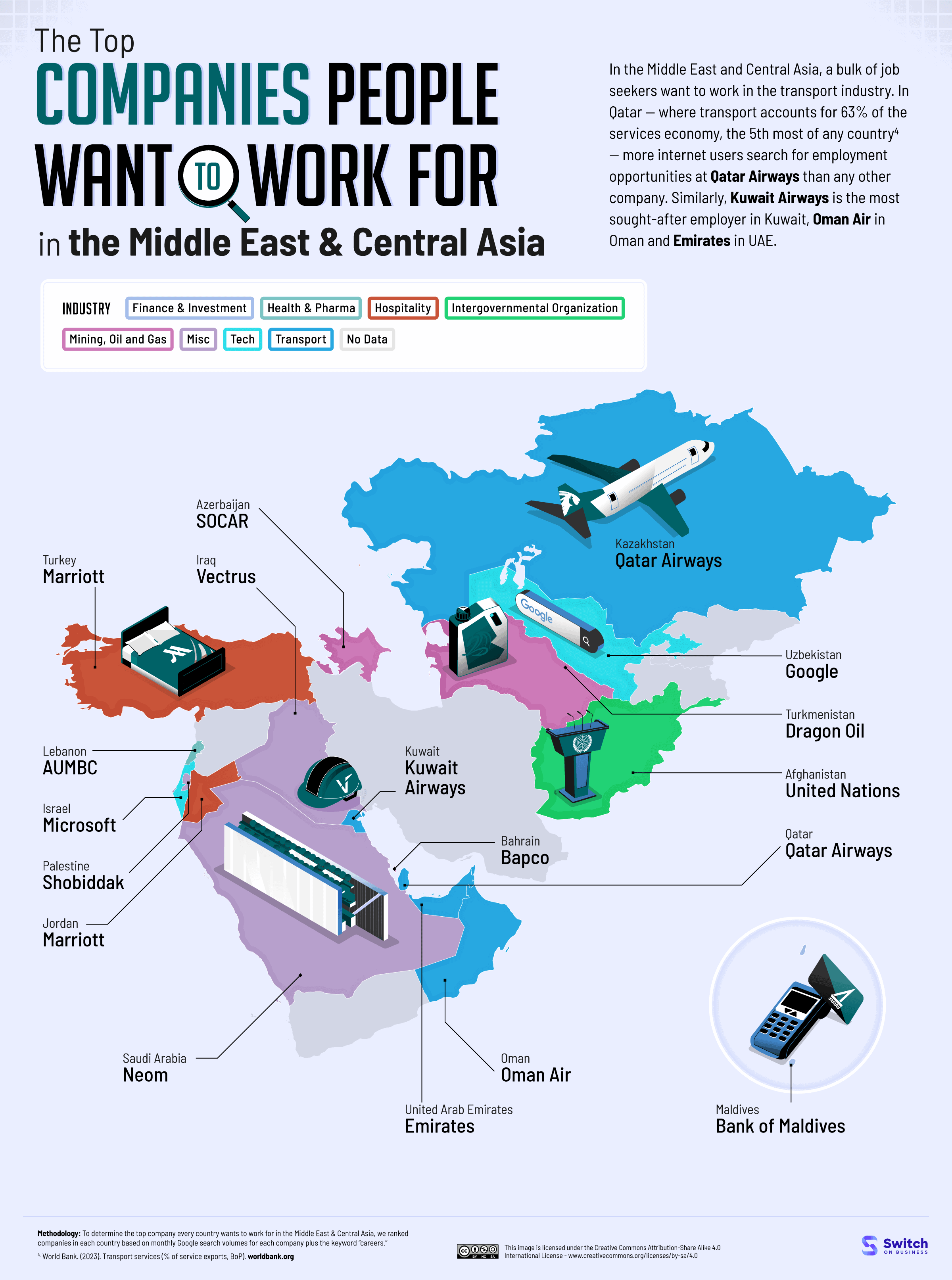 Click here to see the image in full size
Saudi Arabia's most coveted employer is a little more static, at least from a long view. Neom is a planned "linear city" to be built through the desert — "a futuristic city with no cars, no streets, and zero net carbon emissions," according to Architectural Digest, "with residents ferried about by "autonomous mobility solutions" and ultra-high-speed transit." The vision shared with potential employees is bold: "By becoming part of our team at NEOM," reads the company's blurb, "you will join other top talents in their fields from all over the world. These visionary minds and adventurous spirits were drawn by the chance to make history in creating the place of the future from the ground up."
Rest of Asia & Oceania: Korean Electronics and Bangladeshi Net
It's a peculiar tale of tech companies in this part of the world. Japan, famous for its tech giants, is in danger of losing its tech talent to an American company — Google. Meanwhile, South Korean jobseekers are shopping closer to home, most commonly for the electronics firm LG, who describe their ideal employee as a "person who challenges to be the best in the world with dreams and passion."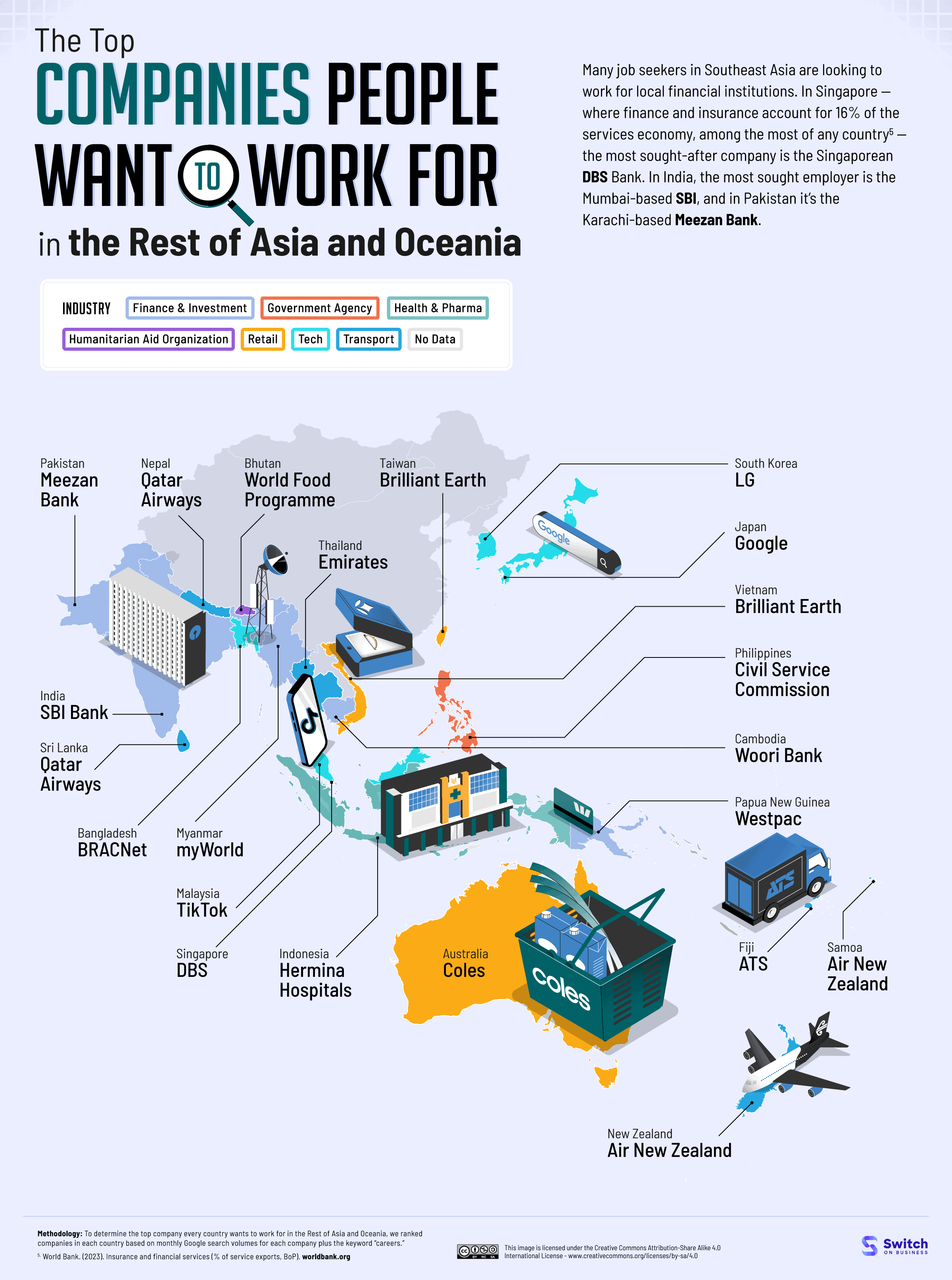 Click here to see the image in full size
Bangladeshis, too, most commonly seek a career with a local tech company: BRACNet, one of the country's largest internet providers. However, the company's profile on Glassdoor is decidedly mixed, with decent salaries only available to select employees and a lean, if structured, work culture leaving workers unsatisfied.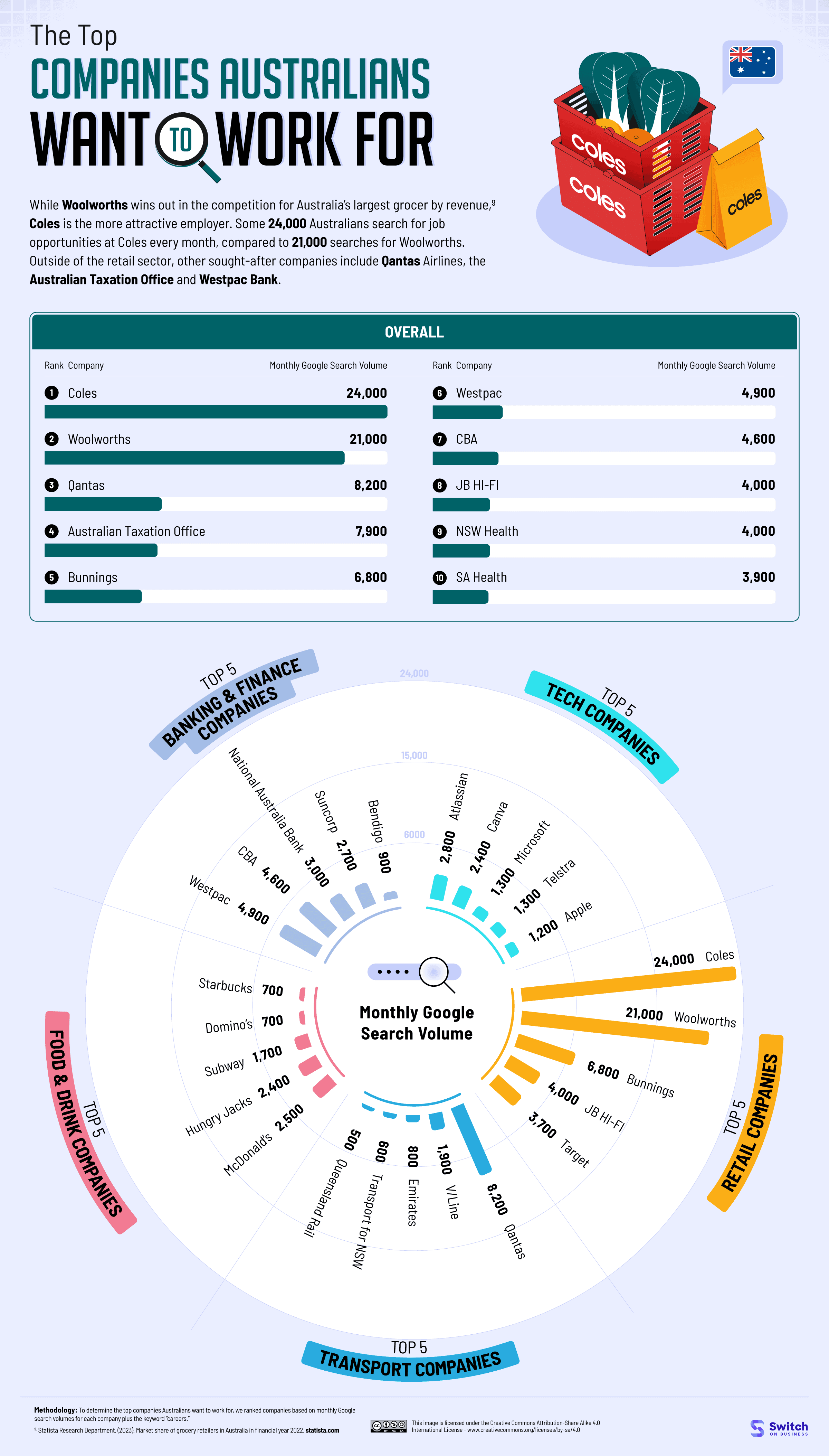 Click here to see the image in full size
Like the U.S. and UK, Australia can count one of its biggest supermarket chains as its top lure for career-builders. Coles is noted as a pacesetter for gender equality in the workplace. However, the company had as many as 2,000 vacancies to fill at the beginning of the year, with labor supply issues compounded by bad press regarding Coles' pay practices.
Africa: United Nations is Top Drawer
Thirteen African countries can count the United Nations or one of its agencies — UNHCR, Unicef, or the World Food Programme – as their most desirable workplace. Africa is a key point of focus for the UN, which attempts to work closely with locals in order to "help Africa help itself." In fact, of 125,436 global employees, 44,276 (35.3%) of UN's staff work in Africa.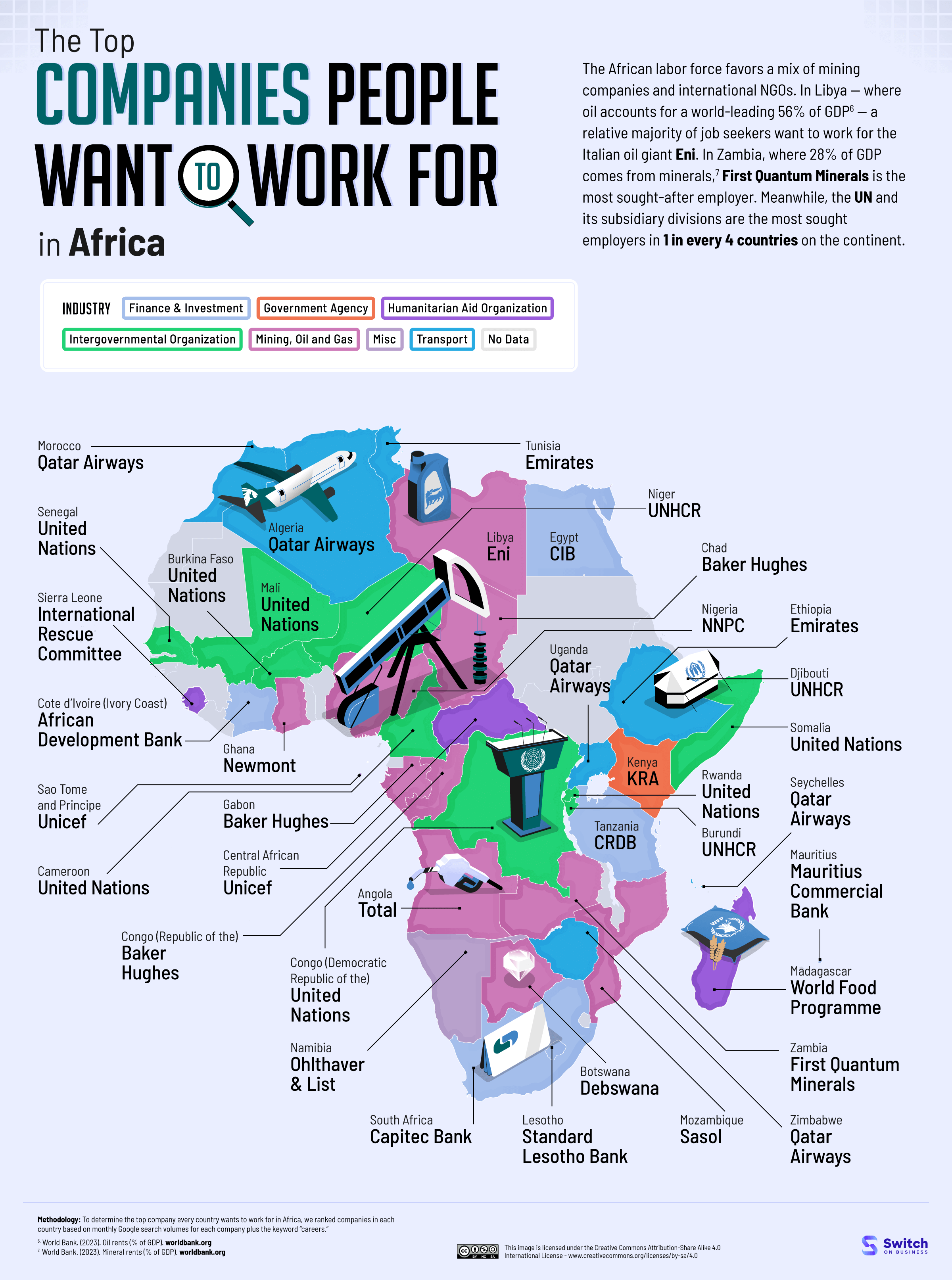 Click here to see the image in full-size
"Working for the UN is like being at the university of life — every day is a learning experience — learning-by-doing, new concepts, and adapting to new situations, and interests," writes Munyaradzi Chenje, former Regional Director of the UN Development Coordination Office. "Working for the UN is not just a job — it's service. I have learnt from brilliant scientists and professionals. I have also acquired invaluable knowledge from many at the community and grassroots levels. The unbridled enthusiasm of many interns with whom I have worked has been rewarding."
How to Attract Top Talent
It is never easy attracting employees who are both talented and the right fit for your company. In the current labor crisis, it's become even harder — especially since many who are trying to build a career already have a good idea of which companies they'd like to try.
The U.S. Chamber of Commerce suggests that business leaders should develop "an employer brand that reflects your business," drawing meaningful connections between your unique product, the causes and brands with which your company is aligned, and the incentives you offer employees. But don't forget the ones who are already working for you: there's no better advocate for employment at your firm than the challenged yet happy employee who already works there.
For a deeper look at the companies that are doing something right, you can check out our full data in the interactive table below.
METHODOLOGY & SOURCES
To determine the company every country most wants to work for, we used data on Google keyword search volume for employment opportunities at different companies in every country from the Ahrefs "Keyword Explorer." We compiled data on search volumes for all companies auto-suggested by the Ahrefs "keyword ideas" section when prompted by the search term "careers" for each country. Companies were ranked within each country based on the monthly Google search volumes of searches for each company name plus the keyword "careers." For example, the monthly search volume for Qatar Airways would be the number of Google searches for the term "Qatar Airway Careers" in a specific country. This analysis is correct as of September 2023.
More Popular Guides