Are you looking for an outstanding registered agent service for your business in Alaska? Then you've come to the right place – our article on the best Alaska registered agent services will provide you with our top recommendations for reliable companies with great ratings and the best services for the most affordable price. 
We'll start by delving into the question of whether the state of Alaska officially requires you to appoint a registered agent service. After solving this dilemma, we'll move on to our top recommendations and list their services and cost. At the end of our article, you'll find our best tips for choosing a registered agent service and a detailed FAQ section where we answer some important questions regarding registered agent services in Alaska.
If you're short on time, check out our summary table below which contains the features of our top three recommendations.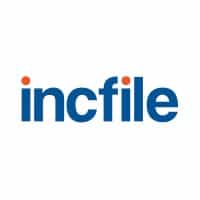 Free For The First Year
$119 / Annually After That
Never Any Hidden Fees or Contracts
Loved by 800,000+ Entrepreneurs
Available in All 50 States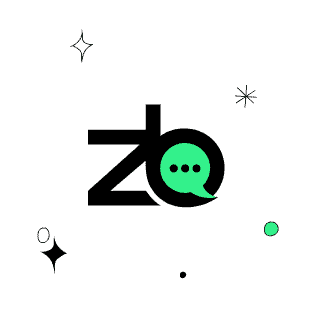 Rated 4.6 out of 5 On Trustpilot
$199 / Year
Only Takes 5 to 10 Minutes To Set-up
100% Accuracy Guarantee
Expert Customer Support

Free First Year If You Use Their $39 formation package
$125 Per Year After
Available in all 50 states
Free mail forwarding
Locally-Scanned Documents
Without further ado, let's begin our guide.
What is a Registered Agent?
A registered agent is an individual or a company that is tasked with receiving official government correspondence on your behalf and forwarding that correspondence to you.
Do I Need a Registered Agent Service in Alaska?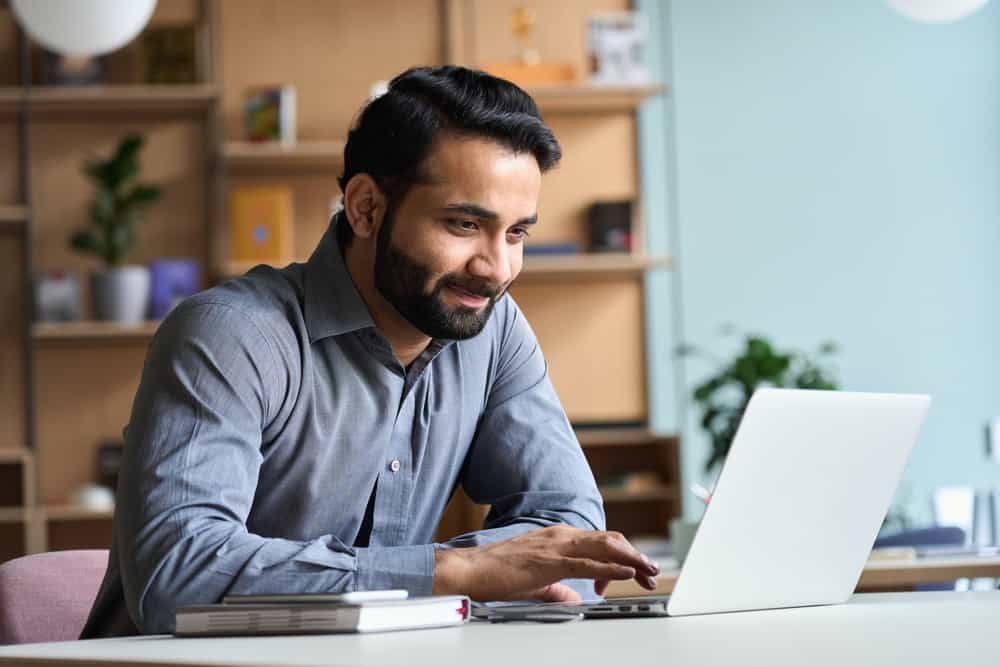 First things first, let's establish if hiring a registered agent service for your business is a requirement or if it's optional in the state of Alaska.
According to the Department of Commerce, Community, and Economic Development of the State of Alaska, every corporation is required to hire and maintain a registered agent service as long as the business is running.
There are a few requirements that a registered agent service needs to meet to qualify as a valid service. For starters, they need to be residents of the state where your business is located. Next, they need to have a physical address in the said state where some of your documents will be forwarded. In addition, they need to be available during all office hours at the physical address they provided.
It's also important to note that they can be either an individual or a business entity, so there are no restrictions in terms of hiring individuals.
Benefits of Hiring a Registered Agent
While hiring a registered agent service costs around $100 a year, it also comes with some great benefits, such as saving you a lot of time, giving you privacy, and helping you stay compliant with your state's laws and regulations.
In addition, you can travel without worrying about missing a delivery of your document and maintain flexible business hours.
If you ever want to expand your business in other states, you can do so without changing registered agent services.
Best Alaska Registered Agent Services
Registered Agent Service
Cost
Office Location
Northwest
$125 a year
Anchorage
ZenBusiness
$199 a year
Not stated
IncFile
$119 a year/ first year free
with incorporation
Not stated
Alaska Registered
Agent
$49 a year
Not stated
Better Legal
$10 monthly/ $90 annually
Not stated
Rocket Lawyer
$149 a year
Not stated
Wolters Kluwer
$337 a year
Not stated
Harbor Compliance
$99 a year
Anchorage
InCorp
$129 a year
Anchorage
Registered Agents LLC
$75 a year
Not stated
Since hiring a registered agent service is obligatory in Alaska, here are some of our best recommendations for services that can benefit your business.
1.
Northwest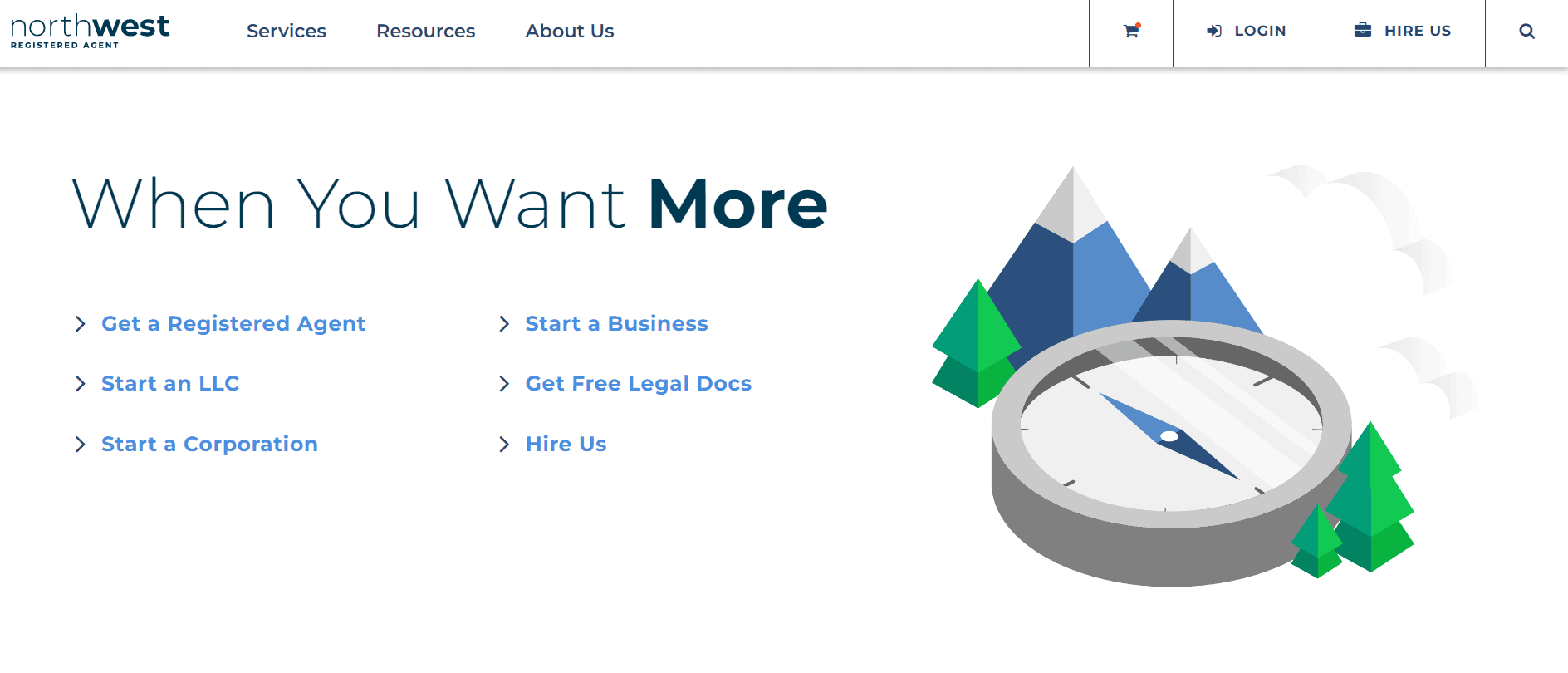 One of our top registered agent recommendations in Alaska is Northwest. With thousands of happy customers all around the United States, you'll be getting access to incredibly helpful services and solutions and personalized support for your business. For $125 a year, you'll receive: 
Mail forwarding

Annual report reminders

Scanned documents

Pre-filled state forms

Document storage

Compliance alerts
If you span your business across five or more states, you can take advantage of their amazing deal, allowing you to employ them as your registered agent service for only $100 a year. We also love that there are no hidden fees or sudden price increases.
Their clients love how reliable their customer support is. Whenever you have a question or want their assistance with something, you can rely on their Corporate Guides give you all the answers.
Their Alaska office is located in Anchorage.
On top of providing registered agent services, they also offer: 
Mail forwarding

Phone service

Payment processing

Virtual office
Foreign qualification

Annual report filings

Trademarking
2.
ZenBusiness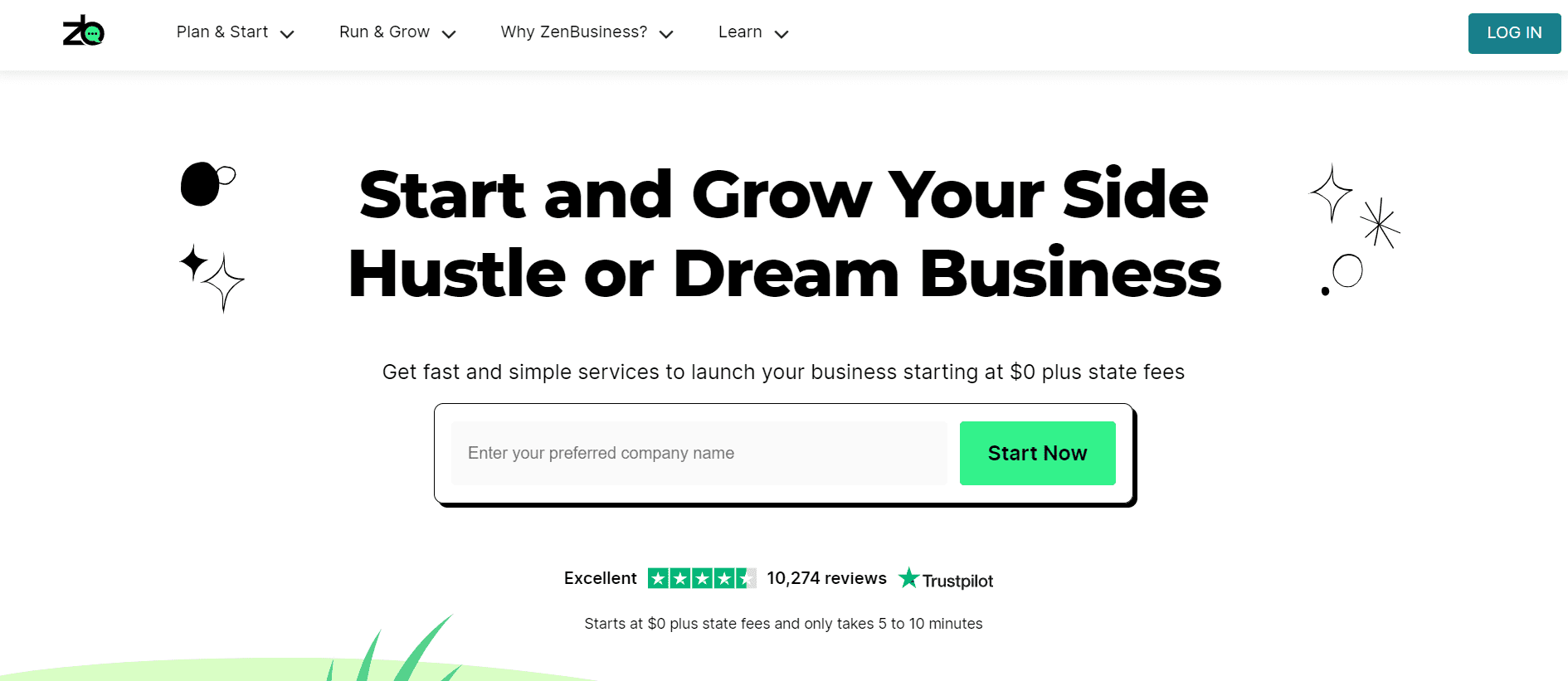 Rated as the #1 registered agent service by Forbes, ZenBusiness is undoubtedly one of the best Alaska registered agent services with many happy clients. Customers love them for their extensive services and exceptional and quick customer service. For $199 a year, you will receive:
Ongoing support

Expert handling of all your documents

Email notifications

Mail forwarding

Fast turnaround

Document scanning

Access to a personalized dashboard
They also provide many services that will help you start and run your business, such as:  
Incorporation

Operating agreement

EIN Number
Annual reports

Business license reports

Banking and finances

Worry-free compliance

Domain name and website

Taxes and accounting
3.
IncFile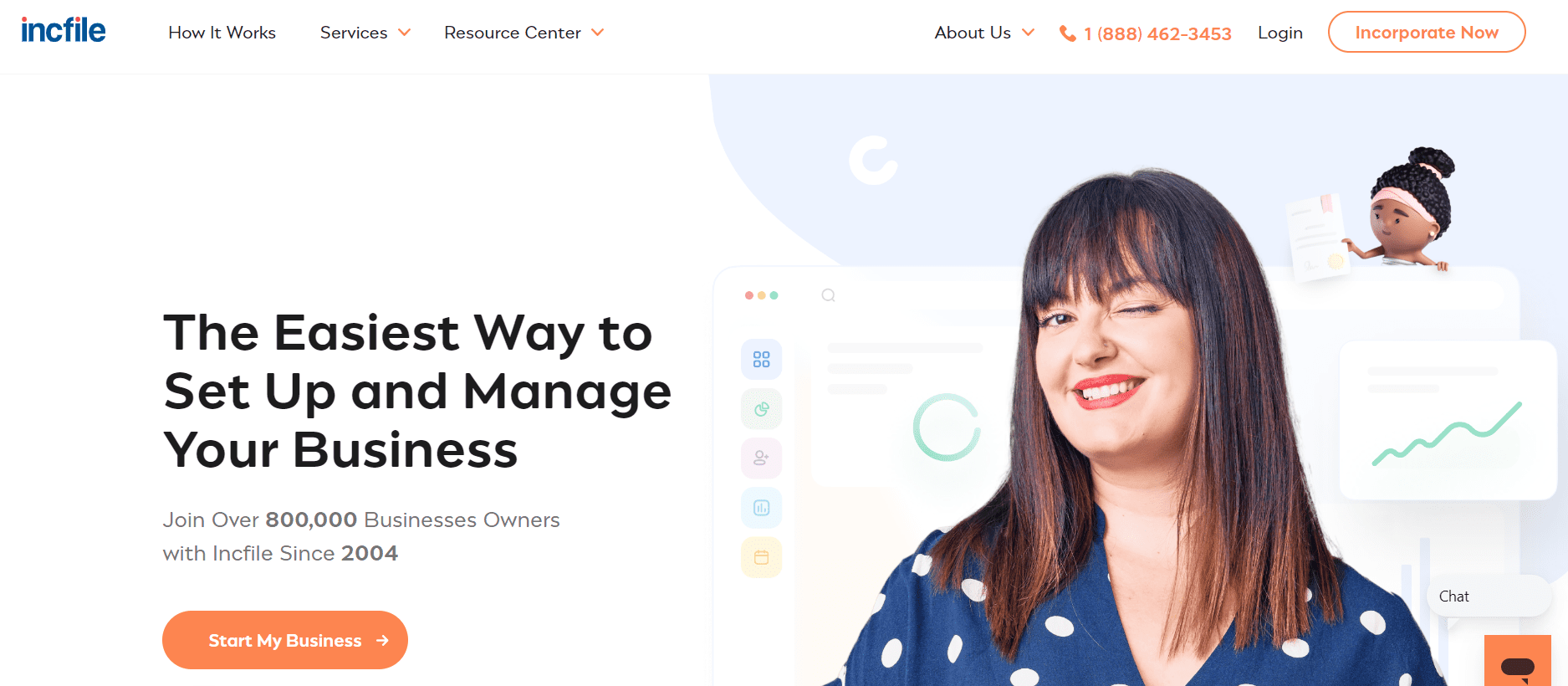 IncFile offer a unique deal – you can get a free registered agent service for your first year if you hire them for a formation service for your LLC or corporation. As part of this package, you will receive:
All your important correspondence in due time

Access to said correspondence on your personal dashboard

Tailored email and text notifications
 What you sign up for is what you get – there are no hidden fees or unwanted contracts. It's an incredibly affordable option for anyone looking to hire both a registered agent and a formation service.
Their annual fee is $119.
On top of registered agent service, they also provide:
Tax consultations

Amendment

EIN Number

Foreign qualification

Business licenses and permits

Certificate of good standing

Virtual address

Trademarking
4.
Alaska Registered Agent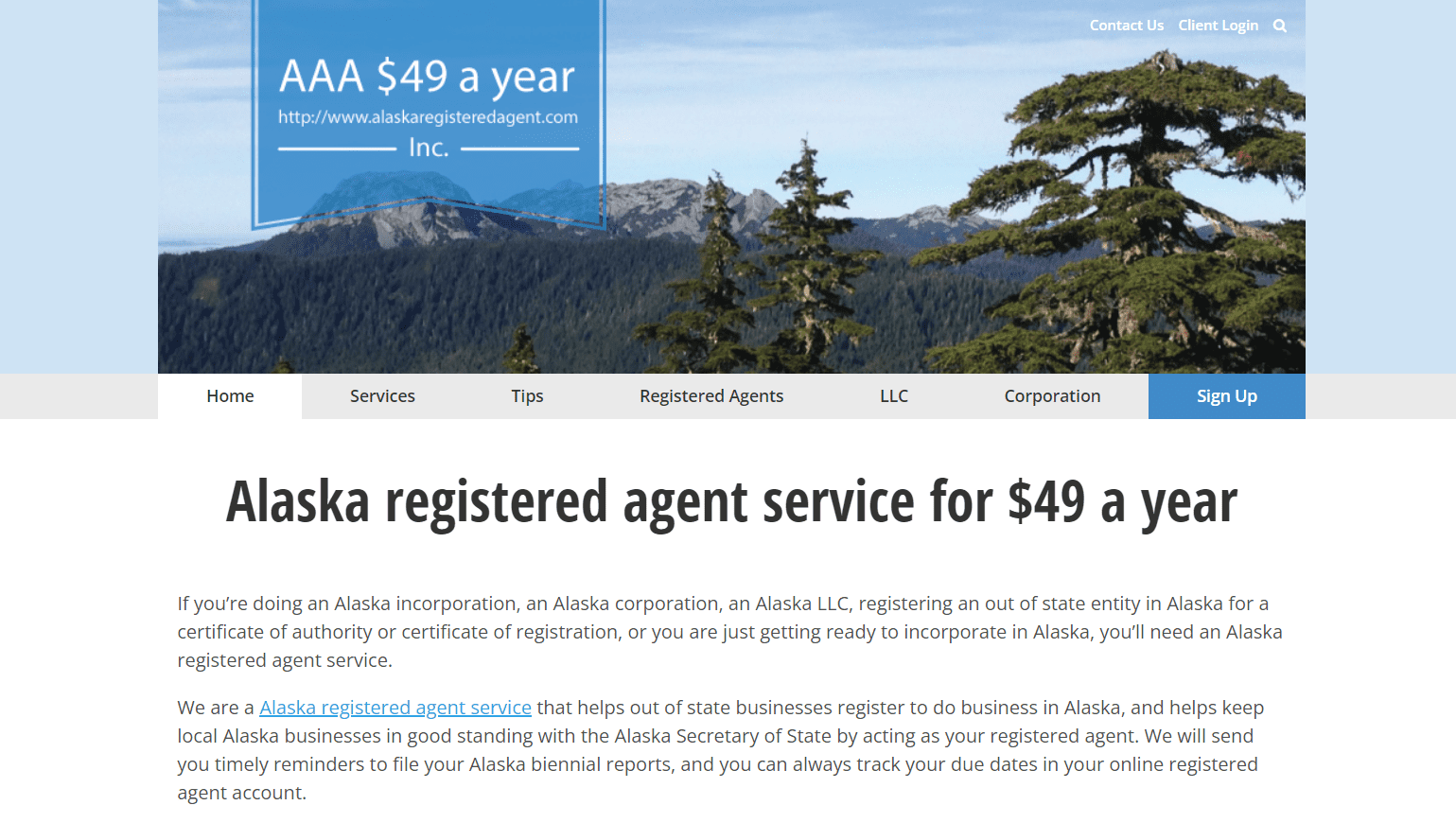 Great for small businesses and entrepreneurs who are on a tight budget, the Alaska Registered Agent services will only cost you $49 a year. In return, you will have:
Immediate access to your online account

Scanned documents

Filing tips

Biennial report reminders 
Unlike some other affordable services, there are no hidden fees – you will always know what kind of subscription you're paying for and what you can expect in return.
5.
Better Legal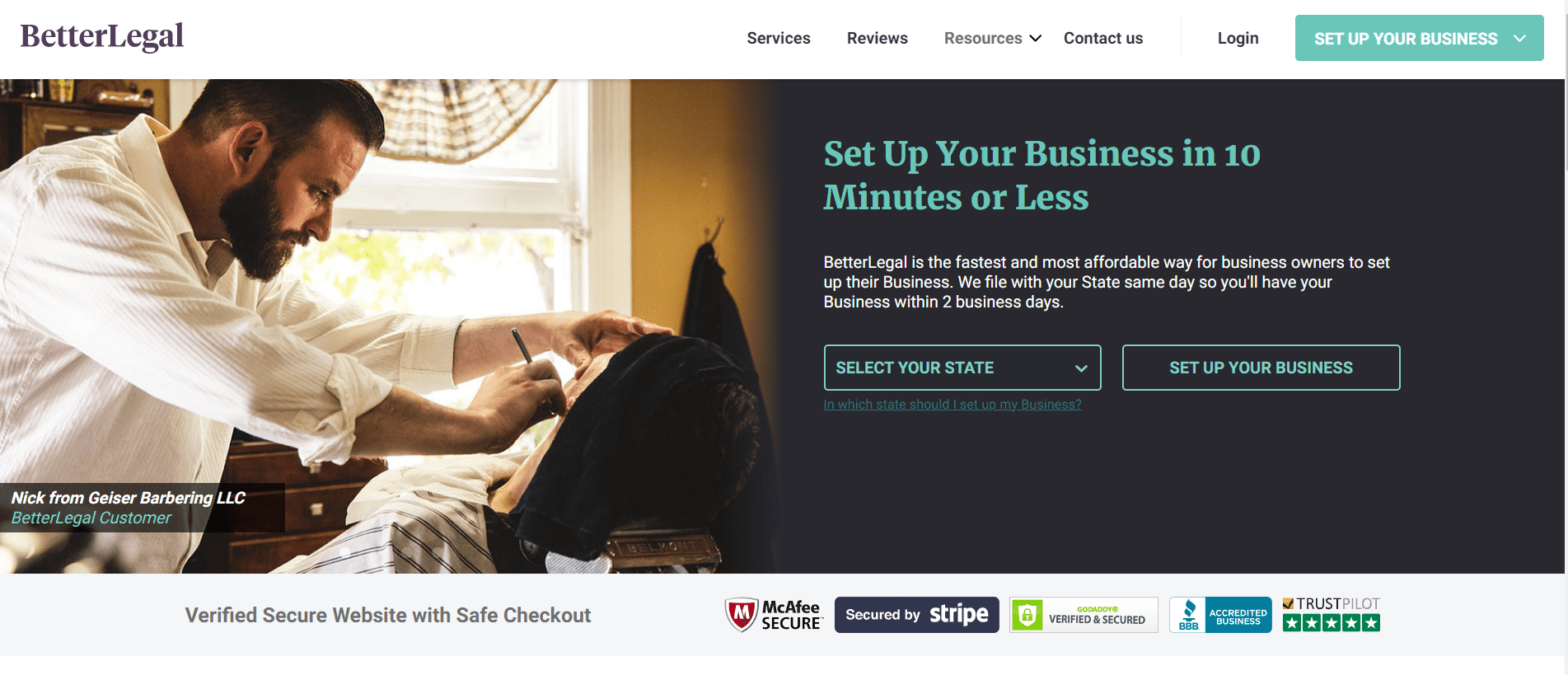 Although a relatively new registered agent service company, Better Legal provide all the services necessary to help you operate your business without missing any important deadlines or notices. Their features include:
Receiving all important notices on your behalf

Filing documents

Annual reports
 We also love how you can choose between paying on a monthly basis ($10) or an annual basis ($90).
Apart from registered agent services, they also offer LLC formation services, corporation formation services, and state compliance services.
6.
Rocket Lawyer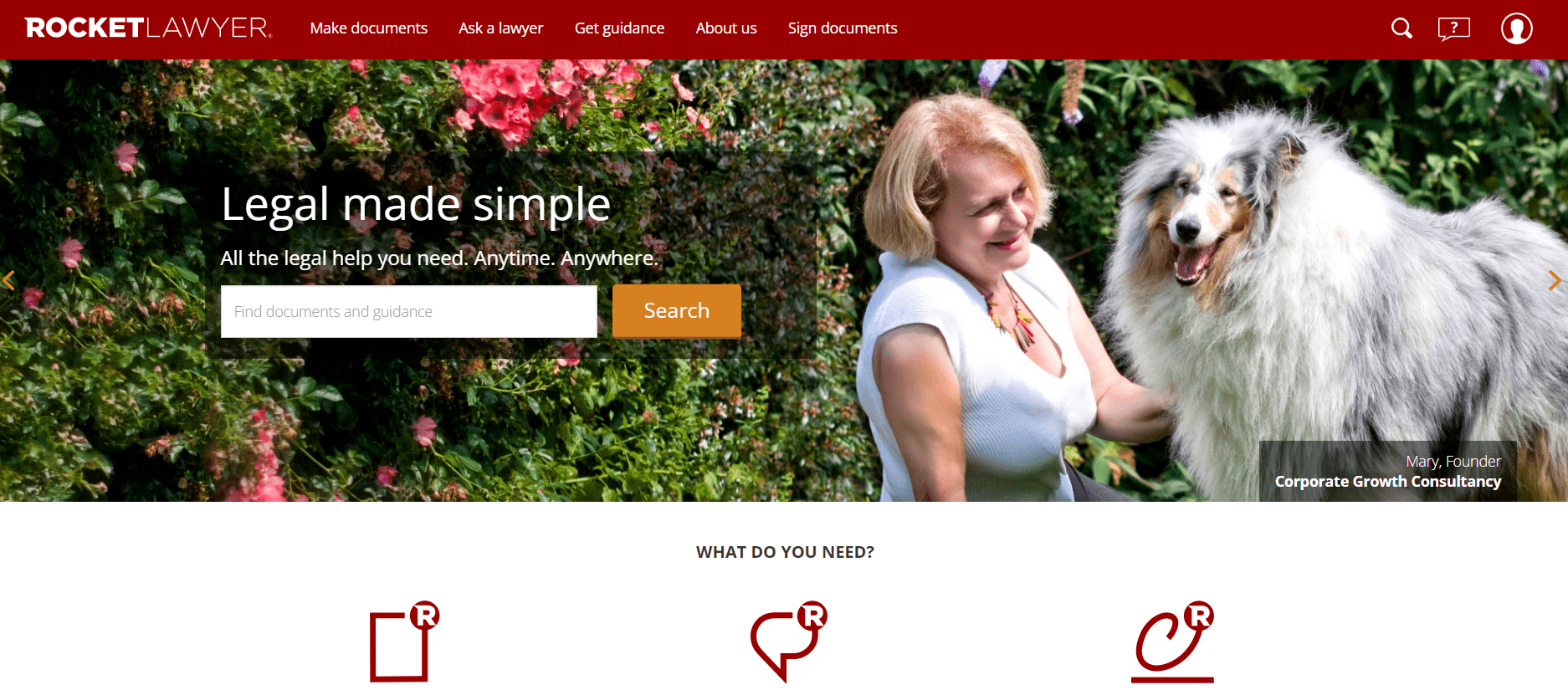 One of the leading companies for legal services in the United States, Rocket Lawyer is an outstanding option for any registered agent services, or if you simply want expert and affordable legal advice. It has an amazing reputation for having many satisfied customers and providing outstanding legal advice at a reasonable price. You will get access to many different features, such as:
Legal consultations

Different kinds of document templates

Special discounts 
Their registered agent services cost $149 a year. If you decide to use one of their premium subscriptions, you can hire a registered agent with a 25% discount.
If you're not sure whether you'll get along with their legal services, you can always take advantage of their 7-day free trial and try it out without any strings attached.
If you're ever in a legal pickle, simply use their "Ask a lawyer" service to get access to a detailed answer within one business day.
Their other services include:
LLC formation
Incorporation
Taxation
Operating agreement
Copyright and trademark
7.
Wolters Kluwer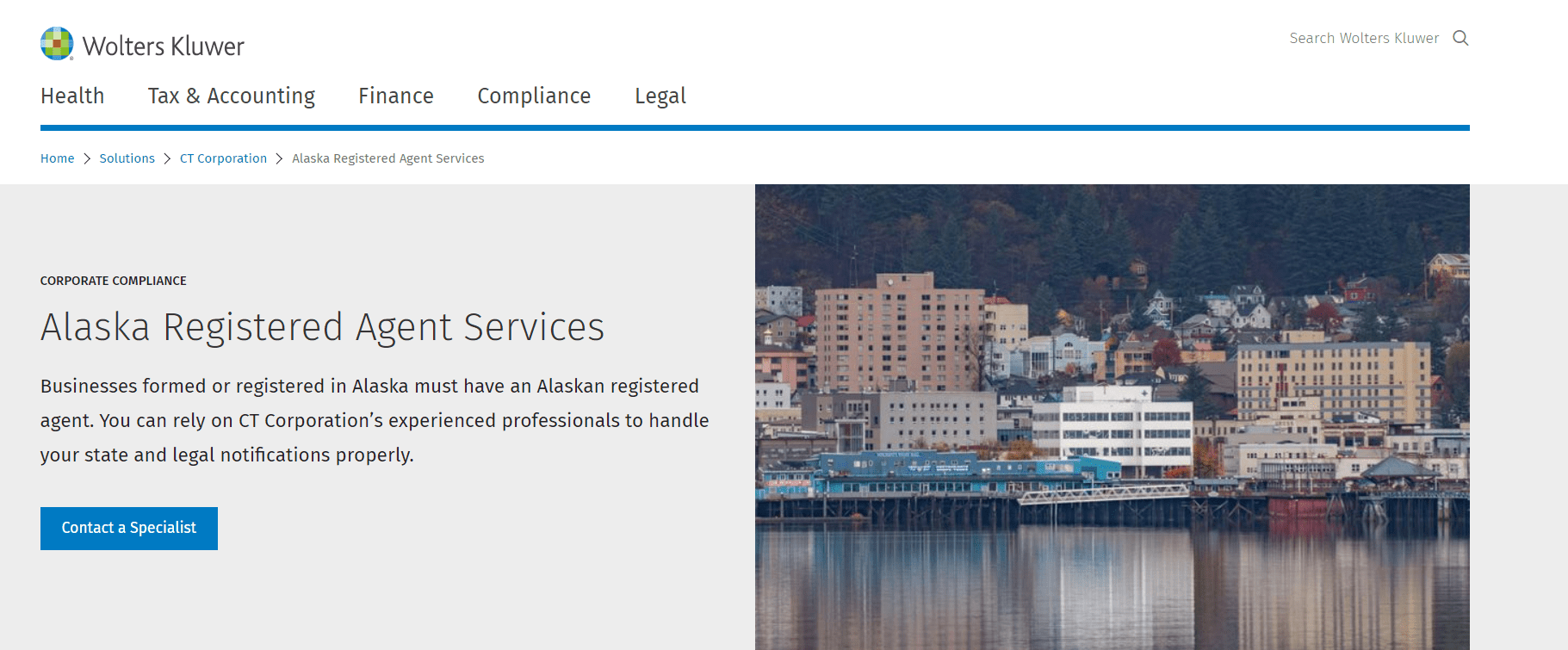 Another great option for a registered agent service is Wolters Kluwer. Their rates are slightly higher than some other registered agent services on the market – they will cost you $337 a year. However, in return, you will receive:
An online compliance portal that will help you keep your business compliant

A registered agent location

Online document processing
Customers appreciate their responsive and reliable customer service, so you can rest assured knowing you will be in good hands.
Apart from their amazing registered agent service, they also offer incorporation and qualification filing services.
8.
Harbor Compliance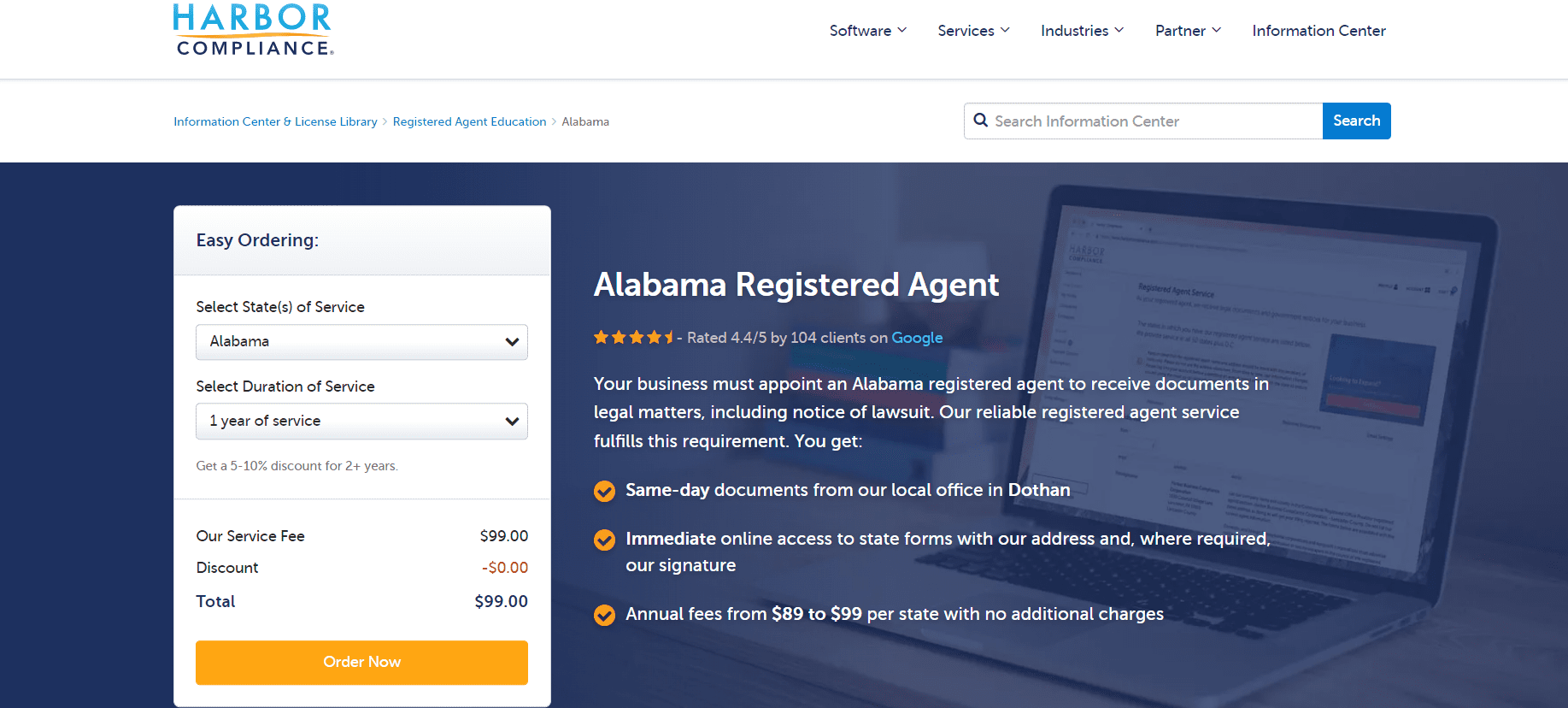 Offering various different services, Harbor Compliance are an outstanding choice for businesses that are just starting out or want to get the most bang for their buck. For only $99 a year, you can get:
Same-day delivery of all your important documents

Immediate access to their address

Pre-filled forms

Annual report notifications 
For any urgent notifications, such as legal notices, you will receive an immediate call from one of their representatives.
Harbor Compliance's office is located in Anchorage.
If you decide to hire them for more than a year, you can get up to a 10% discount on their registered agent services.
They also offer other services, including:
Amendments

Business licenses

LLC formation

Incorporation

Registration
9.
Incorp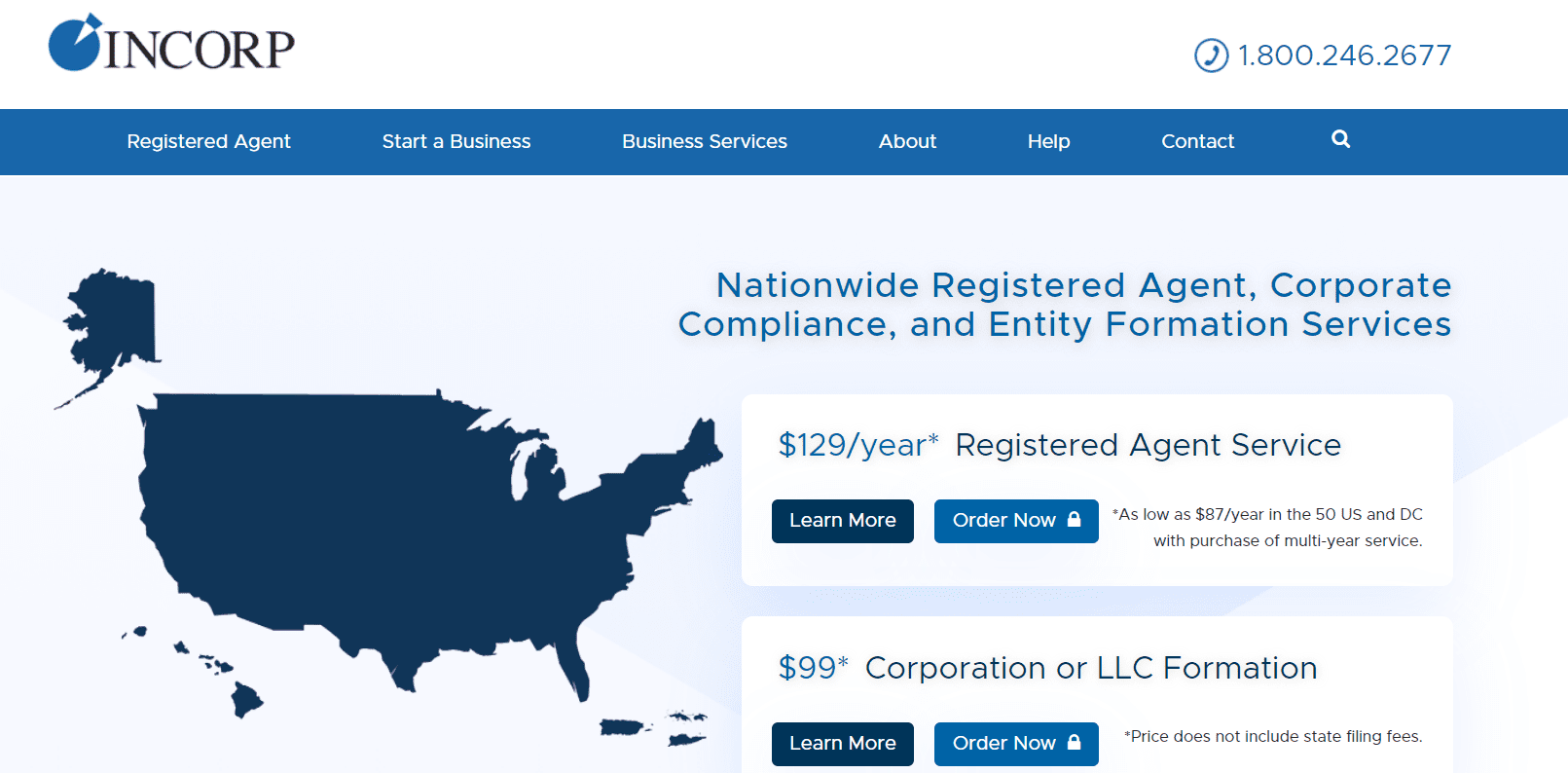 Join thousands of nationwide customers and get access to the amazing registered agent service of Incorp. For only $129 a year, you can enjoy solutions such as:
Great customer service

Easy-to-use compliance calendar

Mail forwarding

Annual report filings
Legal notifications
Access to their Entity Management System
If you purchase their multi-year plan, their services will cost you $87 a year, which is quite a bargain considering what you'll be getting in turn.
Their Alaska office is located in Anchorage.
InCorp also offer the following services:
LLC formation

Incorporation

UCC search

EIN Number

Articles of amendment

DBA Filing

Apostille service

Foreign qualification

Trademarking  and c

opyright
10. Resident Agent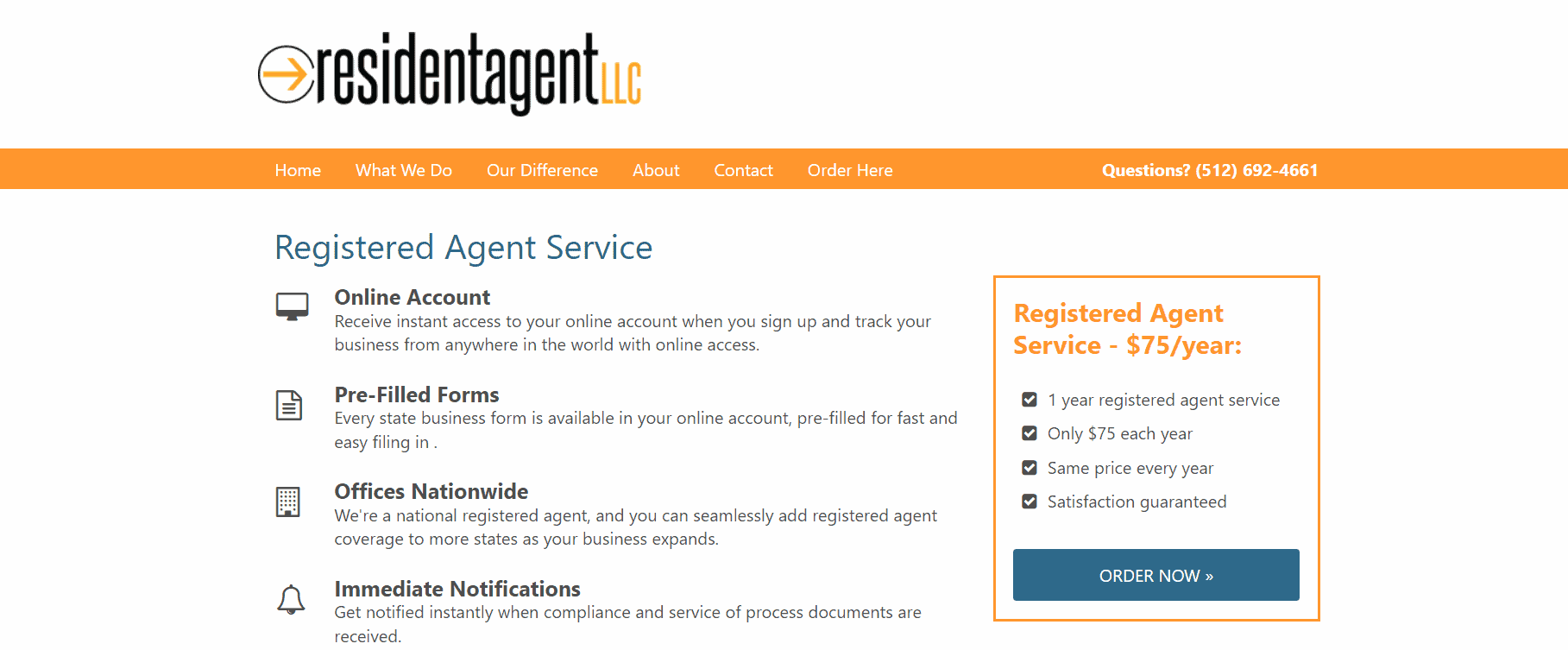 If you're on the lookout for a registered agent service that will cost you less than $100, look no further than Registered Agent. For only $75 a year, you will receive:
Immediate access to your online account

Different pre-filled forms

Immediate notifications

Compliance reminders

Annual reports
In addition, you will get annual report reminders and, because they have nationwide offices, you'll be able to easily expand your business without having to switch your registered agent.
How to Choose a Good Registered Agent Service in Alaska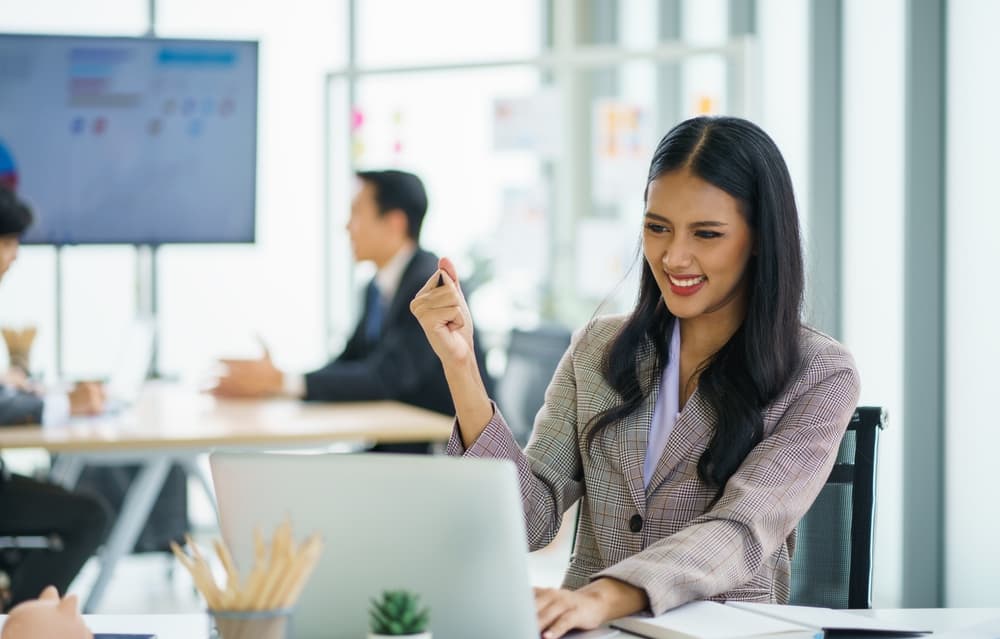 Each business has different needs and priorities, but when it comes to hiring a registered agent service, there are certain solutions and services that are universally beneficial. In this section of our article, we'll go over some of the most important ones to look out for in a registered agent service.
Privacy
Not all online services are dedicated to protecting your data and personal information. When deciding what registered agent service to hire, carefully consider how they treat their customers' data. If there's even a slight chance that they might abuse your trust, opt for another service.
Choose a Nationwide Service
If possible, try to find a registered agent service that operates nationwide. While this isn't a necessity for most businesses, working with a registered agent service that has offices across multiple states makes it easier than ever to expand your business. You won't have to spend any additional money or waste any time researching potential registered agent services – you can invest that time into growing your business.
Consider the Services
Many entrepreneurs make the mistake of settling for a registered agent service only because it's affordable. Before you sign up for any subscriptions, it's important to consider their overall service, not just the price. Weigh out what you get in return for their price and see if the services they offer would help grow your business and make the operations easier.
In addition to the usual services you get from a registered agent, if you're busy with your business and you have a lot on your plate, consider choosing a service that provides annual and monthly reminders for important deadlines.
Research What Their Customers Have to Say
Last but not least, a crucial part of choosing the best Alaska registered agent service for your business is seeing what fellow entrepreneurs have to say about the companies you have in mind. Before committing yourself to a specific subscription, ensure that you read up on the reviews of the service.
You can go on websites such as Trust Pilot and consider some of the negative feedback to get a better picture of how satisfied their customers are. If the negative points aren't massive deal breakers to you, or if they're few and far between, then it's a good sign that you should opt for that company.
How Do I Register a Business in Alaska?
In this section, we'll cover all the necessary steps to start a business in Alaska.
Decide a Legal Structure for Your Alaska Business
One of the first steps to starting a business in any state is choosing a legal structure for your business. In Alaska, the most common types of business structures are:
Limited Liability Company (LLC)

Corporation
While sole proprietorships and partnerships are easier and more affordable to form than LLCs and corporations, their owners aren't given limited liability. Consider the drawbacks and advantages of each business and choose one depending on your vision and your priorities. In addition, we recommend taking into account factors such as taxation, the budget required, and the formation process of each structure.
Choose a Name for Your Business
To avoid any legal conflicts, do a name search when coming up with name ideas for your business. This allows you to double-check that the name you've chosen isn't already used by another business. It's also a good idea to choose a name that's not similar to a business name already in use. You can conduct a name search on the official website of the state of Alaska, under the section "Corporations, Business and Professional Licensing".
In every state, there are certain requirements in regard to the words you business name can contain. For LLCs in Alaska, the business name has to contain the phrase "limited liability company", or "LLC". In addition, you can't use words that contain references to government agencies, such as Army or Capitol Police.
If you've decided on a name and you haven't finished the remaining steps in registering your business, it might be a good idea to reserve your name for 120 days, which you can do on the State of Alaska website. The same website allows you to register your business name for five years.
File Articles of Organization and Incorporation With the State of Alaska
In the case of sole proprietorships and partnerships, you don't need to file articles of organization/incorporation. However, if you're planning on starting an LLC or a corporation, filing these documents with the state of Alaska will be a requirement.
Articles of organization are a set of legal documents that contain information regarding the owners of the LLC and the business, the liability of each member, and all the responsibilities within the business. The filing fee is $250. You can either choose to file the documents online or mail them to the state.
Similarly, articles of incorporation are documents filed with the state that include the corporation's name and address, information regarding the shares, and information about the chosen registered agent. If you're starting an S corp, an additional step you'll have to complete is filing form 2553 with the IRS. For more information regarding the filing process, visit the State of Alaska website.
Apply for an EIN
Obtaining an EIN (Employee Identification Number) is a requirement if you hire employees for your business, or if your business is taxed separately from you. You can apply for an EIN on the IRS website. The application is free and conducted online, but you can also submit it via mail. Even if you're not required to obtain an EIN, doing so comes with a plethora of benefits, such as making it easier for you to open a bank account.
Obtain the Required Permits and Licenses
Last but not least, you need to obtain the permits required for you to operate a business legally in Alaska. Most businesses will need to obtain a state business license which costs $50. Keep in mind that this type of license has to be renewed once a year.
Depending on what branch your business covers, you might need to purchase additional permits and licenses for your business. If your business covers areas such as health, food, alcohol, tobacco, or childcare, then additional licenses will be required. Some license regulations vary from city to city, so you can check specific websites for the location you have in mind. You can find information regarding specific fees and the application forms on the CBPL website.
FAQs
How Much Does It Cost to Register a Business in Alaska?
The fee for filing articles of incorporation and organization in Alaska is $250. Moreover, the business license will cost you $50. If your business falls under certain industries, like tobacco, you have to pay an additional endorsement fee which will cost you $100.
Where Can I Do an Alaska Business Entity Search?
In Alaska, you can perform a business entity search on the Alaska Davion of Corporations site.
How Much Does a Registered Agent Service Cost?
The price for a registered agent service depends on the state where your business is located and in how many states your business operates. If you want to hire a registered agent service for a business that's spread across multiple states, the price will be higher. The average cost for a registered agent service in a single state is between $50 and $100.
Can I Be My Own Registered Agent in Alaska?
Yes, the state of Alaska allows you to appoint yourself as your own registered agent. However, if you do so, you have to be wary of some of the drawbacks that come with it.
 For instance, you will have to be available at all times during normal business hours, which reduces your flexibility in terms of business or personal travel. In addition, all of your documents will be delivered to you personally, which can put you in compromising positions with clients. Not to mention, it can also be very time and energy-consuming, so consider this option carefully before you make a decision.
A Word of Farewell
We hope you found our article on the best Alaska registered agent services informative and that one of our recommendations has caught your eye.
If you're unsure about which service you should go for, you can't go wrong with our top recommendation – Northwest. With their annual subscription, you can get access to services such as annual report compliances, important pre-filled forms for Alaska, free limited mail forwarding, and privacy and data protection. If you want something more affordable, check out Alaska Registered Agent ($49 a year) and Registered Agent ($75 a year). When choosing a registered agent service, it's important to consider their data protection policies, the reviews of current and former customers, and the services they offer.