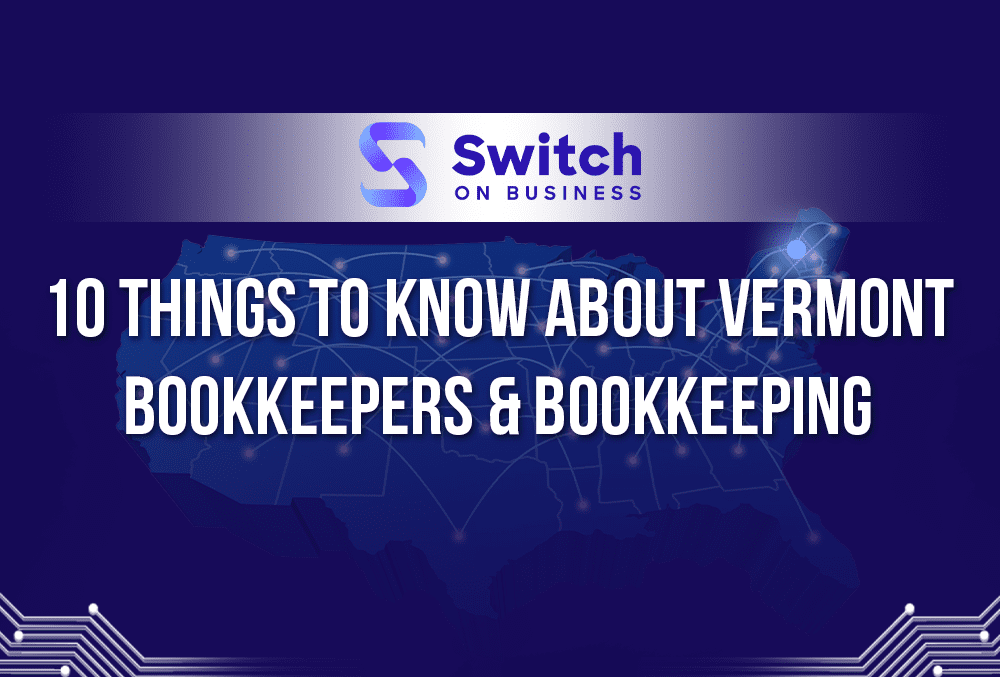 Finding the right registered agent service for your Vermont business can be challenging, given that there are so many options on the market. To help you make an informed decision, we've done the research on your behalf and compiled a comprehensive guide that includes detailed overviews of the best Vermont registered agent services. And you're unsure about the role of a registered agent and the benefits it can bring to you and your company, we cover that topic as well.
If you're not in the mood to read through every single recommendation, our summary table below contains all the benefits of our top three recommendations.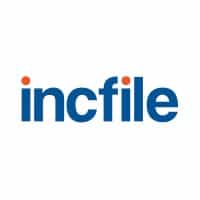 Free For The First Year
$119 / Annually After That
Never Any Hidden Fees or Contracts
Loved by 800,000+ Entrepreneurs
Available in All 50 States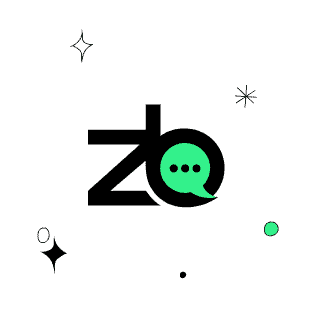 Rated 4.6 out of 5 On Trustpilot
$199 / Year
Only Takes 5 to 10 Minutes To Set-up
100% Accuracy Guarantee
Expert Customer Support

Free First Year If You Use Their $39 formation package
$125 Per Year After
Available in all 50 states
Free mail forwarding
Locally-Scanned Documents
Best Vermont Registered Agent Services
Registered Agent Service
Cost
Vermont Office Location
IncFile
$119 a year/ first year free with
incorporation
Not stated
ZenBusiness
$199 a year
Not stated
Northwest
$125 a year
Shelburne
LegalZoom
$299 a year
Not stated
Harbor Compliance
$99 a year
Shelburne
InCorp
$129 a year
Manchester Center
Registered Agent
Solutions Inc.
$175 a year
Not stated
MyCorporation
$120 for the first year $179 every year after
Not stated
Vermont Registered
Agent
$35 a year
Shelburne
CSC Global
$381 a year
Barre
On top of our individual recommendations, we've also covered how to register your Vermont business. Whether you're opting for an LLC or a corporation, you'll find all the required steps to get your business going. Near the end, you'll find an FAQ section that includes useful information, like how to do a Vermont business entity search.
With that out of the way, let's start by exploring what the role of a registered agent entails.
What Is a Registered Agent?
A registered agent can be an individual or a company whose main task is to accept the official correspondence of your business and forward all the important documents to you promptly.
Does Vermont Require a Registered Agent?
Yes, all business entities in Vermont are required to appoint a registered agent during the registration process of their business.
What Are the Benefits of Hiring a Registered Agent?
Here are all the benefits that come with hiring a registered agent service:
A registered agent service provides you with a physical address so you don't have to use your own and risk your privacy;

If you're ambitious and want to expand your business elsewhere, you won't have to change registered agents;

You'll never risk getting into embarrassing situations with clients, like being served in front of them;

You'll have more free time to dedicate to the growth of your business;

A good registered agent will help you remain compliant with all the state laws and regulations.
Now that we've got that covered, let's move on to our first recommendation.
1. IncFile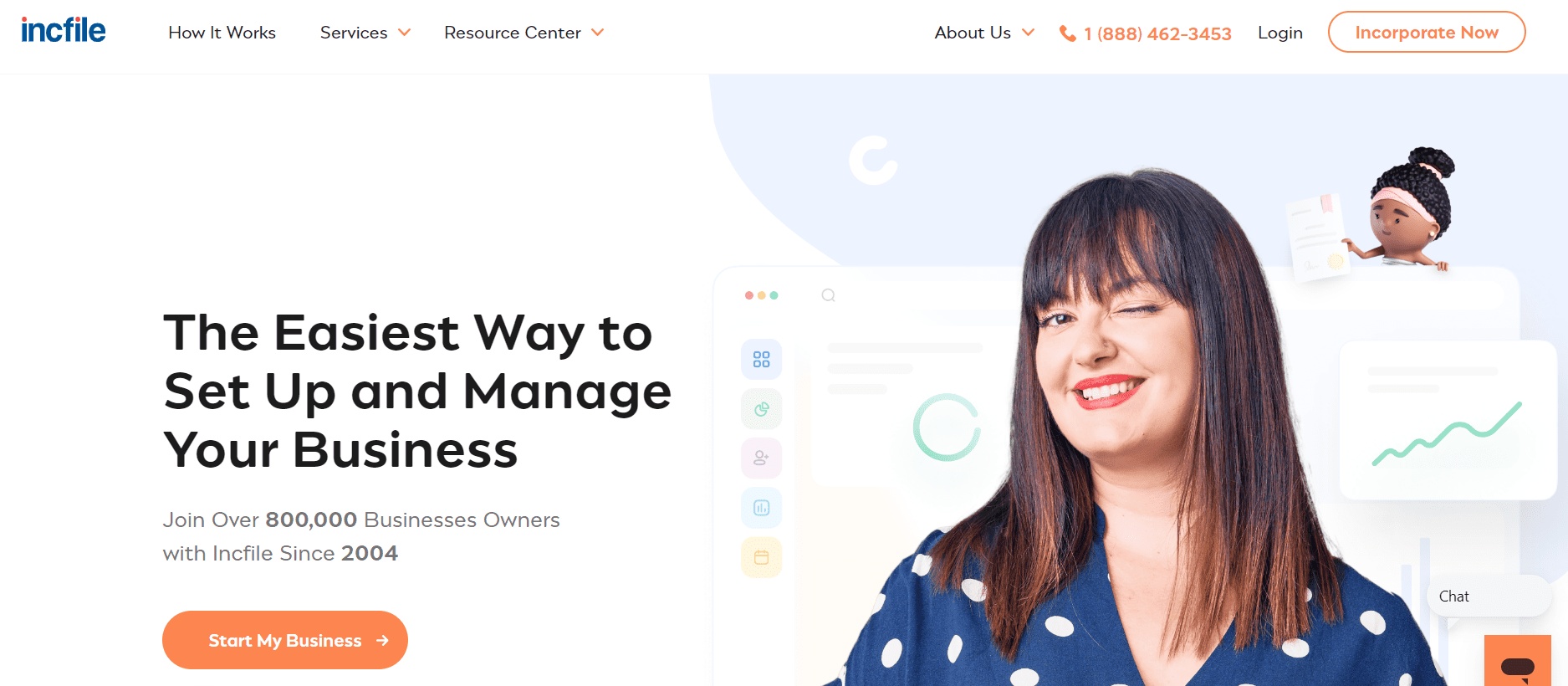 If you want to put your business in the hands of an experienced registered agent, consider one of our top recommendations, IncFile. Their package includes everything you'd expect from a top-notch registered agent service, including:
Receiving your important correspondence in due time

Tailored email and text notifications

Accessing your correspondence on your personal dashboard

Automatic mail forwarding
And since they're a company that prioritizes compliance reminders, you'll always be up-to-date with your important deadlines.
With their LLC formation package, you can get your first year of registered agent services for free. Otherwise, their yearly fee is $119, and you'll never have to worry about hidden fees or unexpected contracts.
They offer a myriad of other services, including:
Tax consultations

Amendment

EIN Number

Certificate of good standing

Virtual address

Trademarking

Foreign qualification

Business licenses and permits
2. ZenBusiness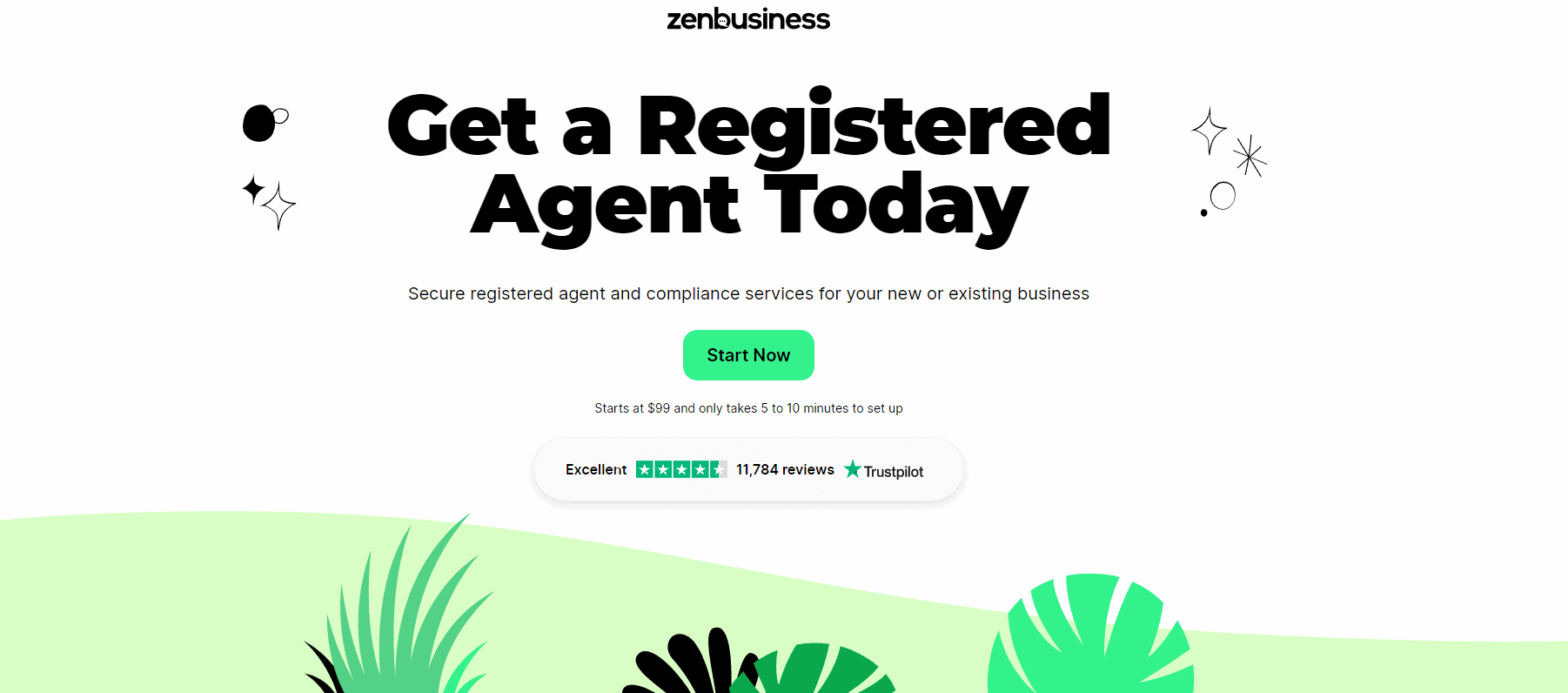 ZenBusiness have mastered all the registered agent essentials. This company has helped over 300,000 businesses since they first offered their services to the world, so you can rest assured knowing you'll be in good hands. When you sign up with them, you will access:
Access to a personalized dashboard

Email notifications

Mail forwarding

Expert handling of all your documents

Fast turnaround

Document scanning
A great reason to support ZenBusiness is their effort in helping US entrepreneurs reach their business goals, all enabled by their $5K Grant program.
Customers also really appreciate their user-friendly platform, which is a great perk for those who have no previous experience with registered agents.
ZenBusiness' registered agent services cost $199 a year. While it's a slightly higher fee, it's definitely worth the investment if you have the budget for it. If you'd like to get even more out of their service, you can upgrade this offer to include added perks, like two free filing changes a year.
If you're approaching a deadline or you need to take immediate action, ZenBusiness will send you a notification.
Additionally, their customer support is among the best in the industry.
They also excel at other services, including:
LLC formation

Incorporation

Operating agreement

Taxes and accounting

Business license reports

Worry-free compliance

Annual reports

Domain name and website

Banking and finances

EIN Number
3. Northwest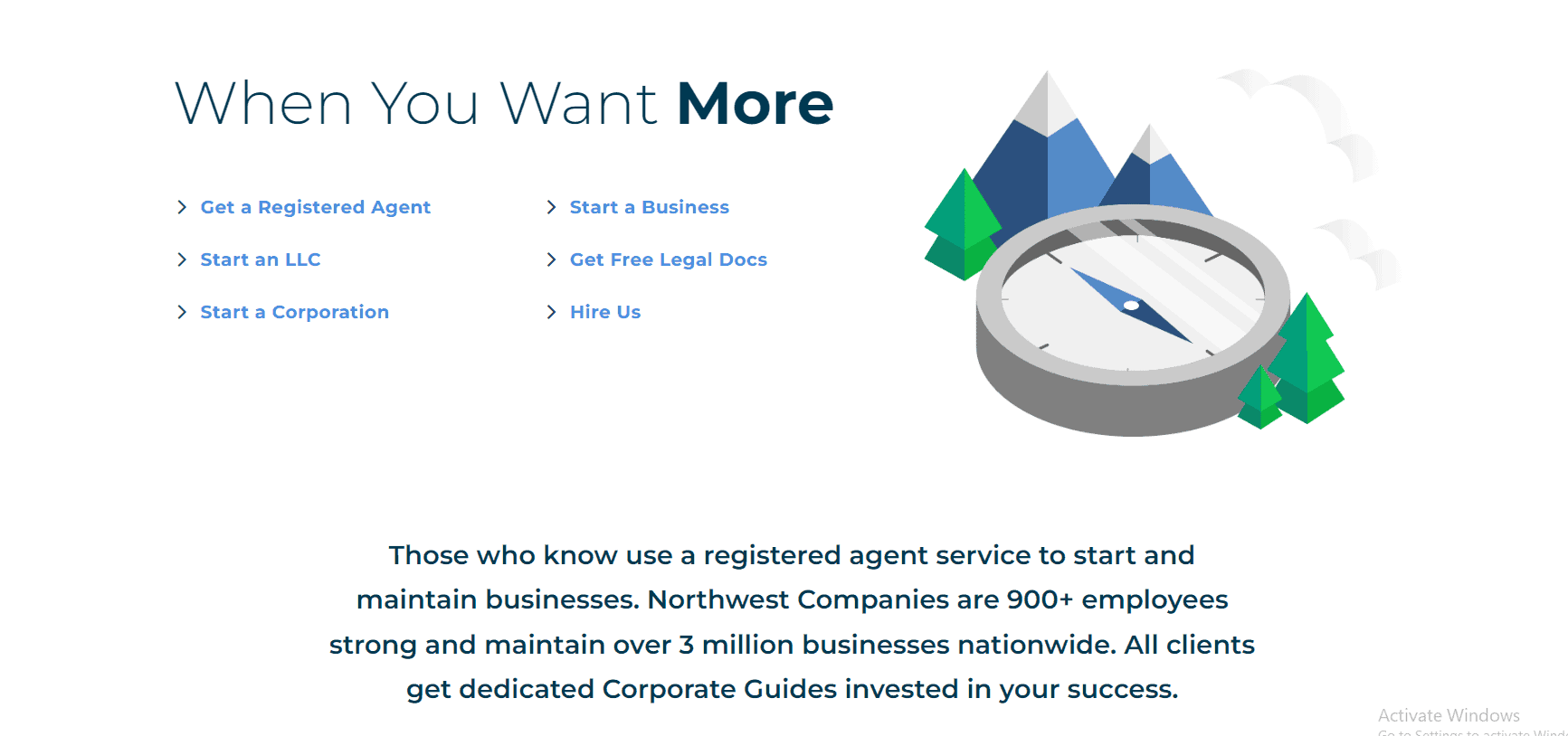 Northwest excel at providing all the tools you need to oblige by the legal requirements of the state of Vermont, including a premium customer support team at your disposal. If you choose them as your registered agent, you'll get access to the following features:
Pre-filled state forms

Scanned documents

Mail forwarding

Annual report reminders

Document storage

Compliance alerts
Since their package includes electronic mail forwarding, you'll be able to keep track of all your documents digitally, which is very convenient while travelling.
In addition, their website is incredibly user-friendly, which can save you a lot of time that you can dedicate to the growth of your business.
Northwest have a competitive price – a year of registered agent services with them will only cost you $125. What's more, if you use their service in five or more states, your fee will be lowered to $100.
Their Vermont office is located in Shelburne.
Other services include:
Mail forwarding

Virtual office

Phone service

Payment processing

Annual report filings

Trademarking

Foreign qualification
4. LegalZoom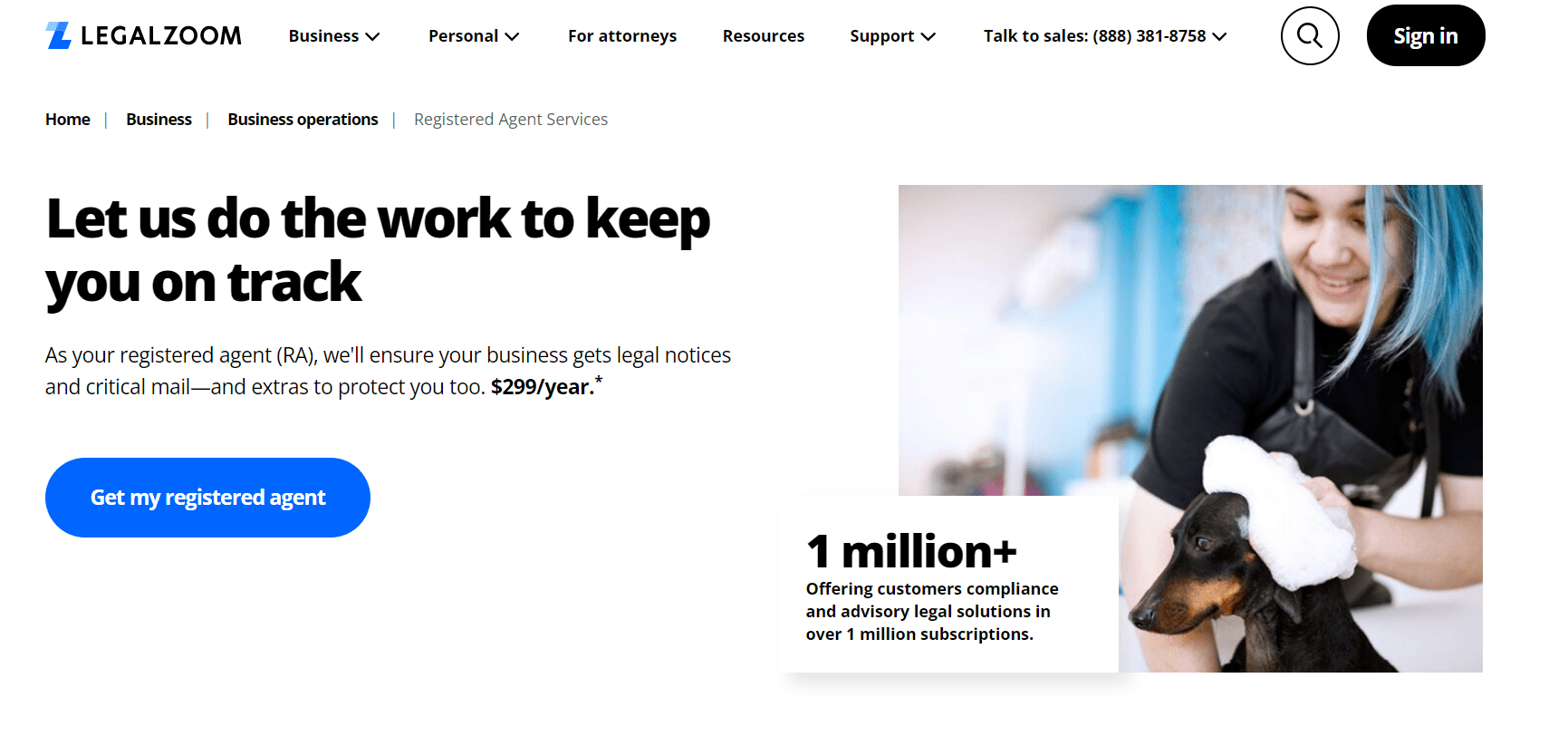 Known for providing a wide array of premium legal services, LegalZoom's registered agent service is a lucrative option for anyone who owns a larger business. Their fees are higher ($299 a year), but they offer many appealing features in return, which include:
Mail alerts

Unlimited cloud storage

Annual report reminders

$1M in identity theft protection
Their package also includes access to their amazing Compliance Calendar, which will help you seamlessly keep track of all your important state deadlines.
If you happen to have a registered agent that you want to replace, you'll need to go through a couple of arduous steps. Luckily, LegalZoom are kind enough to offer to change your current registered agent for you, making this transition much smoother.
If you also purchase their formation package, the first year of registered agent services with LegalZoom will only cost you $249.
LegalZoom offer the following legal services:
Foreign qualification

EIN Number

Business formation

Incorporation

Annual reports

Trademarking

Residential lease

Power of attorney

Taxation

Business registration

Copyright
5. Harbor Compliance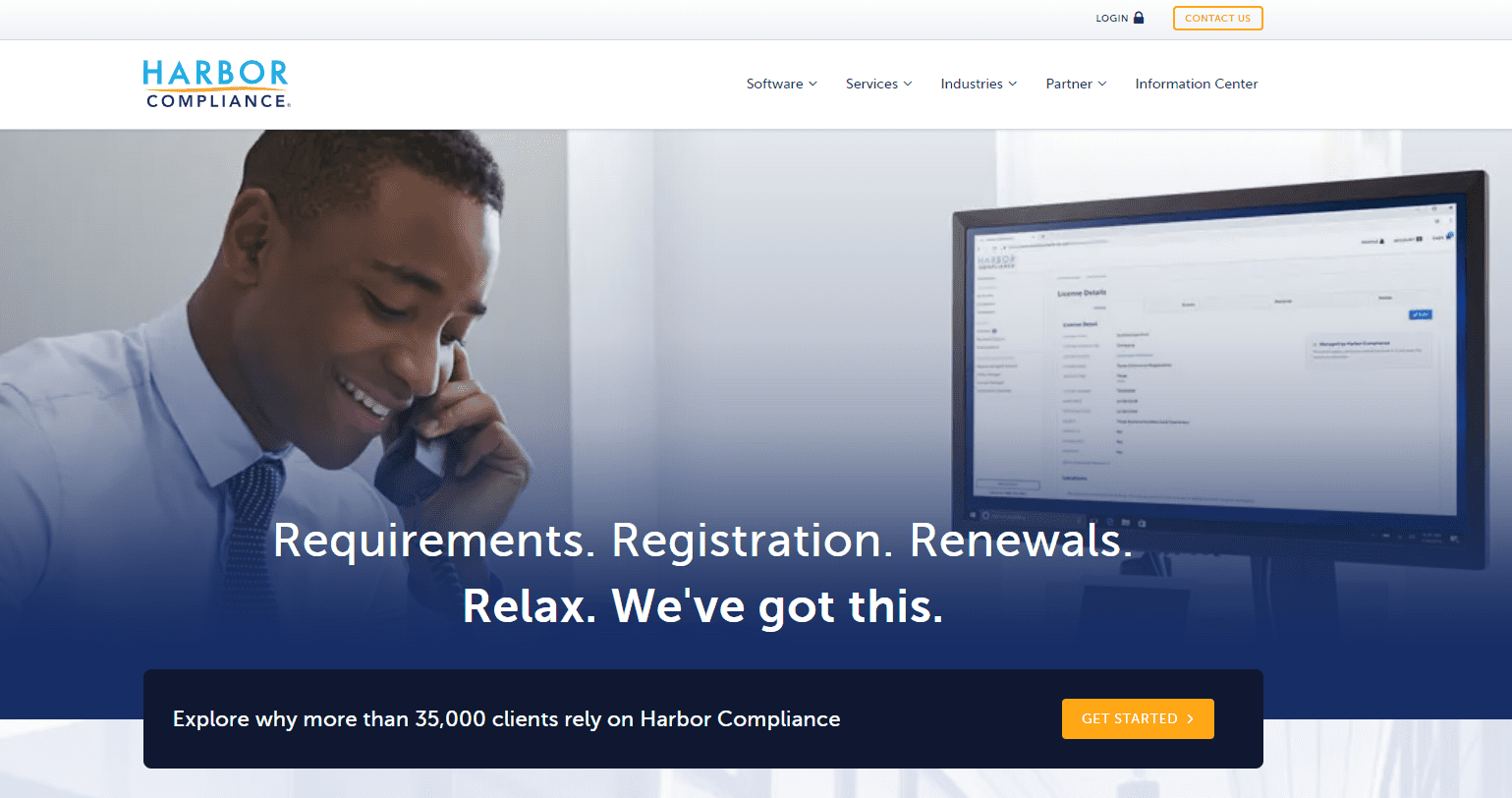 Harbor Compliance combines quality and affordable pricing, making them among our top picks for the best Vermont registered agent services. A well-known name in the industry, Harbor Compliance grants you access to everything you need to stay compliant, such as:
Access to pre-filled state forms

Customizable notifications

Same-day electronic delivery of your documents

Annual report reminders
Harbor Compliance have many strong suits, one of which is their fast processing speed. With it, you will receive your documents as soon as possible, allowing you to avoid getting fined or getting in legal trouble.
Customers also love how dedicated and responsive their customer support team is.
Their yearly fee is extremely cost-effective and it'll only set you back $99 a year. Plus, you can access an additional 10% discount with their multi-year offer.
Their Vermont office can be found in Shelburne.
Harbor Compliance also offer the following services:
Business licenses

LLC formation

Incorporation

Amendments

Registration
6. InCorp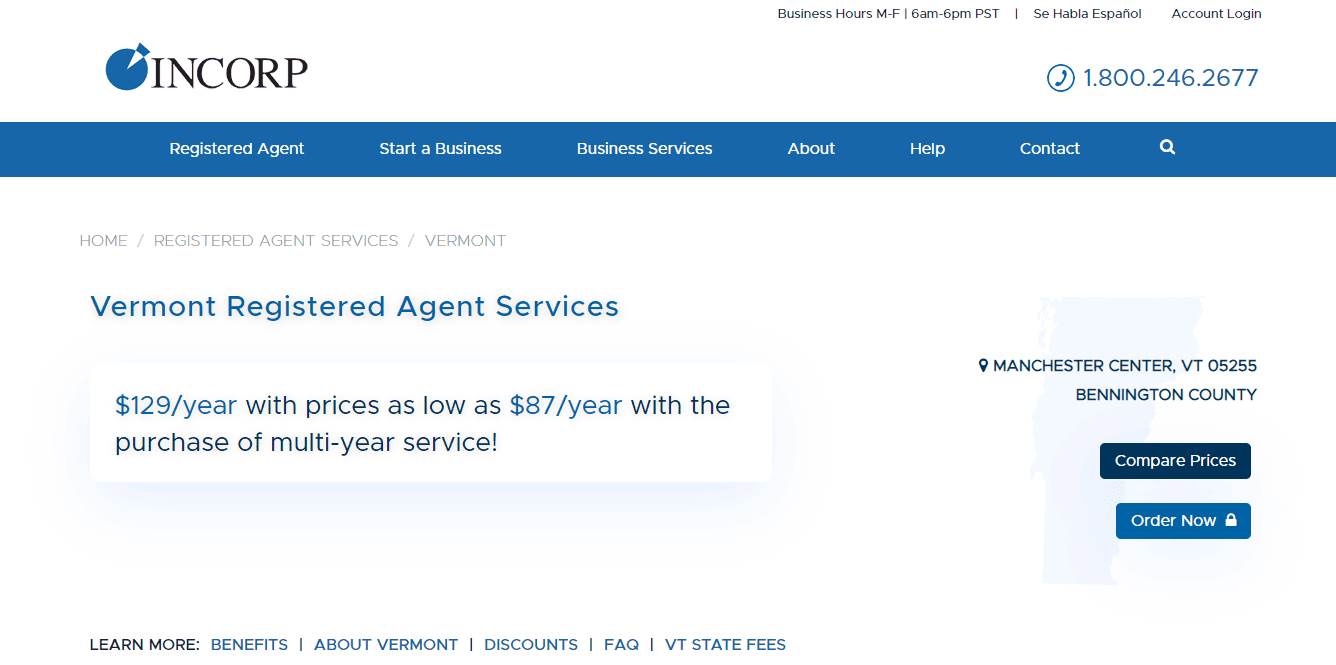 Just like many other recommendations in our guide, InCorp offers a great deal for anyone looking to purchase a multi-year service. Their usual fee is $129, but with their multi-year option, your fee can be reduced to $87, making it an amazing deal. With it, you'll receive:
Annual report filings

Access to their Entity Management System

Legal notifications

Mail forwarding
All businesses need protection from third parties and identity theft and InCorp will help you achieve this with their EntityWatch technology.
Customers love how responsive and professional their customer service representatives are, as well as their user-friendly interface.
Their Vermont office is located in Manchester Center.
You can hire InCorp for:
LLC formation

Incorporation

Foreign qualification

DBA Filing

UCC search

Articles of amendment

EIN Number

Apostille service

Trademarking

Copyright
7. Registered Agent Solutions Inc.

Offering an array of services, Registered Agent Solutions Inc. is another outstanding option for a Vermont registered agent. Their offer includes:
Fast processing

Excellent customer service

Online application tools

Added privacy

Custom notifications
One of the aspects they excel in is their excellent customer service. If you're ever stuck with a problem and you need help, their team will always be ready to help in a timely manner.
Their services will cost you $175 annually.
Apart from registered agent services, you can hire Registered Agent Solutions Inc. for:
Annual reports

Certificate of good standing

Dissolutions

Tax clearance

Entity management

Business registrations

Name registrations

Trademarking

Reporting

Foreign qualifications
8. MyCorporation

Another comprehensive registered agent service in Vermont we invite you to consider is MyCorporation. You will get immediate access to the following perks:
Completed filings

Expert handling of any paperwork

Fast document delivery 
One of the company highlights, according to customer reviews, is their customer support team that's always there to lend a hand with any issue or question you might have.
On top of that, they're known for their fast processing speed, so missing a document will never be an issue.
Your first year of registered agent services with MyCorporaiton will cost you $120. After that, your yearly fee will be $179.
They also offer other services such as:
Annual reports

Copyright registration services

Dissolution

Amendment

Filings
9. Vermont Registered Agent

If your business would benefit from hiring a registered agent service that charges around $50 a year, then we have the perfect recommendation for you. Meet Vermont Registered Agent, the most affordable recommendation in our guide on the best Vermont registered agent services. Costing only $49, this cost-effective option entails:
Annual report reminders

Online document storage

Access to pre-filled state forms

Online account

Email notifications
Sometimes, affordable pricing comes at the cost of other downsides, like auto-renewals. With Vermont Registered Agent, that will never be an issue.
Their Vermont office is located in Shelburne.
On top of registered agent services, they also offer:
LLC formation

Filing services

Incorporation
10. CSC Global

Our last recommendation will pertain to those who own larger businesses and would benefit from expert level of data security. CSC Global is an outstanding option for anyone willing to pay a couple of hundred dollars a year for a premium registered agent service that includes:
Access to a personalized online dashboard

Annual compliance reminders

Electronic delivery of documents

Same-day document scans

Access to SOC-2 facilities
Their advanced SOC-2 technology will give you peace of mind – you'll never have to worry about third parties accessing your personal information.
Their Vermont office is located in Barre.
CSC Global also offer:
Entity management

Legal management

UCC

Real estate and erecording

Corporate filings

Digital brand services
How Do I Register a Business in Vermont?
In this section, we'll elaborate on all the steps you need to complete to register a business in Vermont.
Find a Name for Your Business
Among the first steps in registering your business, regardless of its type, is finding the right name for it.
After you've come up with some ideas, the Vermont Secretary of State website will help you check if any of the names you have in mind have already been used by another business owner. If not, your name is good to go.
In addition, ensure that you've included a word in the name that indicates what kind of business you're opting for. For instance, corporations can use various abbreviations, including "Inc." and "Incorporated".
Find the Right Business Structure
The next step in registering your business is finding the right business structure. The most common entity types in Vermont are:
Before deciding on a structure, ask yourself questions like "What will my yearly obligations with the state be?" and "How much money will I have to spend to register my business?". The answers will give you a clue about what structure would suit you most.
File Articles of Organization
The state of Vermont requires all LLCs to file articles of organization while registering your business. This process is relatively straightforward and it requires submitting information like the location of your business, its purpose, and information about your chosen registered agent. It'll cost you only $125 and only a couple of minutes to file and complete.
File Articles of Incorporation
Similarly, corporations are required to file articles of incorporation before the state can recognize them as an entity.
Corporations have more complicated structures, so with this document, you'll be required to provide more information.
Obtain Licenses and Permits
To operate legally, a business needs to have all the required licenses and permits for its industry.
Vermont doesn't have a general business license, but there are some other licenses you might need if your goal is to open a business in this state.
For instance, you might be liable for a state and use tax if your business sells certain types of goods.
Every city in Vermont has different laws and regulations, so make sure you look for specific information about your city/county.
Apply for an EIN
Everyone who owns a business that's taxed separately from them or hires employees for their business, needs to apply for an Employee Identification Number on the IRS website.
The good news is that this process is quick and easy and completely free of charge. Plus, it comes with many added benefits, like making it easy to open a business bank account.
FAQs
Where Can I Do a Vermont Business Entity Search?
You can do an online Vermont business entity search on the Vermont Secretary of State website.
How Much Does it Cost to Register a Business in Vermont?
The cost of registering a business in Vermont is $125.
Final Thoughts
That concludes our guide on the best Vermont registered agent service recommendations! We hope you found the right service for your business.
If you don't have a special preference, you can't go wrong with the highest-ranking registered agent services, which have the best online reviews – IncFile, Northwest, or ZenBusiness. All of these services come with a myriad of benefits and have years of experience helping thousands of businesses, so you know your business will be safe and thriving in their hands.