Want to know if CAVU HCM is right for your business?
Then have a look at the user created reviews below or better yet help out other business owners and leave your own.
CAVU HCM User Reviews
CAVU HCM Review Summary
0.0 out of 5 stars (based on 0 reviews)
Recent CAVU HCM Reviews
There are no reviews yet. Be the first one to write one.
Submit a CAVU HCM Review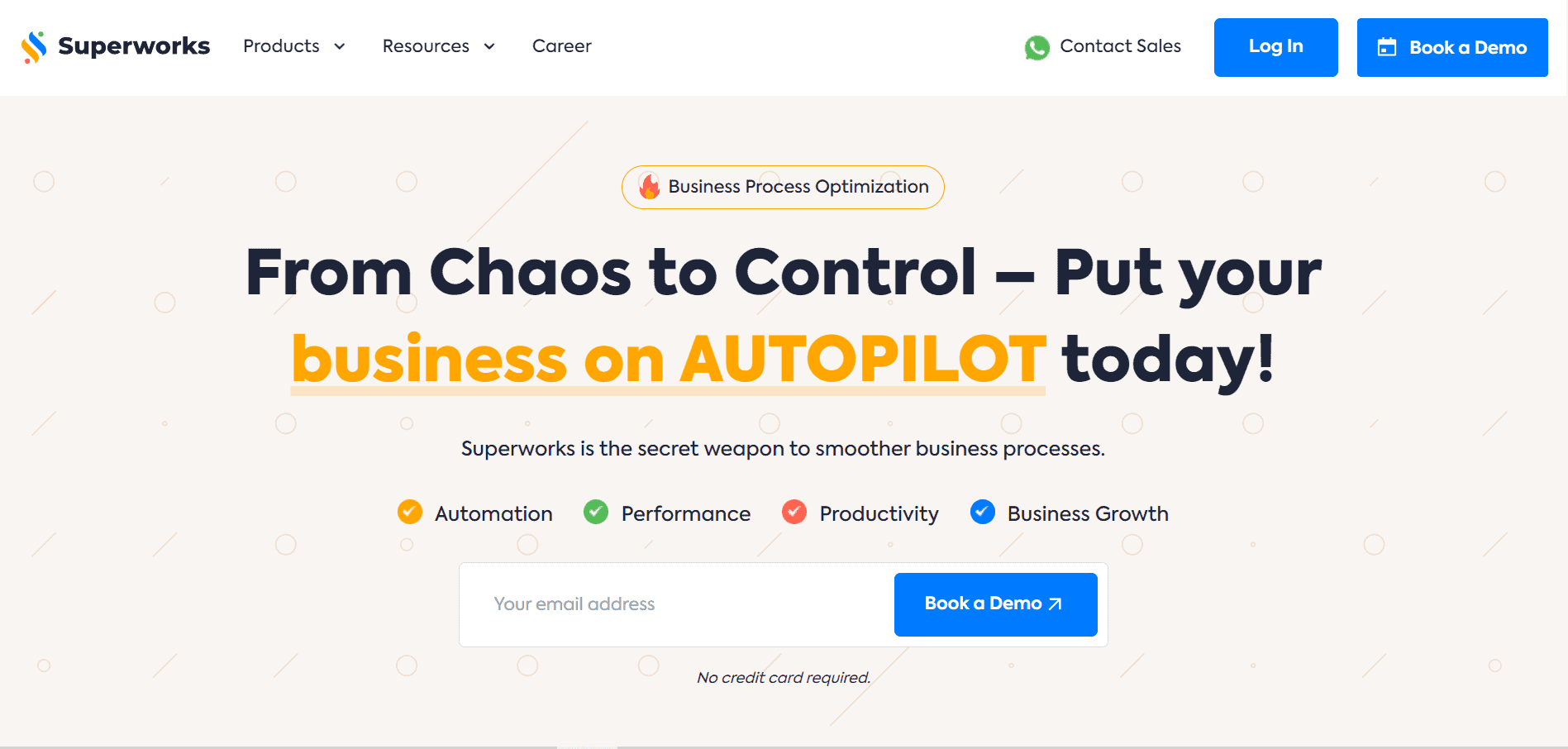 Other CAVU HCM Reviews
CAVU HCM Cost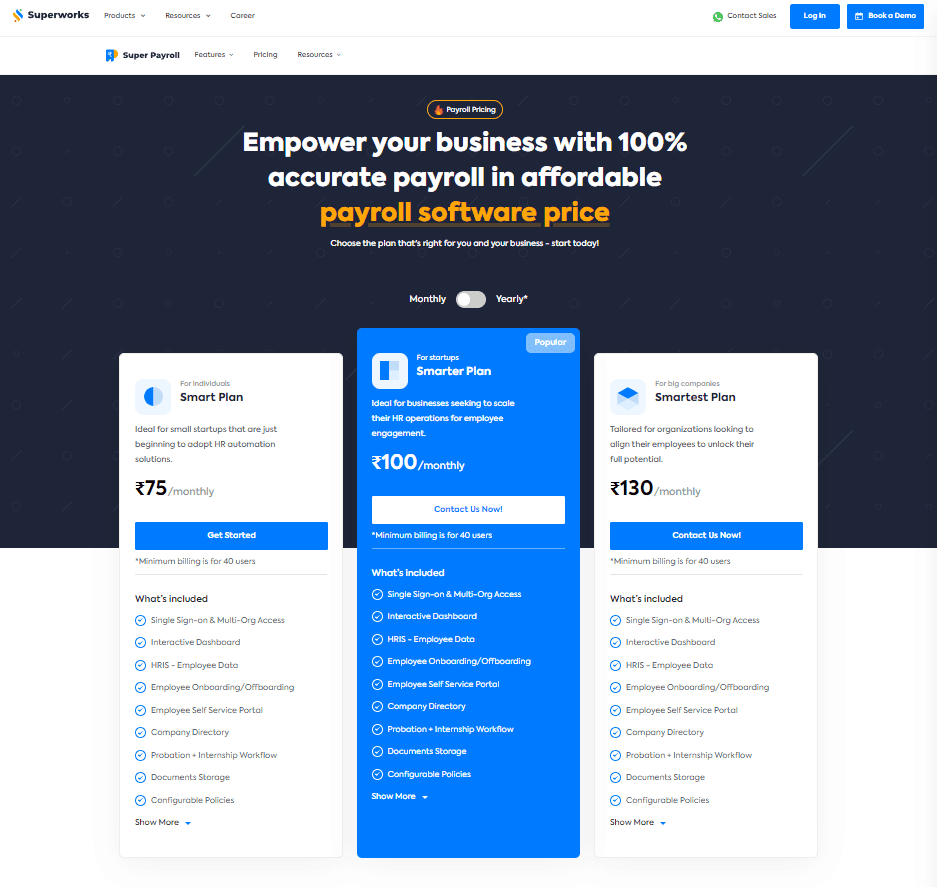 | Plans | Pricing |
| --- | --- |
| Free Trial? | Yes |
| Free Trial Length | 1 month |
| Cheapest Plan: Smart Plan | $0.90/month |
| Middle Plan: Smarter Plan | $1.20/month |
| Top Plan: Smartest Plan | $1.56/month |
CAVU HCM Features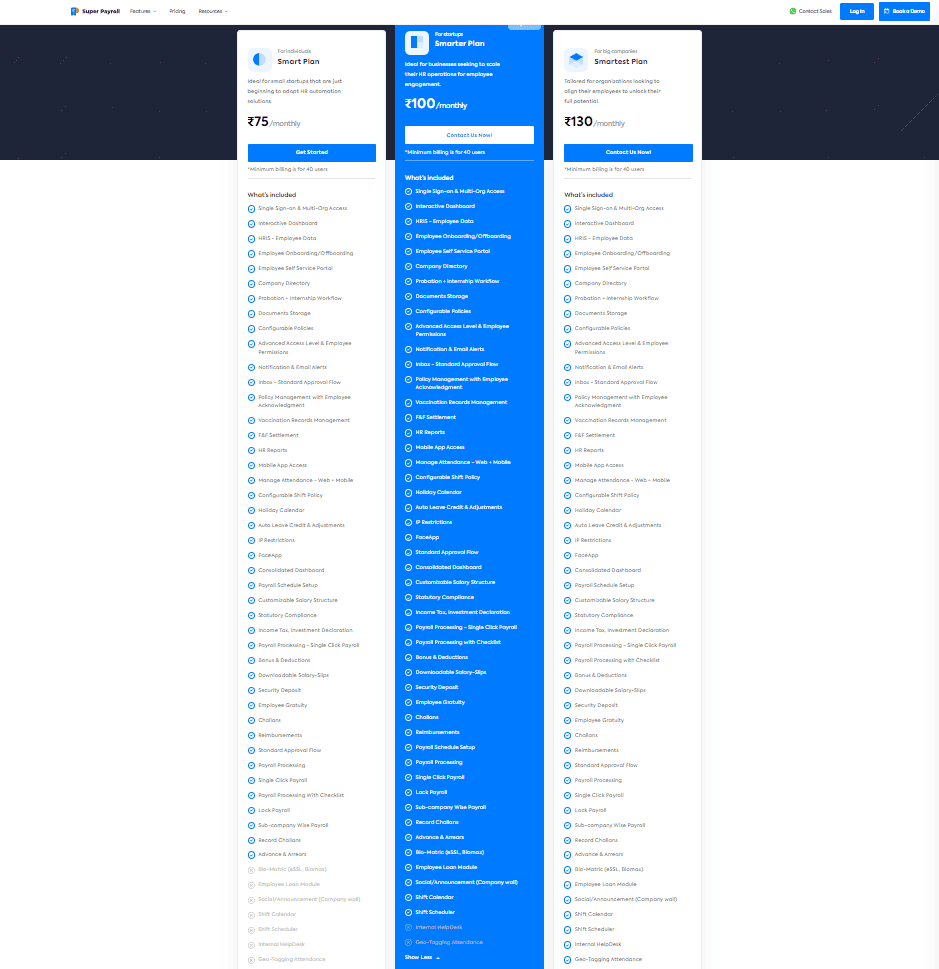 Cheapest Plan: Smart Plan Features
Single Sign-on & Multi-Org Access
Interactive Dashboard
HRIS – Employee Data
Employee Onboarding/Offboarding
Employee Self Service Portal
Company Directory
Probation + Internship Workflow
Documents Storage
Configurable Policies
Advanced Access Level & Employee Permissions
Notification & Email Alerts
Inbox – Standard Approval Flow
Policy Management with Employee Acknowledgment
Vaccination Records Management
F&F Settlement
HR Reports
Mobile App Access
Manage Attendance – Web + Mobile
Configurable Shift Policy
Holiday Calendar
Auto Leave Credit & Adjustments
IP Restrictions
FaceApp
Consolidated Dashboard
Payroll Schedule Setup
Customizable Salary Structure
Statutory Compliance
Income Tax, Investment Declaration
Payroll Processing – Single Click Payroll
Bonus & Deductions
Downloadable Salary-Slips
Security Deposit
Employee Gratuity
Challans
Reimbursements
Standard Approval Flow
Payroll Processing
Single Click Payroll
Payroll Processing With Checklist
Lock Payroll
Sub-company Wise Payroll
Record Challans
Advance & Arrears
Middle Plan: Smarter Plan Features
Single Sign-on & Multi-Org Access
Interactive Dashboard
HRIS – Employee Data
Employee Onboarding/Offboarding
Employee Self Service Portal
Company Directory
Probation + Internship Workflow
Documents Storage
Configurable Policies
Advanced Access Level & Employee Permissions
Notification & Email Alerts
Inbox – Standard Approval Flow
Policy Management with Employee Acknowledgment
Vaccination Records Management
F&F Settlement
HR Reports
Mobile App Access
Manage Attendance – Web + Mobile
Configurable Shift Policy
Holiday Calendar
Auto Leave Credit & Adjustments
IP Restrictions
FaceApp
Standard Approval Flow
Consolidated Dashboard
Customizable Salary Structure
Statutory Compliance
Income Tax, Investment Declaration
Payroll Processing – Single Click Payroll
Payroll Processing with Checklist
Bonus & Deductions
Downloadable Salary-Slips
Security Deposit
Employee Gratuity
Challans
Reimbursements
Payroll Schedule Setup
Payroll Processing
Single Click Payroll
Lock Payroll
Sub-company Wise Payroll
Record Challans
Advance & Arrears
Bio-Matric (eSSL, Biomax)
Employee Loan Module
Social/Announcement (Company wall)
Shift Calendar
Shift Scheduler
Top Plan: Smartest Plan Features
Single Sign-on & Multi-Org Access
Interactive Dashboard
HRIS – Employee Data
Employee Onboarding/Offboarding
Employee Self Service Portal
Company Directory
Probation + Internship Workflow
Documents Storage
Configurable Policies
Advanced Access Level & Employee Permissions
Notification & Email Alerts
Inbox – Standard Approval Flow
Policy Management with Employee Acknowledgment
Vaccination Records Management
F&F Settlement
HR Reports
Mobile App Access
Manage Attendance – Web + Mobile
Configurable Shift Policy
Holiday Calendar
Auto Leave Credit & Adjustments
IP Restrictions
FaceApp
Consolidated Dashboard
Payroll Schedule Setup
Customizable Salary Structure
Statutory Compliance
Income Tax, Investment Declaration
Payroll Processing – Single Click Payroll
Payroll Processing with Checklist
Bonus & Deductions
Downloadable Salary-Slips
Security Deposit
Employee Gratuity
Challans
Reimbursements
Standard Approval Flow
Payroll Processing
Single Click Payroll
Lock Payroll
Sub-company Wise Payroll
Record Challans
Advance & Arrears
Bio-Matric (eSSL, Biomax)
Employee Loan Module
Social/Announcement (Company wall)
Shift Calendar
Shift Scheduler
Internal HelpDesk
Geo-Tagging Attendance
CAVU HCM Pros & Cons
Pros
Easy Processes
Candidate Tracking
Saves Time
Customer Service
All In One Place
Cons
Need Improvements
Adjustment Issues
Not User Friendly
Mobile App Issues
Overwhelming
Other Features
| Feature | Available |
| --- | --- |
| Ideal Business Size | Mid size business |
| Unlimited Payrolls | ✘ |
| Automated Tax Filing and Payments | ✘ |
| E-sign I-9 and W-4 | ✘ |
| Live Customer Support | ✘ |
| Integrations | ✘ |
| Ability to manage employee benefits | ✘ |
| Employee access to platform | ✔ |
| Direct Deposit | ✘ |
| Expense Reimbursement | ✔ |
| Time Off Accrual | ✘ |
| Pre-tax Deductions | ✘ |
| Wage Garnishment | ✘ |
| Background Checks | ✘ |
| Check Printing | ✘ |
| Check Delivery | ✘ |
| API | ✘ |