Want to know if BambooHR is right for your business?
Then have a look at the user created reviews below or better yet help out other business owners and leave your own.
BambooHR User Reviews
BambooHR Review Summary
0.0 out of 5 stars (based on 0 reviews)
Recent BambooHR Reviews
There are no reviews yet. Be the first one to write one.
Submit a BambooHR Review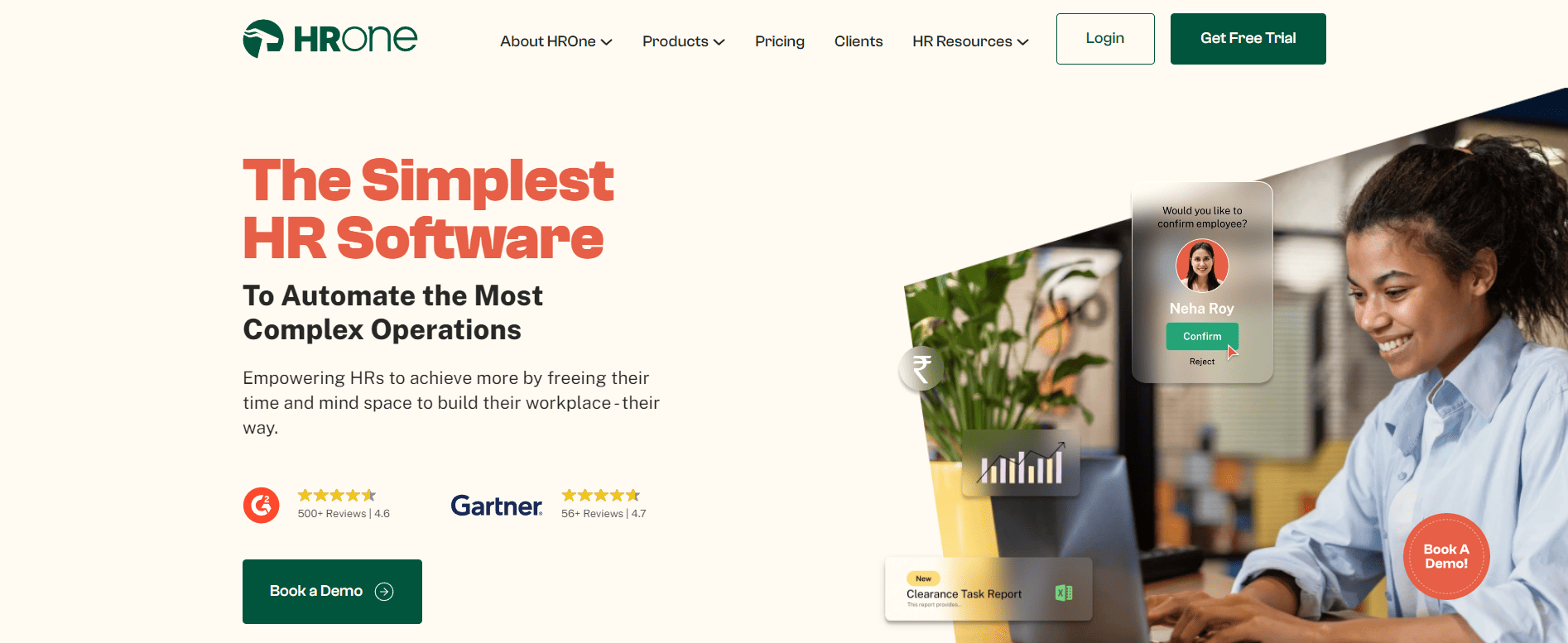 Other BambooHR Reviews
BambooHR Cost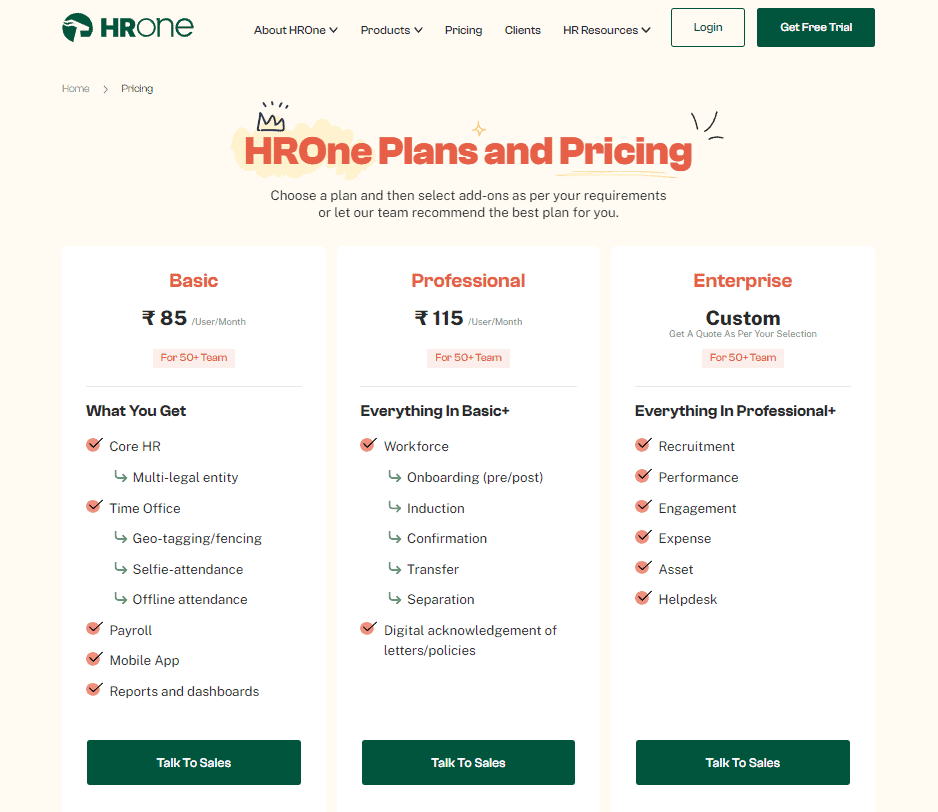 | Plans | Pricing |
| --- | --- |
| Free Trial? | Yes |
| Free Trial Length | n/a |
| Cheapest Plan: Basic | $1.02/month |
| Middle Plan: Professional | $1.38/month |
| Top Plan: Enterprise | By request/month |
BambooHR Features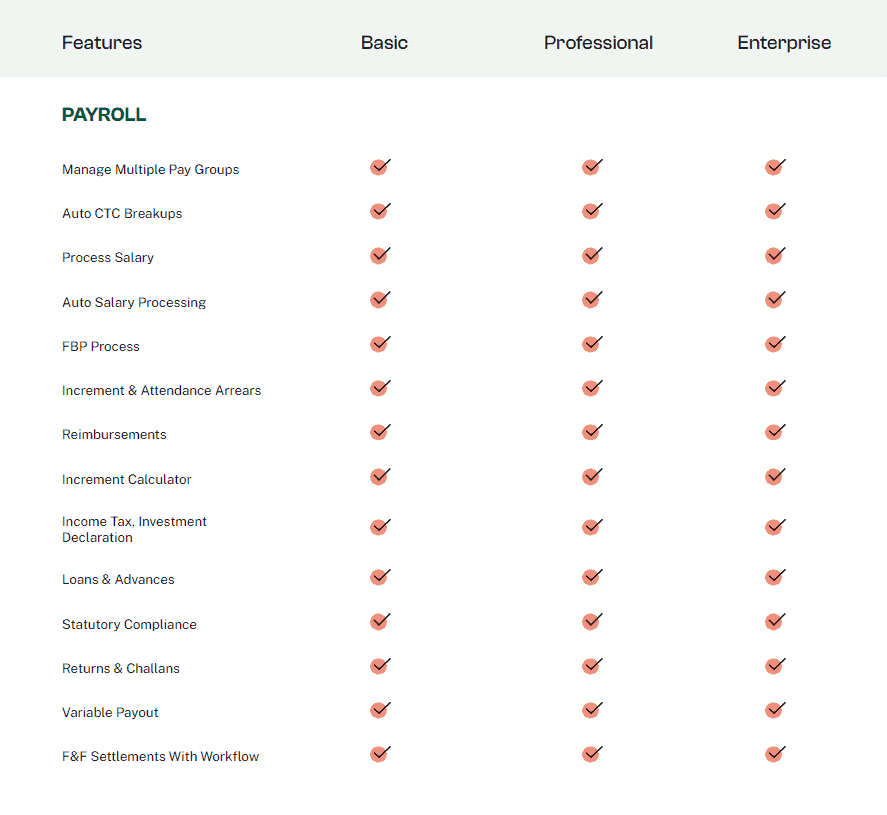 Cheapest Plan: Basic Features
Create Org Structure (Multi-Company Configurations)
Create Role As Per Your Company
Grant Access Rights (3 Layers
Employee Database
Dynamic Fields In Employee Master
Announcement (Text, Rich Media, Video)- Scheduler Based/ Recurring
HR Handbook (HR Policies, Forms, Videos)
Acknowledgement Of HR Handbook
Share General Letters
TIME OFFICE
Auto Shift (Shift Rotations Policy)
Multi Holiday Calendar (Locations)
Manage Attendance
Overtime & Comp-Off
Manage Leaves – Auto Leave Credit
Leave Donation
Auto Attendance Arrears
Auto Attendance Process (Schedule Auto Attendance)
Geo-Tagging, Geo-Fencing
Biometric Integration
Manage Multiple Pay Groups
Auto CTC Breakups
Process Salary
Auto Salary Processing
FBP Process
Increment & Attendance Arrears
Reimbursements
Increment Calculator
Income Tax, Investment Declaration
Loans & Advances
Statutory Compliance
Returns & Challans
Variable Payout
F&F Settlements With Workflow
Middle Plan: Professional Features
Create Org Structure (Multi-Company Configurations)
Create Role As Per Your Company
Grant Access Rights (3 Layers
Employee Database
Dynamic Fields In Employee Master
Announcement (Text, Rich Media, Video)- Scheduler Based/ Recurring
HR Handbook (HR Policies, Forms, Videos)
Acknowledgement Of HR Handbook
Share General Letters
TIME OFFICE
Auto Shift (Shift Rotations Policy)
Multi Holiday Calendar (Locations)
Manage Attendance
Overtime & Comp-Off
Manage Leaves – Auto Leave Credit
Leave Donation
Auto Attendance Arrears
Auto Attendance Process (Schedule Auto Attendance)
Geo-Tagging, Geo-Fencing
Biometric Integration
Manage Multiple Pay Groups
Auto CTC Breakups
Process Salary
Auto Salary Processing
FBP Process
Increment & Attendance Arrears
Reimbursements
Increment Calculator
Income Tax, Investment Declaration
Loans & Advances
Statutory Compliance
Returns & Challans
Variable Payout
F&F Settlements With Workflow
Employee Database- Core
Upcoming Joining
Pre- Onboarding
Confirmation
Separation
Document Management
Transfer
Letter Generation
Top Plan: Enterprise Features
Create Org Structure (Multi-Company Configurations)
Create Role As Per Your Company
Grant Access Rights (3 Layers
Employee Database
Dynamic Fields In Employee Master
Announcement (Text, Rich Media, Video)- Scheduler Based/ Recurring
HR Handbook (HR Policies, Forms, Videos)
Acknowledgement Of HR Handbook
Share General Letters
TIME OFFICE
Auto Shift (Shift Rotations Policy)
Multi Holiday Calendar (Locations)
Manage Attendance
Overtime & Comp-Off
Manage Leaves – Auto Leave Credit
Leave Donation
Auto Attendance Arrears
Auto Attendance Process (Schedule Auto Attendance)
Geo-Tagging, Geo-Fencing
Biometric Integration
Manage Multiple Pay Groups
Auto CTC Breakups
Process Salary
Auto Salary Processing
FBP Process
Increment & Attendance Arrears
Reimbursements
Increment Calculator
Income Tax, Investment Declaration
Loans & Advances
Statutory Compliance
Returns & Challans
Variable Payout
F&F Settlements With Workflow
Employee Database- Core
Upcoming Joining
Pre- Onboarding
Confirmation
Separation
Document Management
Transfer
Letter Generation
PERFORMANCE
Set Performance Cycle
Set Goals – Smart + OKR
Performance Reviews
Continuous Feedback
PIP
360 Degree Feedback (With Client Access)
Increment Based On Budgeting
Increment Posting
Normalization Process
9 Box Matrix/ Bell Curve
ENGAGEMENT
Mood Bot
Appreciation Budgets
Pulse
Survey
Fundraiser
Reward Points
HELPDESK
Define Ticket Categories
Subcategories
Define Auto Assignment Rule
Create And Resolve Tickets
Manage Escalation Matrix
Chat With Ticket Owner
Rate Resolver On Ticket Closure
Set Organization Expense Limit
Create Multiple Expense Policies
Fix Expiry Time For Old Claims
Calibrate Expense Reimbursement Cycle
Get Expense Receipts And Reports
Approve Exceptional Expenses
Tag Customer & Projects With The Expenses
Raise Advance Requests
Petty Expense
Travel Desk
Workflow
Run Smart Diagnostic Check
RECRUITMENT
Man Power Request
Use JD Master
Share Resume
Know The Reason
Track Workload
Choose A Recruiter
Select The Consultant
Make Opening Public Or Private
Parse The Data (Third Party API)
Post On Social
Link With Career Portal
Monitor The TAT
Interview Scheduling & Feedback
Candidate Database
Offer Letter Processing
Exchange Messages
Complete Your New Joiner's Documentation
Keep Your New Joiner Engaged
Candidate Portal
Consultant Portal
ASSET
Asset Management
Inventory Management
Asset Lifecycle/Workflow
Asset Ownership
Asset Request /Return
Temp Asset Allocation
Allocation
BambooHR Pros & Cons
Pros
Data Management
Leave and Attendance
Exit Management
Cons
Expense Management
Survey Tool
Payroll
Other Features
| Feature | Available |
| --- | --- |
| Ideal Business Size | Mid size business |
| Unlimited Payrolls | ✘ |
| Automated Tax Filing and Payments | ✘ |
| E-sign I-9 and W-4 | ✘ |
| Live Customer Support | ✘ |
| Integrations | ✔ |
| Ability to manage employee benefits | ✔ |
| Employee access to platform | ✔ |
| Direct Deposit | ✘ |
| Expense Reimbursement | ✔ |
| Time Off Accrual | ✔ |
| Pre-tax Deductions | ✔ |
| Wage Garnishment | ✔ |
| Background Checks | ✔ |
| Check Printing | ✘ |
| Check Delivery | ✘ |
| API | ✔ |